We heard a little bit about iOS 8 during Tuesday's explosion of Apple announcements—namely, Tim Cook announced that the latest version of Apple's mobile operating system will be available on September 17. Although iOS 8 will introduce several new features, one of the most interesting is the debut of third-party keyboards. Now, iPhone users have the option to replace Apple's stock keyboard with a different keyboard of their choosing.
SwiftKey is the reigning keyboard king for Android, so naturally the company is eager to make a splash on iOS. On Wednesday, SwiftKey revealed details for its iOS keyboard—simply called SwiftKey Keyboard for iPhone, iPad, and iPod touch. SwiftKey Keyboard will include auto-correction, next-word prediction, and a learning mechanism that lets the keyboard adapt with its users.
Yes, this sounds like standard keyboard fodder, but SwiftKey handles these smart features in its own style. When you start typing, SwiftKey suggests the word or phrase it thinks you want to say next, displaying up to three predictions in a word bank directly under the text box. With common phrases, it will even predict the next few words before you even start typing.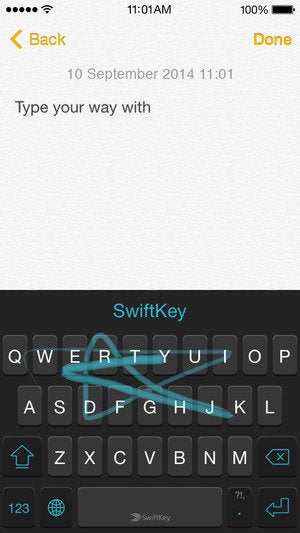 If you misspell a word, SwiftKey's autocorrect gives you three correctly spelled suggestions. When you spell a new word that SwiftKey doesn't know, you can add it to your dictionary for SwiftKey to remember the next time. SwiftKey is cloud-connected, so its knowledge of your language use will sync across devices.
For the really adventurous, SwiftKey Keyboard will include Flow for the iPhone and iPod touch, which lets you slide across the keyboard from letter to letter instead of type. Flow still takes advantage of SwiftKey's predicative and learning capabilities.
From the sound of it, if you've already experimented with SwiftKey Note for iOS, you'll have no problem getting used to the full app. We'll have more info and some hands-on impressions when the app launches.