Reader Tim McBrayer has a question about iPhoto on his iPad. He writes:
When I'm running iPhoto on my iPad I'd like to pick a particular photo or several photos from a shared online album and email them to someone. I don't see how to do that unless I use the Photos app. What am I missing?
Photos, as a simple image viewer, is pretty straightforward so it's easy to select and share multiple photos. iPhoto, on the other hand, has a far greater collection of features and so some have been tucked away in ways that may not seem obvious. Here's how to go about it.
Launch iPhoto and tap on Albums. As long as Photo Stream is enabled within your iCloud settings on the iPad you should see your shared albums. In the Albums screen tap on the album from which you'd like to select images. In the resulting screen you'll see the images within the album as thumbnails, either at the bottom of the screen (when you hold the iPad in portait orientation) or along the left side (in landscape orientation).
To select multiple images tap on the elipses (…) icon in the bottom right corner. In the Options window that appears tap Multiple Photos. Then, tap the thumbnail images that represent the pictures you'd like to email. (Note that when emailing images you can choose only up to five.) A white check mark will appear in the top right corner of each selected image. Tap Done when you are.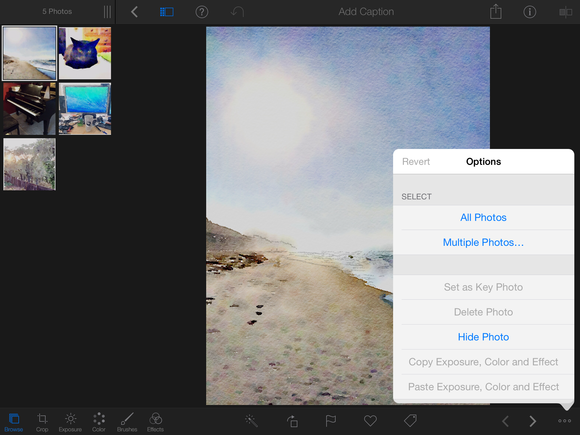 All the selected images will now appear in larger form in the main window. To email them, just tap on the Share icon at the top of the screen and tap Mail. In the resulting pane choose Selected, Flagged, or All. If your options are grayed out, it means you've selected more than five.
When you make your choice a New Message sheet appears that contains your images. Just enter addresses in the To field, enter a Subject heading, add a message if you like, and tap Send.
Have a question of your own? Drop a line to mac911@macworld.com