These days, keeping up with games can be a full-time job. So how do you separate the signal from the noise, the wheat from the chaff, the Temple Runs from the Temple Jumps? Allow us to help by regularly selecting a game You Should Play.
Dedicated arcades are dead, for the most part—save for a few pinball machines and video game cabinets tucked away in corners of movie theaters, bowling alleys, laser tag facilities, or trendy arcade-themed bars. Despite this, video games haven't really suffered at all from the loss of arcade gaming: Arcade games are still on consoles, computers, phones, tablets, and more, and there are more games coming out now than ever before. But the same can't be said for pinball machines. They're expensive to produce and maintain, plus take up a lot of space. In other words, they're not exactly ideal for the average living room or bedroom setting.
While the physical machines are becoming harder to find, pinball isn't dying. It's just changing. Thanks to an array of excellent games, pinball has made the digital leap onto consoles and touch devices, and Zen Pinball is one of the absolute best examples around. Zen Studios' free iOS app doesn't recreate classic tables, but rather plays host to 35 brand new ones—both original themes and tables based on Star Wars, Marvel Comics, and others—with more added regularly.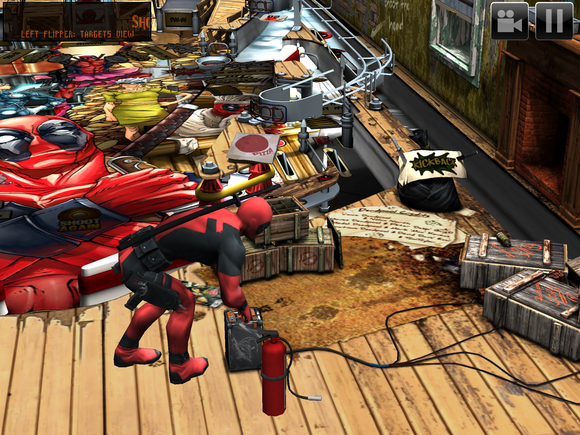 It's not the same as pulling the plunger and desperately tapping the flipper buttons, but Zen Pinball does an excellent job of recreating the core feel of the game, especially on a tablet. Not convinced that digital can do the trick? Here are three ways in which Zen Pinball delivers pinball Zen:
It plays so well: True, the shift from a 4-foot-long table to a digital version played on your 9-inch tablet is tremendous, and the lack of physicality takes something away from the experience. It's pinball, and yet it's not. Luckily, when it comes to what happens below the glass, Zen Pinball totally nails the way a pinball should bounce and react, and taps on a touch screen prove plenty responsive for slapping the virtual ball around with the flippers. Also, the various views—both landscape and portrait—really give you control over your focus and how much of the table you want to see at any given time.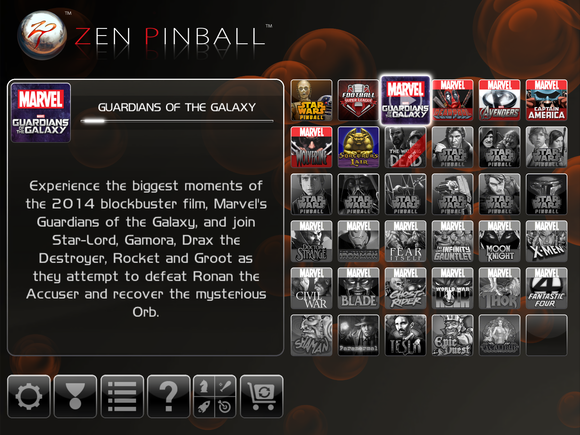 There's so many tables: Variety is a key part of the Zen Pinball experience, as there are currently 35 tables available within the app. The original table Sorcerer's Lair comes fully unlocked with the initial free download, while the other tables are sold for $2 apiece—that's unlimited play for a small handful of quarters.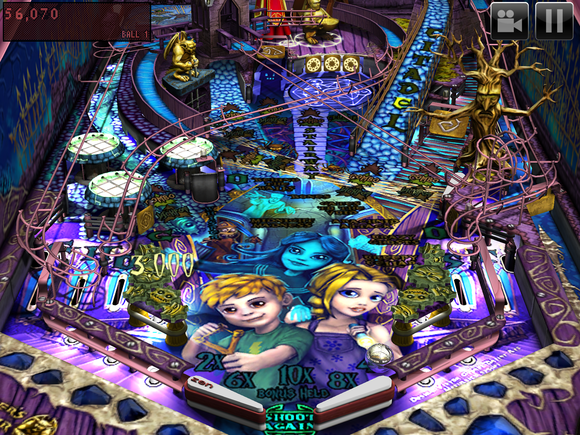 A few other original tables are available with fantasy or supernatural settings, but the bulk of them are licensed tables based on big properties. Nearly half are based on Marvel Comics properties, plus there are several Star Wars ones, a Walking Dead table, and even one inspired by popular European soccer clubs.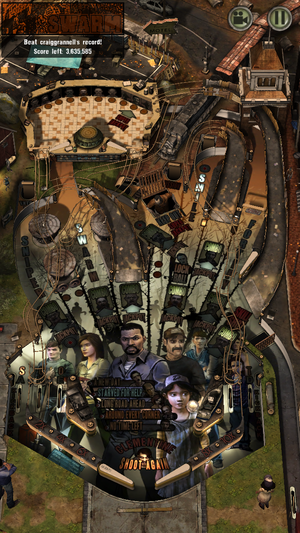 Each table is a new experience: Even with so many tables, each really feels like a freshly designed game, with totally distinct layouts and even graphic styles. Zen Pinball also uses the digital setting to its advantage with visual enhancements you wouldn't get under the real glass—like large animated characters and flying ships. The Guardians of the Galaxy table even has a bit of a narrative within, as your actions push forward the tied-in movie storyline. Luckily, such extras don't make the tables feel unrealistic or over-the-top; it's just a welcome bonus atop the refined pinball core.
While the app has been available for a couple of years now, new tables still launch regularly, with the Guardians of the Galaxy and Walking Dead content just out within the last few weeks. Real-life arcades may be scaling back and shuttering, but this virtual arcade only seems to get bigger and more appealing over time.
Developer: Zen Studios Platform: iOS (Universal) Price: Free