Months after redesigning your web profile pages, Twitter has a new look for profiles in iOS. It's major, at least according to Twitter.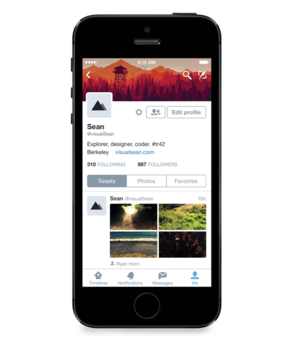 Except the new look isn't really that major. Twitter's update for iOS 8 on Thursday basically replicates the image-heavy web profiles that it introduced in April. That profile makeover drew some (OK, many) comparisons to Facebook's Timeline. But as far as iOS apps go, your Facebook and Twitter profiles look nothing alike. That's a good thing, because Facebook profiles could use some work.
Your new Twitter profile features a cover and profile photo, much like it does today, but with a simple white background that lets your bio shine. Before, Twitter buried your bio: You had to swipe to the right to see it, and it's unlikely that new users caught on to that trick very quickly.
When you check out other users' profiles, which are way easier and faster to navigate to in the app than on the web, you can tab over to their tweets, photos, and favorites to get an idea of what they're all about. Everything is front and center, accessible from any part of the profile. And the makeover is a welcome change. Twitter for iOS is a decent-looking app, but aside from profiles, the update for iOS doesn't change much. The navigation bar remains pinned to the bottom, with options to toggle between your timelines, notifications, messages, and profile (or "me").
The best part about Twitter for iOS 8: Interactive push notifications. Now you can reply, favorite, retweet, and follow from a notification without having to open the app. That feature alone is worth the update, which is rolling out to users running iOS 7 and later beginning Thursday.