Achieving pixel perfection is a challenge that plagues developers and designers alike—the capability to measure, examine, and discover every last detail of your onscreen designs is often what makes it possible for great apps and great graphics to become a reality.
This fact isn't lost with the folks at The Iconfactory, who've spent the better part of the last twenty years designing graphics and icons for everything from indie apps to multi-billion dollar operating systems.
Since 2004, in collaboration with German developer Artis Software, the Iconfactory has published xScope ( Mac App Store link; $50), which collects a number of tools designed to make curating graphic work easier under a single roof. We previously reviewed xScope 2; version 4 hit the digital shelves in late June, packing dozens of improvements over its predecessors.
Old dogs
If Xscope is entering your radar for the first time, it can be best explained as a collection of tools designed to help designers and developers make sense of what happens on their screens.
For example, the Dimensions tool displays a crosshair on the screen and uses advanced image-recognition techniques to determine how far you are from the nearest user-interface elements—a great way to quickly measure the size of anything from text boxes to windows without having to take a screenshot and transfer it into your favorite graphics program. Along similar lines, the Rulers tool superimposes a series of graduated rulers over your screen, allowing you to quickly eyeball measurements and tweak the position of anything you might be working on.
Among the other tools, you'll also find Screens, which allows you to simulate various screen sizes; Loupe, which magnifies the contents of your desktop as you move the pointer around; and Frames, which creates a series of overlays that can act as guides for laying out content.
New tricks
But since our previous review in 2008, Xscope's developers have greatly improved the app, adding hundreds of enhancements to the existing tools; many of those changes reflect advancements that have taken place in Apple's software ecosystem itself.
For starters, the app is now fully compatible with Retina-display-optimized content. You can take accurate measurements on high-resolution screens either in actual pixels or logical window points, "de-retinize" images to simulate what they'll look like on a regular display, or, conversely, scale down Retina images in real time to render them seamlessly on a low-resolution monitor.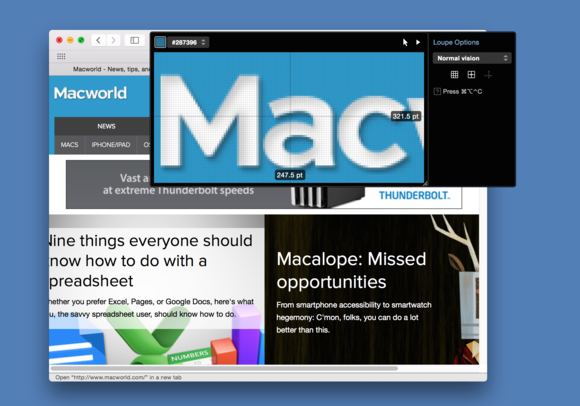 In addition, xScope has been updated to take advantage of recent changes in the OS X landscape, such as the introduction of a better-sized settings window that plays nice with the smaller screen of the 11-inch MacBook Air, and code that takes better advantage of both the CPU and GPU for improved performance and lower power consumption.
The writing on the wall
Of course, tweaks—however well thought out—do not a new version make. xScope 4 also comes with two brand-new tools that help designers take control of text and realtime development.
The first—aptly called Text—provides a window through which you can explore every glyph available on your system. Much more than an ordinary font browser, the tool allows you to search through the entire collection of Unicode symbols, providing a wealth of information about each of them, such as all the available variants, hex values, HTML entity names, and so on.
Once you've found the particular symbol you're looking for, you have the option of copying it to your pasteboard, or to examine it in more detail in a special panel, where—upon selecting a font available on your system—you can visualize and measure its component parts, such as ascenders, descenders, height, and so on.
Over there
The second new tool, called Overlay, superimposes a see-through panel over your screen, through which you can display a grid that helps you quickly format your contents according to a set of well-defined guides.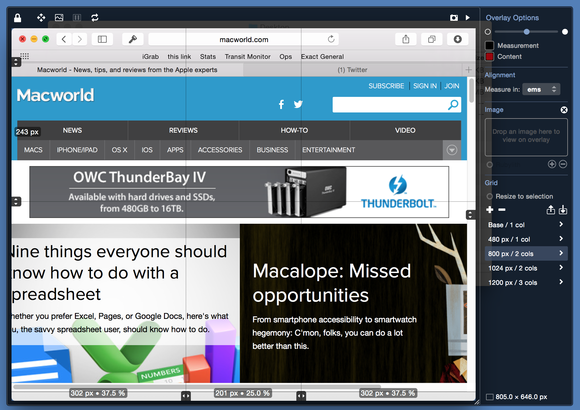 Although you can use the overlay with any window, this tool is particularly well-suited to Web design, as it can help you make sure that your content is properly aligned to your CSS grid. Even better, you can set the window to display a translucent image of your choosing—for example, the mockup of an app or a webpage—and use that as a guide for your design work.
Cleverly, the Overlay tool can be "locked on" one of the windows on your desktop; this causes the overlay to automatically match the window's dimensions and position if you resize or move that window. In the App Store version of xScope, this feature requires a few gyrations to get around the limitations of Apple's sandboxing model, but it's otherwise an easy-to-use tool that has turned out to be quite robust in my testing.
The fairest of them all
Another "new" feature—not new in version 4.0, but added since our previous review—bears mentioning because of its importance: Mirror. Mirror works in conjunction with an inexpensive companion iOS app and allows you to, well, mirror a portion of your Mac's screen, in realtime, to your iOS device. Think of it as a version of AirPlay that can take the content of a Photoshop or Xcode window and seamlessly that content on your iPhone or iPad as you're working on a project.
Of all the tools in xScope, Mirror strikes me as the one that has the most universal appeal, allowing both designers and developers to improve their workflows by getting immediate feedback on the way their work looks when deployed on a real device.
A great tool for professionals
xScope is clearly priced to appeal to professionals who value their time and can justify investing in a tool that increases their efficiency and productivity. The app easily delivers on this promise—not just because it provides a set of useful tools, but because every aspect of its functionality is curated down to the most minute detail, which makes using it a joy.
Ultimately, if you do any kind of creative work that involves manipulating graphics—whether as a designer or as a developer—xScope is an app that belongs on your Mac. It provides the perfect blend of functionality that will help you get more done in less time, and with fewer tribulations.