With crashes, high-speed chases, and hairpin turns, Pako is not just your average endless runner. It is an endless getaway game, where escape is impossible—how long until your car chase ends in a crash depends upon your skill. Pako has five different maps to choose from with different vehicles and obstacles, but your goal is always the same: Drive to stay alive.
If the twist on a classic style of gameplay isn't enough to interest you, here are three other reasons why you should check it out:
Look Ma, no brakes!: The object of the game is to survive for as long as you can. You'll try to avoid the police and other obstacles as you swerve and spin your vehicle through parking lots, crowded highways, and several other locations. Like any good game in the endless genre, a single hit means one thing: Game over. The police are after you no matter where you are, and they're aggressive (but can be shaken or made to crash if you're skilled enough).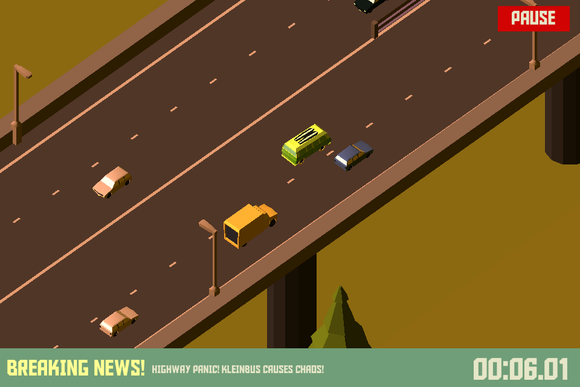 Compounding Pako's difficulty is the lack of control—while you can turn left and right, you have no control over speed. The lack of brakes means you'll always be on your guard—there is simply never a dull moment. The game's lack of brakes and varied handling abilities of each vehicle (for example, the muscle car is unsurprisingly fast, but the station wagon steers like a boat) mean that you'll never get comfortable, and you'll never think of the game as easy.
The not-so-open road: Each of the five maps provides a different vehicle and a different set of obstacles, all aiming to destroy your car. In addition to the previously mentioned muscle car (located in an endless suburban sprawl), there's a small hatchback trying to escape the cops at a mall, a station wagon in a cemetery (complete with zombies that can be hit for bonus points), a hippie bus on a highway, and—my personal favorite—a rickshaw in a city square. In this last stage, you'll find the rickshaw's nimble handling to be a welcome break, but in addition to the difficulty of being chased by the police, avoiding statues, guardrails and other cars, there are tanks. These tanks fire at you.
Have I mentioned that this is a hard game?
Laughing through the tears: The first dozen times you play any map, you'll likely have runs that last mere seconds. Everything in these maps is trying to cause you to crash, to get the iconic "BUSTED" game-over screen. Pako is designed for short play sessions, and I say this mainly because if you play for too long you may just throw your iPhone across the room.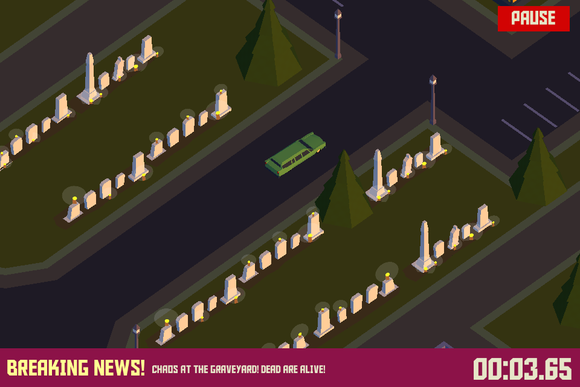 But the team at Tree Men Games clearly has a sense of humor. In addition to being murderous, the 3D world is surprisingly detailed and fun to explore. The POV of the game is basically bird's eye, or perhaps news-helicopter's-eye, as bulletins on the bottom of the screen provide some context for your mayhem. It's funny to think of whatever backstory caused a news team to cover a speeding, out-of-control bus on the highway or a deranged rickshaw that warranted military intervention. (And there's that living dead stage with the station wagon.)
While a simple premise, Pako provides some needed depth and variety to the growing endless runner genre. It's a "just one more try" type of game that you can easily come back to time and time again, finding a new wrinkle or discovering a new strategy to survive longer. Pako is a game you'll to share with your friends—and then watch as they laugh and cry at its difficulty and weirdness.
Developer: Tree Men Games Platform: iOS (Universal) Price: $2