Like many ( many, many) people, I preordered a new iPhone 6 as soon as I possibly could. I didn't choose the iPhone 6 Plus, the clown-shoe version of this device, but went for the standard-sized model. I've often desired to have a slightly larger screen, so I welcomed the idea of a 4.7-inch iPhone. I thought it would allow me to see more content, and use larger fonts, which would help my aging eyes. After using it for a few days, however, I'm not sure that I really want to keep it. I may return my iPhone 6 and continue using the iPhone 5s.
The iPhone 6 is a beautiful device. The display has rich, sharp colors, excellent contrast, and the large fonts make everything more readable. The design is sleek and smooth. But the problem is how the iPhone 6 fits in my hand.
I'm used to doing most things with my iPhone one-handed. With an iPhone 5s, I can comfortably, and securely, hold the phone in my hand and reach almost any part of its display to tap it. The iPhone 6 is very different. If I hold it securely, I can reach part of its display, and tap some buttons and icons, but for much of what I do I need two hands.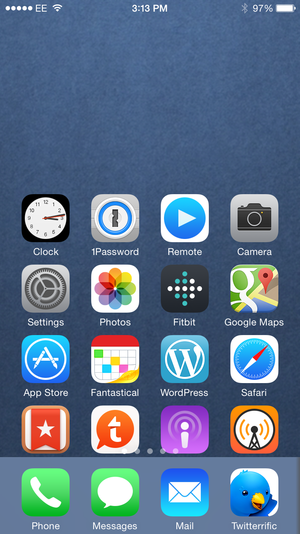 (The iPhone 6 Plus is obviously a different animal. If you buy that, you know that you must use it with two hands. I don't think any human beings have hands large enough to do much with that device one-handed.)
This is quite unexpected, as I have very large hands. With the iPhone 6, I don't feel that I can comfortably hold the phone and use it in one hand without running the risk of dropping it. I always put cases on my iPhones, because they are expensive—I buy unlocked phones—but I don't really like to test how well these cases work, if you get my drift. I bought a case for my iPhone 6, and, while it is very thin, it still adds an additional half-inch to the width of the phone, making it even harder to hold.
Apple foresaw this problem, and introduced a feature called Reachability. To activate this, you double-tap on the Home button without actually pressing it, and the screen slides down a bit. This is a nice idea, but it's poorly designed. First, tapping the home button means that you need to twist your hand a bit; it's not comfortable, and the way most people hold smartphones, the thumb can't access this button easily. Then, as soon as you tap something on the screen, it slides back up again. If you're trying to navigate, say, the Settings app, you may need to tap several times to reach your goal. Using Reachability, you may need to tap, double-tap, tap, double-tap, tap…
Think of the number of apps that have back buttons at the top-left of their screens. This is a very common convention, which worked fine on older iPhones, but now it's problematic. That back button is suddenly in the hardest-to-reach place, at least for a right-hander. With Reachability, you can access it, but I don't feel that I'm holding the phone securely enough, and I have to tap these buttons so often that it's simply annoying.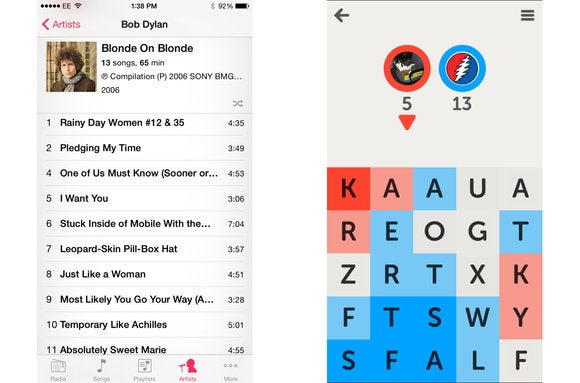 One of the main features of the larger iPhone is supposed to be its increased usability because of the larger display. However, this "handheld" device is no longer designed for most hands. The fact that this is problematic for me and my large hands suggests that for others, notably women, it will be even more difficult to use. I asked my partner to fiddle with my iPhone 6 a bit. She found it was impossible for her to do much one-handed, other than press the home button.
Apple clearly reacted to the market in deciding to make larger iPhones. There are many people who are delighted to use a smartphone with two hands, but many others who, like me, want to be able to use it with one hand as well. Apple is still selling the iPhone 5s at a lower price since it's last year's model. But I wonder if the company will keep selling the older model in large numbers to people who simply don't want a phone as big as the iPhone 6.
For me, I've got a few more days to decide whether I keep this phone that I don't feel comfortable using, or whether I go back to the iPhone 5s, which I can hold securely. What would you do?