Apple isn't shutting down Beats Music, the streaming music service it snagged as part of its $3 billion deal to acquire Beats Electronics, but it needs to do something with the Spotify rival.
Reports of Beats Music's imminent demise swirled around the Internet on Monday, but Apple quickly denied the rumors, telling the New York Times flatly: "This is not true." Re/code noted that Beats Music will likely just lose its Beats branding and join the iTunes family.
When Apple bought Beats Electronics for the cool factor of the popular (and ubiquitous) headphones, the streaming service seemed like a bonus: Good to have, but not a high priority. But Beats Music could rejuvenate Apple's reputation as a music industry leader, which has fallen off as people forego 99-cent singles in favor of $9.99-per-month streaming subscriptions.
Beats by iTunes could kill Spotify
Apple is deeply entrenched in the music business after a decade of successfully helping artists and record labels make money online with iTunes. Thecompany waded into Internet radio last year with iTunes Radio, a service that was a few years behind the curve and not exactly a game-changer. With streaming upstarts like Spotify and Rdio nipping at its heels—and racking up subscribers—Apple needs a new music strategy.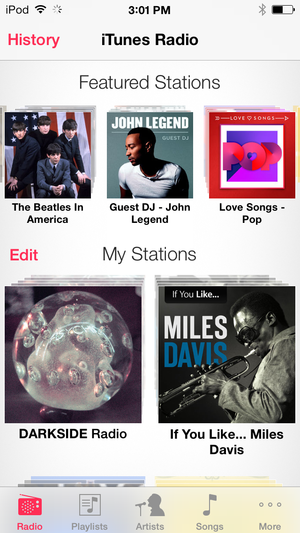 That's where Beats Music comes into play. Unlike other streaming services, Beats is based on curation: playlists it creates after getting to know you. One of its most unique features, The Sentence, lets you play Mad Libs for music to get a truly custom experience: "I'm ___ & feel like ___ with ___ to ____."
Apple CEO Tim Cook spoke glowingly about Beats Music's qualities in a recent interview with Charlie Rose:
"One night, I'm sitting playing with [Beats Music] versus some others, and all of a sudden it dawns on me that when I listen to theirs for awhile, I feel completely different," Cook said. "And the reason is that they recognized that human curation was important in the subscription service; that the sequencing of songs that you listen to affect how you feel. It's hard to describe, but you know it when you feel it. And so that night—I couldn't sleep that night."
But though Cook recognizes how special Beats Music is, the subscription-only service needs help climbing over a few hurdles. It's only available in the U.S. and has about 250,000 subscribers, far behind its competitors. It needs a little love and a lot of promotion to grow, which is where Apple's deep pockets, marketing power, and music industry partnerships are essential.
"I felt that we could get a subscription service, we could get incredible talent, and that I think we could all put our heads together and do some things that are beyond what either of us are currently doing, and we could get a fast-growing business," Cook continued.
iTunes is still an institution. It was the platform for the year's biggest music industry story: Beyoncé's overnight album drop. Apple should bundle iTunes Radio and Beats Music into a hybrid service with the largest library of songs in the business, and add some exclusives to sweeten the deal. Spotify won't know what hit them.