Reader John Allen seeks a way to hang on to files that are at risk of deletion. He writes:
In a recent article about upgrading to iOS 8 you mentioned that the Mac OS will delete old iOS installer files that I might need if I want to revert to a previous version of iOS. Is there some way I can keep this from happening in case I want access to those old installers?
There is. But first a word of explanation.
At one time these files (that bear the .ipsw extension) were not automatically removed. Instead, they stacked up like cordwood in the deep recesses of your hard drive. Over time (and several updates) they could consume a significant amount of storage space. So Apple, out of pure concern for its users, came up with the reasonable idea of automatically deleting them when they were no longer useful to you.
And this is a terrific idea except during those brief periods when a new Big Number version of iOS comes out, a few people regret updating, and they want to revert back to the previous version. In such cases a quick web search will turn up the file you're after, but having it on your Mac would save you the trouble of a download.
There are some great automation tools for manipulating files within folders—Noodlesoft's $28 Hazel is the first that springs to mind—but let's handle this with Apple's own (and free) Automator.
Launch Automator and, in the workflow chooser, select Folder Action and click Choose. At the top of the workflow area you'll see a pop-up menu that asks you to choose a source folder. Follow this path to get to your iOS installer files: youruserfolder/Library/iTunes/[iPad, iPhone, iPod] Software Updates. (You can access the Library folder by holding down the Option/Alt key while clicking Go > Library in the Finder.) Choose this folder as the source.
Then drag in these actions in order: Get Specified Finder Items, Get Folder Contents, Copy Finder Items.
Into the Get Specified Finder Items action drag the Software Updates folder that houses your iOS update files. Leave Get Folder Contents as it is. Create a new folder somewhere (perhaps in your Documents folder) and name it iOS Updates. Drag that folder onto the pop-up menu in the Copy Finder Items action and enable the Replacing Existing Files option. Save your workflow.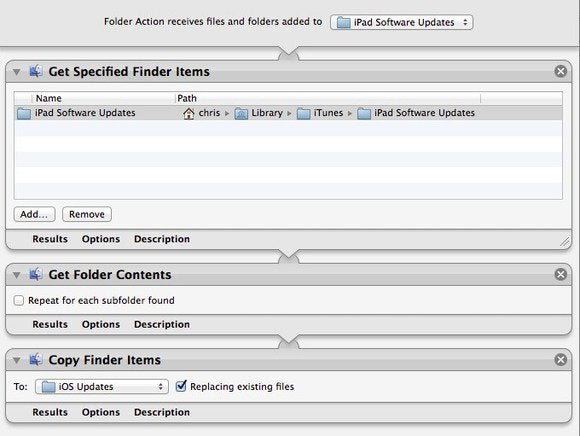 What happens next? Whenever a file is added to this folder, a copy will automatically be placed in the iOS Updates folder you created.
Note that this transports you back to the old days where your drive will be laden down with files you may no longer need (and may no longer work). With that in mind, check this folder every so often to see if there are out-of-date .ipsw files that you can get rid of.