These days, keeping up with games can be a full-time job. So how do you separate the signal from the noise, the wheat from the chaff, the Temple Runs from the Temple Jumps? Allow us to help by regularly selecting a game You Should Play.
Everybody loves platformers. But it's difficult to find a good platformer that isn't just a copycat of a classic favorite. Oscura: Second Shadow is clearly inspired by old-school platformer games, but it's also clearly unique.
Oscura: Second Shadow is actually a sequel, but the storyline isn't all that important. You certainly don't need to have played the first game to enjoy or understand this one. (The first installment, Oscura, costs $1.29 on the App Store, in case you were interested.)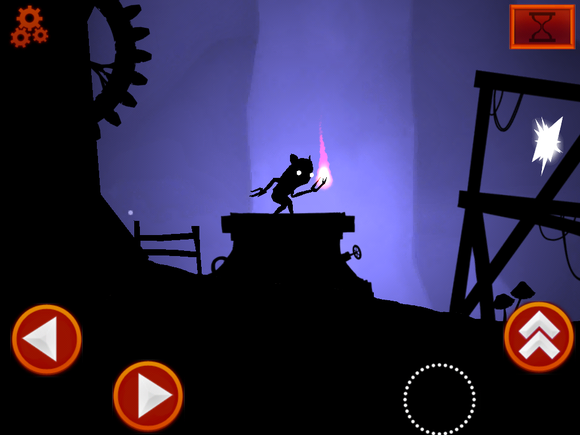 Oscura: Second Shadow is set in Driftlands, a world that has been dropped into darkness after an evil (?) creature steals the world's light source—a giant, glowing crystal—and shatters it across the game's 20 levels. You play as Oscura, a rabbit-like creature with a glowing fireball in his hand. Oscura can run, jump, and occasionally cause his fireball to glow brightly, slowing down time and enemies. The game is simple and intuitive like old-school platformers, yet with a completely different ambiance and art style. Here are three more examples of how the game's style makes Oscura: Second Shadow shine.
Built for touch: Mobile developers frequently claim that their games are "built for touch," but Oscura: Second Shadow actually is. The game features two control styles— virtual buttons and touch gestures—which both feel natural (the virtual buttons more so, in my opinion) without obscuring the screen or taking away from the experience.
Oscura's default controls are a set of virtual buttons placed along the bottom of the screen. I found these controls to be the most intuitive, especially when playing on a tablet, and not at all distracting from the game itself. There are four buttons: Left, right, jump, and a timer button that allows you to slow down time (and enemies) when you've collected enough crystal shards.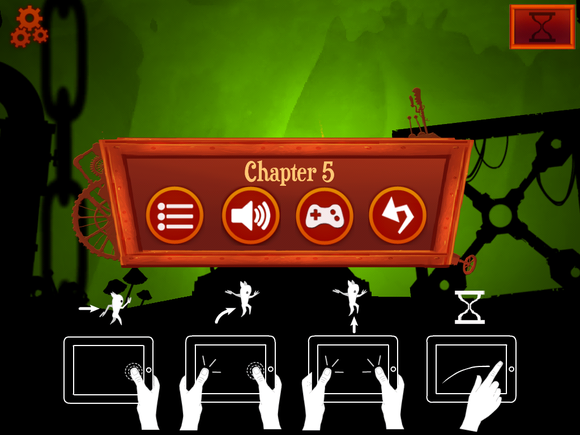 While the buttons are well-placed, people with smaller screens may prefer Oscura's gesture-based controls, which you can activate through the in-game settings menu. Gestures include tapping and holding either side of the screen to move, tapping both sides of the screen to jump, and swiping to activate the timer. The gesture controls are a relatively quick study, although they're not as intuitive as the buttons.
Dark, otherworldly artwork: The world of Driftlands is dark—literally, as it's been bathed in shadow—and the only source of light is from Oscura's hand (and a few floating crystal shards). But just because you're creeping through a shadowy world doesn't mean that the developers have shirked on the game's artwork: Plenty of attention to detail has been paid to this eerie, fantastic world.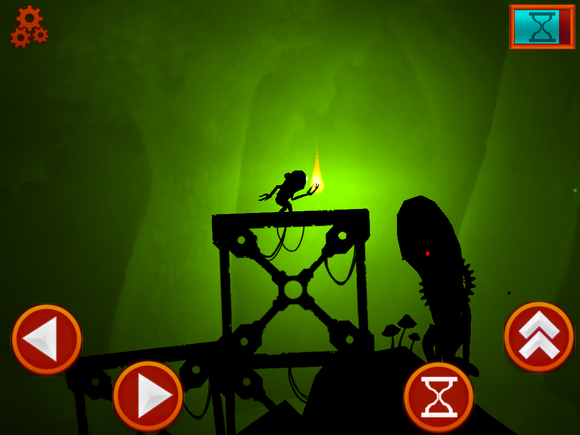 Driftlands is a mash-up of nature and machine (which is, by default, a little creepy). You'll pass spinning cogs, dripping chains, perilously-built structures, and disturbing, stalking creatures made of spikes, gears, and wings. The graphics are smooth and high-resolution, and detailed without being overly complicated. Colors are used sparingly, as accents for the backgrounds, certain obstacles (such as lava), and the spikes of some creatures. I wouldn't necessarily put this game in the horror genre—it's eerie, but not scary—but it definitely owns dark fantasy.
Plenty of playtime: For $3, Oscura: Second Shadow gives you 20 hand-crafted levels, which doesn't seem like a lot… until you start playing. Just getting through each level is challenging (I died 26 times before I managed to successfully navigate a lava pit atop a rolling stone ball); mastering each level is another story entirely.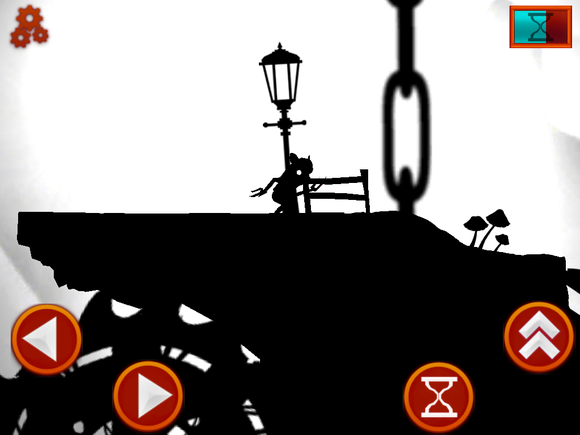 Basically everything is out to kill you: Hit a spinning gear, you're dead; drop into a pit of water or lava, you're dead; get spiked by a bouncing ball of spikes, and, yep, you're dead. Unlike most games, death isn't actually all that bad—when you die, you start back at whatever checkpoint you last passed (checkpoints are, appropriately, streetlamps that light up as you pass them). Each death is tallied up and added to your final score—a higher death toll means fewer stars.
Speaking of stars, you can earn up to four stars per level by completing various goals. To earn a perfect four-star rating, you'll have to collect floating cogs and crystal shards, hit a time goal, and not die. This is a lot more difficult than it sounds, and even the first level is hard to complete without dying.
Developer: Surprise Attack Party Platform: iOS (Universal) Price: $3