Reader Len Daniels faces a frustration with mapping apps. He writes:
Much as I love the ability to navigate using Apple's Maps and Google Maps with my iPhone while driving, I'd like the option to create routes with multiple destinations. I often visit one client after another and it would be convenient to create a single route that moves from one to the next. Is there a way to do that with either of those apps?
Regrettably, no. In the case of Apple's Maps app it's not entirely surprising given that the OS X version also supports just a single destination. Google Maps inability to do this is more puzzling as its web-based counterpart does let you create multi-destination routes. Although you can send links to these routes to your iOS device and open them in the Google Maps app, only the beginning and end of your journey are displayed. Open these links in Safari and you do see the route with all its destinations, but you don't get the benefit of turn-by-turn navigation.
Disappointed though you may be that the two most popular mapping apps available to iOS devices lack this feature, you can take some comfort knowing that there are alternatives.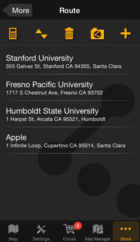 Though not cheap at $50, Garmin's Navigon North America lets you create routes with multiple destinations. To do that on an iPhone, tap More at the bottom of the screen, tap Route, tap the plus (+) button, and then take the necessary steps to create your first destination. Once you've done that tap Add to Route at the top of the screen. Tap the plus button again and create another destination. Repeat this process for all your destinations. When you're done, tap the calculate button and Navigon will create your route profile (which includes the route's total distance and the time it will take to complete it).
An initially less expensive way to go about it is to purchase MotionX GPS Drive for 99 cents. For that penny-under-a-dollar purchase you get the app and 30 days of free voice guidance. Once those 30 days expire you'll have to pay for your virtual voice navigator to the tune of $9 a year for an auto-renewing subscription, $10 for a flat one-year plan, or 30 days of voice guidance for $3.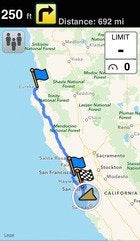 I find MotionX's method for adding destinations (which it terms "multi-stop routing") a little less intuitive in that it asks you to first create and calculate your final destination and then locate additional destinations and add them as stops, but the process is hardly onerous.
These aren't the only apps that do this sort of thing. If there are any that you particularly like, feel free to mention them in the comments below.
Have a question of your own? Send it along to mac911@macworld.com.