It's a busy day for Twitter clients. Twitter's own desktop client for Mac was updated to a version 3.1 on Thursday to introduce a couple of nifty new photo-centric features, allowing up to four photos per tweet and letting users share photos privately in in direct messages.
On the mobile side, popular third-party Twitter app Tweetbot 3 got updated to version 3.5 on Wednesday to get the iOS 8 treatment. The app is now optimized for iOS 8 as well as the iPhone 6 and 6 Plus, and also features interactive notifications for iOS 8 users.
These little tweaks might not be huge, but they certainly bring some welcome features that users of either client will surely appreciate.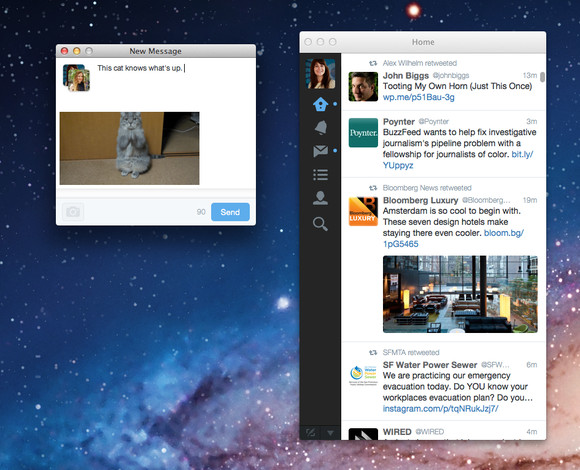 Twitter for Mac still looks the same, but you'll notice the new features when you compose a new tweet or direct message. The direct message box now has a little camera icon; click it to upload a photo and share it privately instead of blasting it to your entire feed of followers.
With tweets to the masses, you can include up to four photos. When placing them, you'll see them lined up side-by-side, but when you tweet them, the photos will be displayed as thumbnails in a neat two-by-two grid. Click on each thumbnail to get a larger view of an image.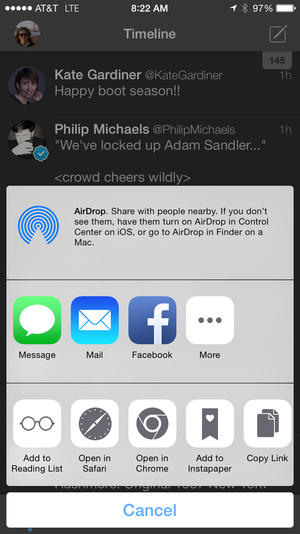 Moving over to Tweetbot, the iOS app still has the clean look and feel that it has had since the launch of iOS 7, but now properly fits whatever iPhone you have. With interactive notifications, you can reply to tweets and direct messages or favorite a tweet without having to open the app; swipe or tap on an incoming notification to respond to it.
Tweetbot also added extension support, so you can easily share or save stories to services like Pocket, Instapaper, and Evernote for you to access later. I love this feature—saving links from Twitter has never been smoother. It also added 1Password support, for an extra level of protection.
This is Tweetbot's first update in quite some time, and the iOS 8 boost makes it function even better than before.
Both updates are available now: Look for Tweetbot in the App Store and Twitter for Mac in the Mac App Store. Let us know in the comments if there are any other features you'd like to see in either one.