After a brief delay on Apple's part, HealthKit-compatible apps are now available in the App Store. Finally! Thanks to this back-end feature, you can view all of the health data that your iPhone 5s, 6, or 6 Plus is already tracking within other apps, and view everything within a single app of your choosing—be it Apple's own Health app, or another third-party app.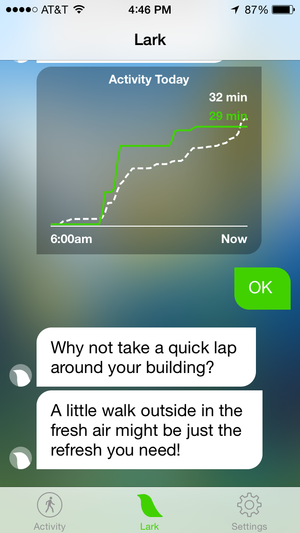 Even though the data stays the same, each of these apps has its own approach to how it interprets and displays this data. I've been using Lark since it launched on Monday, and I love its cheerful, personalized approach to recording my health stats. It's kind of like my own little life coach.
Getting started with Lark is as easy as installing the app and signing up. Lark uses your iPhone's M7 (iPhone 5s) or M8 (iPhone 6 and 6 Plus) sensor to track your sleep and fitness activity, then quantifies this info to help you track your goals. It keeps a daily log of all of this activity, which you can view as an item-by-item list, or as a handy chart. Even if you're new to the app, you'll have something to look at right away—it pulls info from the sensor from a couple of days back.
For tracking sleep, Lark assumes that you're sleeping between the time you last check your phone at night and the first time you check your phone in the morning, confirmed by how long your phone stays stationary.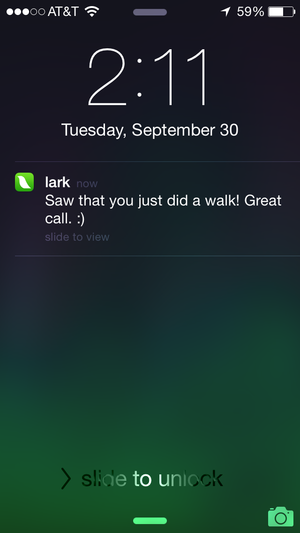 For fitness, Lark breaks your activity down by time and distance instead of step count, displaying when you took walks throughout the day and how many calories were burned. I prefer this instead of steps—I think it's easier to see your daily patterns when you're looking at how often you're walking and how far instead of how many total steps. That way, you can push yourself to walk or run just 5 minutes longer, or a half-mile more.
However, it's not the activity chart or list that interests me about Lark. Lark actually talks to you, sending you text-like messages that explain your activity and compares your status to previous days. When you tap the Lark button, it breaks down your activity for the day so far, showing you smaller progress reports and giving you tips on how to stay active. You can interact with Lark to get the info you want to see, and send the app developers feedback just as if it was a text message.
It's pretty eye opening. I consider myself to be a pretty active person, but apparently I'm quite the opposite of that during busy weekdays at work. During mini chats with Lark, it often tells me to go take a walk, seeing as I haven't moved much recently. You can also turn on push notifications, and the app will gently remind you to get moving—and will follow up with a "Nice job!" if you heed its advice. (I'm not even going to go there with my sleep patterns.)
Lark is a free app for iOS, available now in the App Store.