Despite the implausible rumor that the next-gen iPad Air may not debut until early 2015, Re/code reports on Friday that Apple will hold another special press event on October 16.
That's a Thursday, which is not the most common day to have an Apple event, but no matter. Apple declined to officially confirm the information from Re/code's sources, but the company typically starts inviting the press to these events about a week out, so we should know for sure as soon as next week.
If Apple's patterns hold, this event will unveil a refreshed iPad lineup: Faster chips, often thinner bodies, and hopefully Touch ID, since unlocking current iPads with a passcode is starting to feel egregiously primitive. We could also see new Retina iMacs that 9to5Mac predicted last week, and the launch of OS X Yosemite. (This wasn't mentioned in any of the rumors, but our fingers are crossed that we might learn an Apple Watch release date as well.)
Re/code also predicts this event will be held at Town Hall Auditorium, a small theater on Apple's campus in Cupertino. If that's true, fewer attendees will fit than at larger, off-campus events like the iPhone 6 and Apple Watch launch in September. We'll be sure to update you as soon as we hear confirmation.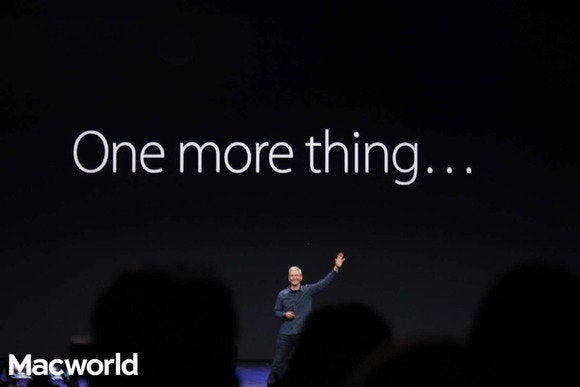 Why this matters: Apple's product lines depend on each other: OS X is on a yearly release schedule to match iOS, so hopefully those releases will inch closer together each year, so we don't see problems like iCloud Drive launching first on iOS and not working so hot until OS X is updated too. Yosemite's new design looks particularly amazing on Macs with Retina displays, so we need more of those. And with iPhones growing bigger, the difference between iPhone and iPad is starting to blur ever so slightly, so it makes sense to keep those updates close together too.
Holding one event to release everything (iOS, new iPhones and iPads, updated Macs, and OS X) would be a huge undertaking, both for Apple and the poor live-bloggers whose fingers would probably fall off trying to type it all up in real time. So it makes sense to keep at least two events—but it's not surprising that they would be just over a month apart.
What's the one thing you would most like Apple to unveil in October? Let us know in the comments.