These days, keeping up with games can be a full-time job. So how do you separate the signal from the noise, the wheat from the chaff, the Temple Runs from the Temple Jumps? Allow us to help by regularly selecting a game You Should Play.
Phoenix Wright: Ace Attorney—Dual Destinies is a text-adventure game that Capcom originally published for the Nintendo 3DS, but has now made its way to iOS devices. While text-heavy and at times tedious in its dialogue, the brilliantly animated and totally ridiculous world provides an uncommon iOS experience.
I went into playing Dual Destinies without having played any Ace Attorney games before, so it was a surprise to me that the Ace Attorney games have as much to do with actual lawyering as the WWE has to do with actual wrestling. Once I realized that things like due process, badgering the witness, contempt of court, and even the right to remain silent don't exist in the Ace Attorney world, it was a lot easier to swallow the outlandish characters, dialogue, and premise. Think of Dual Destinies as the ridiculous courtroom scenes from a Dick Wolf television show combined the bravado of an anime series with the text-heavy exposition of an JRPG.
Still in? Good, because once you get through the first 30 minutes, it's actually a pretty fun yarn for these three reasons.
Bizarre yet quietly brilliant story telling: The yarn starts with a brief synopsis about the world. The legal system has entered a corrupt time, when false accusations, fabricated evidence, and abuse are rampant. (Also, apparently garish hair.) You're charged with helping defend Juniper Woods, a shy sunflower-hat-wearing girl who has been accused of bombing a courtroom. You play as both attorneys Athena Cykes and Phoenix Wright as they seek to defend the accused and ultimately solve the mystery. As the story unfolds, revelations about Juniper, Athena, and Phoenix's friends and adversaries begin to surface.
Not everyone is who they seem and the circumstances of the crime (and the cast of characters) keep getting stranger and stranger.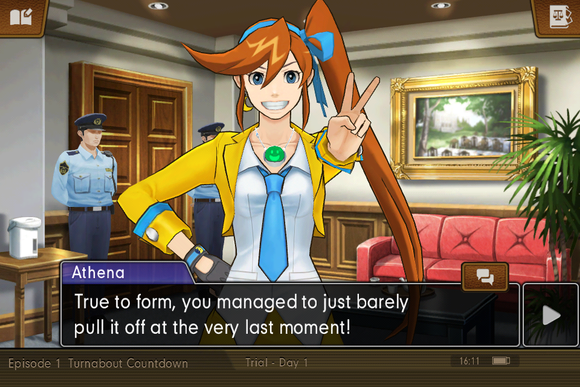 Memorable characters: Both Athena and Phoenix are memorable characters, with Phoenix playing the role of a bombastic boy scout who is often sarcastic inwardly and kind-hearted outwardly. Athena, meanwhile, has a gadget that later helps you interrogate witnesses, but initially will shout what she's thinking out loud—often to the detriment of courtroom order. She's a bit of a hothead and initially quite grating, but you come to appreciate her role as an apprentice who ends up not only being a distinctive character, but also provides a really cool gameplay mechanic. Besides Athena, the prosecution lawyer is delightfully cocky, the witnesses are bizarre, and the dialogue thankfully settles into something more tension-filled than the initial soap-opera squabbles of the first few minutes.
Sci-fi lawyering: Speaking of dialogue, Dual Destinies is almost an animated story—the first twenty minutes of the game are nothing but exposition, which cannot be skipped. But this helps set up what unfolds: A whodunit in a weird world that actually is worth getting invested in. This pays off in moments where you can interact and actually help direct the action: In order to approximate things like cross examining witnesses and forming arguments, Dual Destinies lets you present evidence (through careful interpretation of the witness's statements) to prove that they're lying. You can get hints if you're stuck on these mini-puzzles, and the reward is likely a poppy animation or over-dramatic gesture, from the iconic "OBJECTION!" to seeing the various lawyers sweat when they feel they're doing badly.
The other key gameplay element is something that Athena provides. Written as "analytical psychology" in the game world, (where Athena can "read a person's heart") you can identify when a witness's emotions don't line up with their statements.
Colorful animations make the answers ridiculously easy in the opening moments of court, so learning the ropes of Ace Attorney lawyering should be a cinch. Still, it's exceptionally cool to think how Ace Attorney has translated some of the finer points of courtroom lawyering—interrogations, pointing out inconsistencies, making it known when someone has perjured themselves—and made them fun.
The game offers hours upon hours of cases to solve, with plenty of weird twists and challenging puzzles. For the patient player, you'll find Ace Attorney: Dual Destinies to be more fun than you know, being an actual attorney.