Even though Photoshop is so incredibly popular its name is a verb, it's not for the faint at heart. Now that Adobe offers both Photoshop and Lightroom (plus other nifty goodies) for $10/month via its Creative Cloud Photography Program, a dirty little secret is creeping out of the image editing bag: it's easier to edit images in Lightroom than in Photoshop. Brace yourself and consider the following major advantages.
Powerful database with nondestructive editing
Unlike Photoshop, Lightroom doesn't edit your original images. Instead, it creates a catalog (database) of the images you tell it about through the import process. The images aren't squirreled away into some mysterious package file either, like in iPhoto. They live wherever you want them to on your hard drive.
Each image gets its own database record in which Lightroom stores a running list of all the edits you ever make to that image. Edits are only applied when you export the image, which creates a separate file. You can also create virtual copies of a photo within the database, enabling you to experiment with different effects without duplicating the original.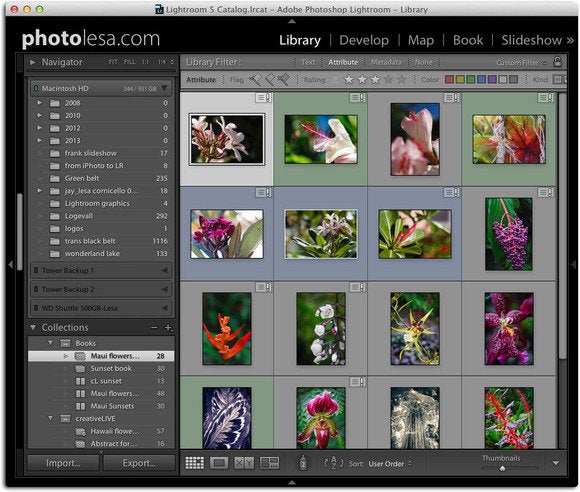 Unlimited undos
Because of its database model, you can undo anything you've done anytime you want using Lightroom's History panel, even after you quit the program. In contrast, Photoshop gives you 20 undos (called history states), but they're available only while that document is open. Close the document and its history resets.
While you can increase Photoshop's history states to 1000, your hard drive space will vanish at warp speed—for each history state, Photoshop creates another copy of your document each time you change something.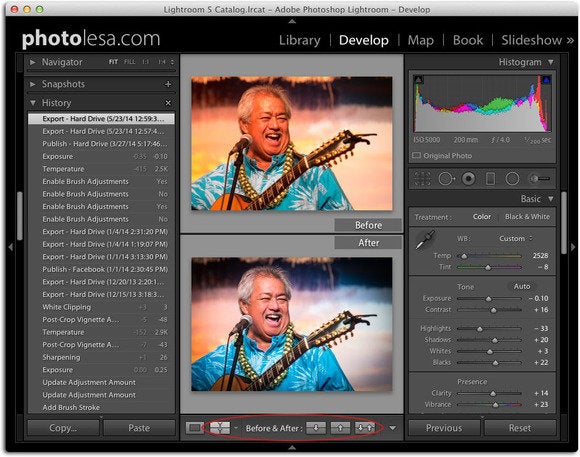 Easy slider-based controls
Unlike Photoshop's vast variety of image controls, nearly everything in Lightroom is controlled by sliders. Want to change exposure or contrast? Use a slider. Want to lighten shadows or darken highlights? Sliders. How about sharpening, adding a color tint or edge vignette? You guessed it…sliders.
Even Lightroom's local adjustment tools, including the Adjustment Brush and Graduated and Radial Filters, use sliders to affect certain parts of the image instead of the whole things—the changes only occur to areas you mark by dragging atop the image. Those local tools make it easy to fix overexposed skies, create partial color effects, add digital makeup, smooth skin, lighten teeth and wrinkles, enhance eyes, darken hot spots, add extra sharpening to specific spots, etc. Until we can edit images telepathically, sliders are as simple as it gets. (While you can access the same sliders and local adjustment tools in the Camera Raw plug-in that comes with Photoshop, only savvy photographers do.)
Healing and cloning
Lightroom's Spot Removal brush can be set to either healing (blends surrounding pixels) or cloning (copies pixels with no blending) mode, meaning you can click, or click and drag, to remove blemishes, wrinkles, power lines, and more. You even get opacity control so you can dial back the strength of the change.
Copy/paste or sync changes across multiple images
Lightroom lets you easily copy/paste changes from one image to another—it even asks which changes you want to copy. You can also fix one image, then select others and sync your changes to apply those changes to all.
Create photo books, slideshows, prints, and more
Lightroom does all this with ease—you can even create simple web galleries. With enough patience and Photoshop skill, you can manually create a fine-art or picture-package style print, or you could create a (simplistic) slideshow using the PDF Presentation command, but that's it. (Adobe Bridge can create simple slideshows, too, and if you jump through the hoops to install the Adobe Output Module, you can create a simple web gallery in Photoshop.)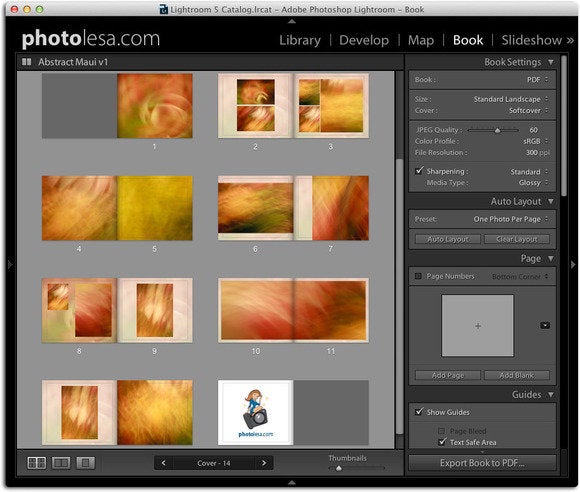 Easy exporting and watermarking
If you regularly prepare images for other destinations, say, to feature on your website, or to submit to a stock service, you can automate the process using Lightroom export presets, called Publish Services.
Simply drag the image(s) onto your preset and click the Publish button, and Lightroom exports the image with the file name, at the dimensions, quality, and file format you want, complete with metadata, additional sharpening, and even a watermark. If you change a published image, Lightroom politely asks if you'd like to republish the modified version. In Photoshop, you'd have to create a watermark action and then use the Image Processor script, which has fewer options and can't keep track of modified versions.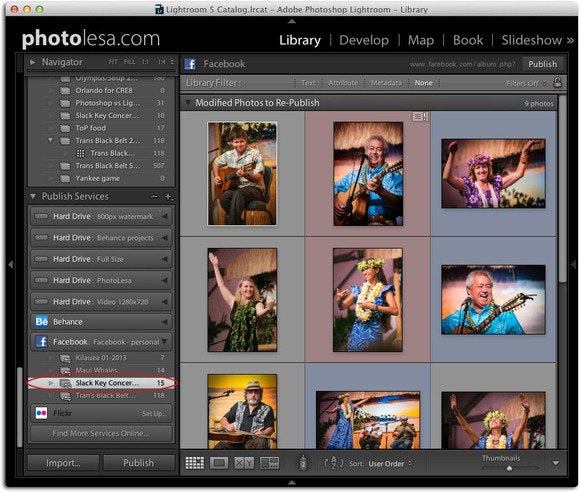 Have a preset party.
Creating Lightroom presets are a galactic timesaver, plus you can apply them on import as well as manually. Your options include file naming conventions, any settings in the Develop module (exposure, contrast, etc.), project settings (sizes, fonts, colors, for books, slideshows, etc.), identity plates (the branding that appears at the top left of the Lightroom interface), watermarks, exporting, and more.
Now, is Lightroom better at everything than Photoshop? No. If you want to combine images (called compositing), remove bigger objects like people, slim your subject, swap heads or backgrounds, realistically change the color of an object or move it, create text, turn a photo into a painting, change the depth of field, add motion or a third eye, push a photo through text or a shape, work with perspective, draw, paint, save images with a transparent background, or anything involving selecting pixels…you need Photoshop. Happily, Lightroom can send images to Photoshop (or Photoshop Elements), and it keeps track of native Photoshop documents in its database, too.
If you have access to Lightroom, it's worth a try—it could save you enough time that you'll actually enjoy organizing and editing your images again. Until next week, may the creative force be with you all!
Lesa Snider teaches the world to create better graphics. She's the author of the best-selling Photoshop: The Missing Manual books, coauthor of iPhoto: The Missing Manual, author of The Skinny Book ebook series, a founding creativeLIVE instructor, and regular columnist for Photoshop User and Photo Elements Techniques magazines.