This morning IDG announced that Macworld Expo (later known as Macworld/iWorld) is going on hiatus. How permanent this break is depends entirely on whether those running the show can find a financial model that makes sense in a world where people increasingly learn while sitting in front of computers and mobile devices rather than traveling to a convention center to get hands-on training and demos.
As someone who's seen the end of the print edition of Macworld, this move isn't entirely surprising. The world in which both the magazine and trade show were born was very different than the one we inhabit today. The "slow information" presented in print and face-to-face gatherings has been supplanted by knowledge-in-an-instant. And where information sources go, so too go the resources that support them.
But I come not to bury Macworld Expo (or armchair quarterback what might have been done to save a show I loved), but rather to put it in some perspective.
The gathering
Expo was first launched in 1985 in San Francisco by Peggy Kilburn, who ran the show from 1985 to 1999. A summer edition was originally held in Boston but at Apple's urging, the summer show moved to New York from 1998 to 2003. In 2005 Expo became a single annual event, with just the San Francisco edition taking place in January. For the last several years Paul Kent has managed the show.
In its early and middle years, Macworld Expo was, in some ways, the world's greatest Mac user group gathering. As the World Wide Web had yet to become the source of the globe's information, Mac users depended on books; publications such as Macworld, MacUser, and MacWEEK; and, importantly, face-to-face interaction with other enthusiasts for their Apple fix. While users groups served this latter need on a local level, if you wanted to be surrounded by others of your ilk from across the country (and world), you went to Expo.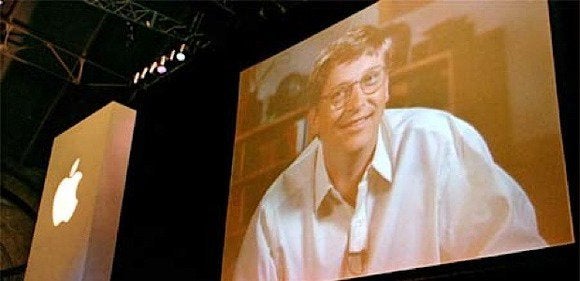 It was also a place to gain some hands-on time with a vast collection of Apple products as well as software and peripherals designed for the Mac. Back then if you didn't stumble out of the hall at the end of a long day with a couple of bags stuffed with printed material and swag, you just weren't trying. Members of the press, in particular, were loaded down with marketing materials, software, and peripherals small enough to fit into the extra suitcase they brought along for exactly that purpose.
And then there were the after-hours events, with Apple's developer party and MacWEEK's Mac the Knife party being the two most desirable tickets.
Opening keynote presentations were, at the time, something that you wanted to attend provided you weren't too exhausted from the previous night's activities. Apple's CEO du jour generally had something interesting to say, even if the subtext in the beleaguered days boiled down to "Hey, we're still in business!" It wasn't until the return of Steve Jobs in 1997 that Expo's keynotes become a must-attend event.
The "Stevenotes"
Rather than simply update the crowd on Apple's financials and exhort Apple fans to carry on the fight, Jobs talked about the challenges Apple faced and, more importantly, outlined the steps the company would take to overcome them. As Apple succeeded and the company's confidence grew, these keynotes adopted a template that has become a model for the technology industry—talk about your successes, introduce new products and ideas, convey your vision, and end with a "One more thing…" bang.
These keynotes significantly elevated Expo's profile. Now, not only did Apple devotees want to attend, but as Apple grew to represent the cutting edge of consumer technology, everyone was interested—particularly members of the mainstream press who passed along Apple's enthusiastic message. Perhaps Jobs' most notable announcement during these keynotes was the iPhone in 2007.
Apple exits
But Apple's influence cut both ways. Expo had increasingly become an Apple-dominated event. Apple's CEO was no longer introduced by an IDG executive at the start of the keynote, Apple made its executives and employees less available outside of this presentation and press demos, and company representatives imposed stricter guidelines on exactly what Apple would and would not do during the show. Finally, during the 2009 keynote, Apple's senior vice president of worldwide marketing, Phil Schiller, announced that Apple would no longer participate in the show. While suggesting that attendees could get the same experience from visiting Apple's popular retail stores, the behind-the-scenes word was that Apple was now powerful enough to get the coverage it wanted by hosting its own events and that the company didn't care to conform to someone else's schedule in regard to product announcements.
Regrettably, though those running the show tried their best, they simply couldn't find a way to return the show to its roots—as a gathering place for Apple enthusiasts. Expo had become an Apple event, and when the company left, many exhibitors and attendees left with it. To them, seeing Steve Jobs onstage and pressing their nose to a glass case surrounding a suspended iPhone was what Expo was all about. If you couldn't breathe Apple's air, there was no reason to attend.
Why we went
Regardless of whether you attended Expo for the swag, Apple's booth, the conferences, or the chance to market your products, you likely receive this news with regret. Personally, Macworld Expo was a place for me to put faces to names, connect with our readers, gather with friends I see far too infrequently, learn about some terrific products and technologies, and rekindle the enthusiasm that set me on the path I tread today.
And I'm hardly alone. At Expo careers were launched, plots hatched, businesses created, minds changed, and friends made. It was an event that we looked forward to for months and whose ideas resonated for years. And it wasn't just us shmoes. I saw countless Apple employees who were just as excited about the show as I was. It was the center of the Apple universe. It mattered. And it mattered because it was about more than just products and promotion. It was equally about people.
While the ability to glean the information I want from a simple Google search is invaluable, it lacks the human element. Google won't let me stroll up to the Apple booth and ask a product manager questions about the latest iPod. It can't hiss "Hey Chris…" from a small booth and show me a nascent technology that will one day change my life. It won't stop me in mid-beer-sip to ponder a concept proposed from the day's smartest-person-in-the room. It won't look me in the eye and say, "This is important." It will never be about that last reluctant wave to your friends and the promise that you'll do it all again next year.
Given the economics of the day, Expo's hiatus is understandable. I pray that those tasked with the job will find a way for it to live on in some form. In the meantime, however, I feel we've lost something valuable—an opportunity to experience and celebrate technology with others of our kind.