What's rectangular, gold, and 18 percent thinner than a No. 2 pencil? The iPad Air 2, which Apple unveiled Thursday. Sporting subtle refinements like a Touch ID fingerprint sensor and a beefed-up iSight camera, Apple's second iPad Air isn't a dramatic leap past the first iPad Air. But that's not a surprise. When you make the most popular tablet, there's really no reason to reinvent the wheel every year.
In fact, the iPad mini 3 changed even less. It got Touch ID and comes in new colors, but that's it—it's even got the same A7 chip that was in last year's iPad mini with Retina display, which is still on sale as iPad mini 2 starting at $300. So unless you really want to pay $100 premium to add a Touch ID and use Apple Pay when online shopping (or you've got your heart set on gold), the iPad mini 2 looks like the better deal.
Thinner, faster, and with Touch ID
In person, the iPad Air 2 is astonishingly thin. Apple says it shaved 18 percent off the thickness of last year's iPad Air, which results in an iPad that's less than a quarter-inch thick: 0.24 inches or 6.1 millimeters, to be exact.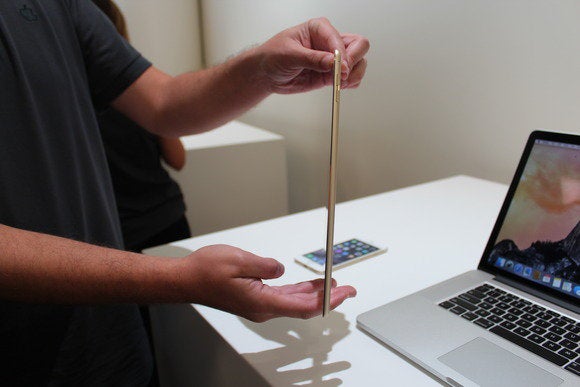 The colors are new—both the iPad Air 2 and iPad mini 3 come in space gray (with a black bezel) as well as silver and gold (both with white bezels), to match the colors of the iPhone 6 and 6 Plus. I especially liked the gold iPad Air 2. It's got a cheerful hue with a pleasant matte finish, and the reflective gold Apple logo on the back adds just enough sparkle. The gold ring around the Touch ID shines against the white bezel, too. I always prefered iPads with black bezels for how they make the content seem to leap off the screen, but the gold iPad Air 2 is certainly tempting—even though it wouldn't match my space gray iPhone 6.
Apple says Touch ID has been the most-requested iPad feature, which I absolutely believe. If all it did was unlock the iPad, I probably wouldn't care (I don't lock my iPad anyway, since my toddler uses it almost as much as I do). But thanks to iOS 8, third-party apps like Mint, Evernote, and 1Password can also use Touch ID to log you in, and that's a huge time-saver. And when iOS 8.1 launches on Monday, these Touch ID-equipped iPads will also support Apple Pay for shopping online (but not in stores, since they lack the NFC chip that's in the iPhone 6 and 6 Plus).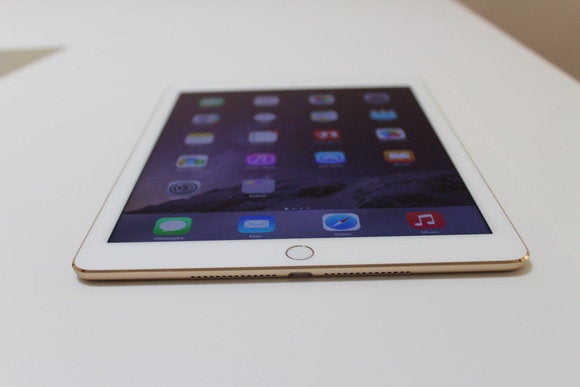 I spent a couple minutes playing with the improved 8-megapixel iSight camera in the iPad Air 2—not enough to really analyze the image quality, but I did get to see the new Slo-Mo video mode (which shoots in 720p at 120 frames per second), as well as the new Burst mode. Those features are exclusive to the iPad Air 2. The iPad mini 3 has the same camera as the last version, and it can shoot time-lapse videos but not Burst or Slo-Mo. We'll do a better camera comparison when we get to review the new iPads.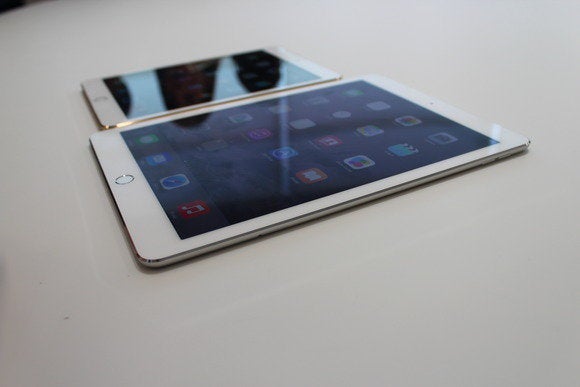 The new anti-reflective coating on the iPad Air 2's display didn't make a noticeable difference in the demo area. Sure, in some of my side-by-side photos of the two new iPads, the iPad mini 3 does seem to throw off more reflections than the Air 2, but that's another thing we'll have to examine more closely in a controlled environment. Using the iPad Air 2 outdoors in bright sunlight will be a good indicator.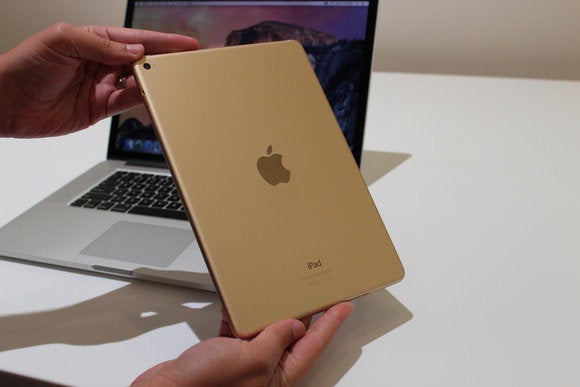 All in all, the iPad Air 2's faster A8X chip, thinner body, and improved camera specs make it the "Pro" of the iPad lineup, which swelled today to five models. The new iPad mini 3 offers a great form-factor, but probably won't entice many owners of the iPad mini 2. Maybe next year, Apple will give its iPads a bolder physical redesign, but my money is on continued incremental upgrades like we got today—after all, it's not what the iPad looks like, it's what you can do with all those hundreds of thousands of iPad apps.