These days, keeping up with games can be a full-time job. So how do you separate the signal from the noise, the wheat from the chaff, the Temple Runs from the Temple Jumps? Allow us to help by regularly selecting a game You Should Play.
It's rare to find a mobile game that's as simple, refined, and free as Gree's new side-scroller, El. El is an effortless take on the side-scrolling flying game with beautiful artwork and a powerfully moving plotline.
You play as El, a young boy who wakes up in a mysterious, "forgotten prison," and "flies off in search of purpose" with the help of a magical umbrella. The game uses simple touchscreen mechanics—to open the umbrella and lift El into the air, you tap and hold the right side of the screen. To manipulate the wind and create a draft, you swipe side-to-side on the left side of the screen. Although most levels can be completed without much draft-work, it's a useful technique if you're interested in avoiding tricky obstacles and minimizing damage to your character.
El isn't your typical mobile game: For one thing, it's wholly uncompetitive—the levels are only moderately challenging, and there are no bonuses awarded for completing the game at a higher difficulty. While El may not satisfy your lust for competition or endless gameplay, it's absolutely worth a look for the following reasons:
The simple, yet powerful storyline: I'm not usually a fan of plot-driven games, since I prefer challenges and puzzles to interactive stories. But El does an excellent job of balancing its poignant storyline, which is told in a series of wordless, film-style cut-scenes at the end of each level, with moderately challenging gameplay. El's story takes you through a depressingly realistic tale of hope, help, and finding one's purpose in life.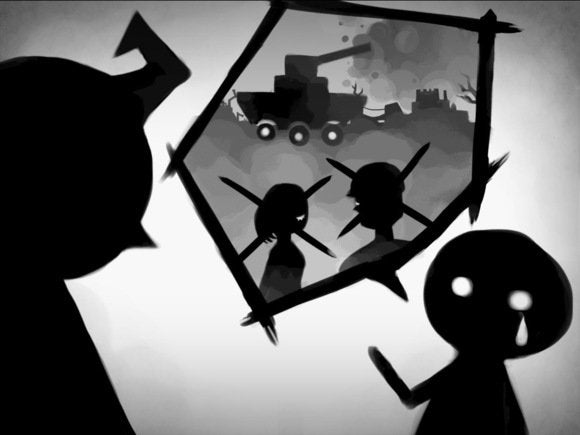 The game is only 12 levels long, including a quick tutorial level and a simple finale. As you play through El, you'll see why the game limits its competitive vibe—the point is for you to fly through the story, rather than focusing on beating time limits or making it through unscathed. El does feature a life meter, however, in the form of a top-down view of an open umbrella, which diminishes each time you tap and hold to open your umbrella and fly. Hitting obstacles, such as birds and trees, will shrink your meter more quickly, while collecting glowing feathers will offer you extra flying power. There are no bonuses for avoiding obstacles or collecting feathers—only making it through to the end of the level matters.
Thoughtfully designed: El has a distinctly indie feel, and it's free, but that doesn't mean the developer skimped on artwork, sound, or overall polish. El, other characters, and foreground obstacles (birds, bombs, and buildings) are represented as shadows silhouetted against ombre watercolor backdrops. Each level features a different, fully detailed landscape for El to fly through—one level has trees and rock formations, while another is a battleground full of tanks and ground-mounted machine guns.
El's soundtrack, which consists of eight separate tracks that range from lonely and mellow to melodically upbeat, rounds out the entire experience. The music is incredibly atmospheric, and each track can be played separately from the game's music player (located on the main screen). It's clear that Gree spent ample time perfecting the game's visuals and music to offer an encompassing experience.
Short and sweet: El will take up less than an hour of your time—it certainly is not Candy Crush Saga. But not everything has to offer (seemingly) endless levels to be interesting. El has to be short, because it relies on fully immersing you in its dreamy, watercolor world. The game is much more powerful because you can play it in one sitting and see the entire story unfold without interruptions.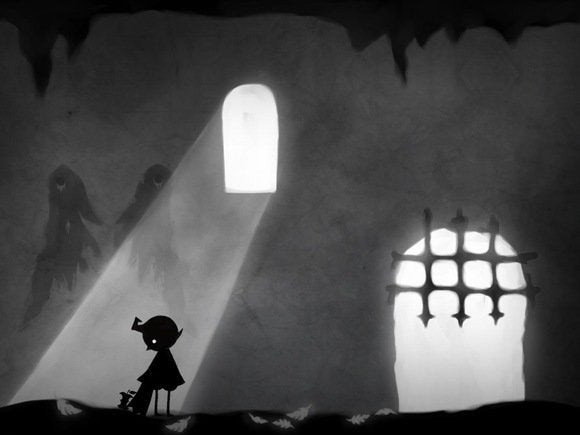 Although El is over in what seems like the blink of an eye, that doesn't mean you'll never come back to it. I finished El in about 30 minutes, but I've played it a few times through since. It's surprisingly relaxing to play a game in which you're not racing against the clock or trying to out-build your Facebook friends, and El's soundtrack puts you in an almost meditative state. El won't end up being your go-to game for killing time (that spot's reserved for Words With Friends, and you know it), but it's definitely worthy of a spot on your home screen.