At a Glance
Expert's Rating
Pros
Effect variations
Remove objects more easily with content aware fill
Cons
Few new offerings for experts
Our Verdict
Elements 13 is a great way to step up from iPhoto, but it can't do a lot you couldn't do with version 12's Expert Mode and a little skill.
Adobe's consumer-level, hobbyist-targeted image editor, Photoshop Elements, has long been a great next step for those who've outgrown iPhoto. It's great for beginners, yet it gives your skills room to grow—plus it plays nicely with Photoshop Lightroom and is available with a perpetual license.
Elements 13 isn't the most feature-packed upgrade ever, but it's now Retina display-happy and it's got some timely new stuff for beginners: creating a personalized Facebook Cover image, crop suggestions, variations on Quick mode's effects, a new selection refinement tool, three Guided Edits for converting photos to black and white, plus tutorials that are more easily discoverable. There's even a new Photomerge Compose command that steps you through copying an item in one photo and pasting it into another, with matching lighting, to boot! However, the only offering for experts is the Fill dialog's new Content Aware option—lovingly lifted from big brother Photoshop CC—that, with the right image, can make removing objects a snap.
Organizer updates
Elements 13 is now optimized so that its interface and your photos are much sharper on Retina displays. If you use it to import and manage photos, the first noticeable changes are in the Organizer. An eLive button gives you access to online tutorials and photographic inspiration (the button's available in the Editor, too), as well as a direct link to the Adobe Elements online support page. Media view now displays photos flush against each other in a grid, sans image details (ratings, capture date, etc.) or the Organizer's gray background. Albums and folders sport their own tabs, enabling you to view them separately. Opening the Tags panel—to add keywords, face, place, and event info—reveals checkboxes to each tag's left, making them easier to apply. Slideshow creation was also simplified, and you can now use any email program to send photos from Elements.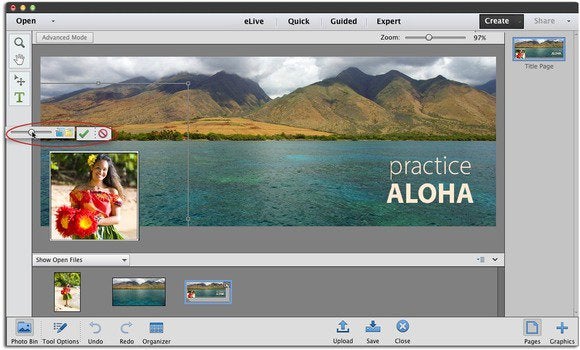 Facebook Cover images
In the Elements 13 Editor, you'll find a Facebook Cover command in the Create menu that summons a variety of photo themes you can use to create a custom Facebook page cover and profile image. Clicking a theme downloads it from Adobe's servers, enabling them to add new ones. Once you pick a theme, Elements opens it in a new, correctly-sized document and plops open photos into the template's image slots. You can drag to reposition photos within frames or rearrange them from one frame to another, and a handy slider lets you change a photo's zoom level.
You can edit any text the template includes or add your own, and you can take control of the design by using the Graphics panel or by entering Advanced Mode, which reveals Expert mode's Layers and Tools panels. Click the Upload button and Elements sends the imagery to your Facebook album and plays a video instructing you on how to apply the imagery. Unfortunately, there's no API that lets Elements tunnel into Facebook and change profile and cover images. In comparison, iPhoto can change your profile image, but not your cover image, nor can you create the latter in iPhoto.
New effects variations and Guided Edits
The popular Effects in Quick mode now include four variations on each of the 10 effects, for a total of 50 single-click treatments. Switch to Expert mode and you'll find the effects applied to a duplicate layer, complete with a layer mask that, with some skill, lets you hide the effect from parts of your image. iPhoto's effects are adolescent in comparison and they can only be applied to the whole photo.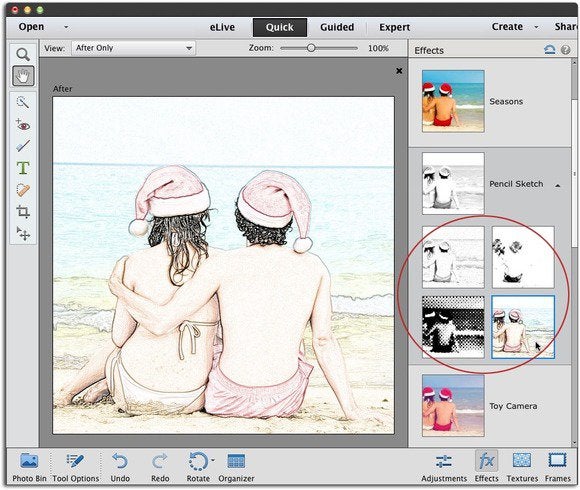 Guided mode also got three new edits involving black and white. B&W Color Pop lets you pick a color to "pop" (remain in color) from four presets—red, yellow, blue or green—while the rest of the photo goes grayscale, something that's impossible in iPhoto. To isolate a different color (say, purple), use the Select Custom Color eyedropper. The Fuzziness slider lets you tell Elements 13 how picky to be regarding what remains in color; drag left for fewer tones or right for more. Handy Add and Subtract buttons in the Refine Effect section let you easily fine-tune the behind-the-scenes masking.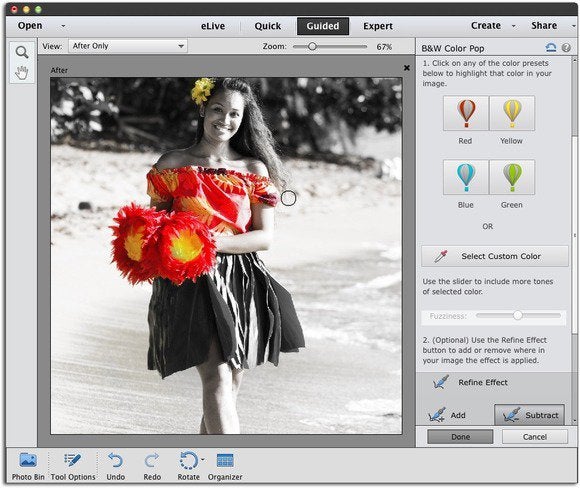 The B&W Selection edit walks you through using the Quick Selection tool to hide the black and white effect from certain spots in your image (also impossible in iPhoto), and a useful Invert checkbox lets you reverse what's in color and what isn't. The Black and White edit converts an image to black and white, and lets you add a diffuse glow for a more ethereal look.
Expert mode improvements
Grab the Crop tool in Expert mode and Elements 13 analyzes your photo for content (faces and horizon lines) and displays four crop suggestion thumbnails in the Options bar, nice starting points for beginners. Any aspect ratio restriction you make is preserved in the crop suggestions (yay!).
The Quick Selection tool inherited a Refine Selection Brush that lets you drag across selection edges to have Elements 13 reanalyze them. As you drag, the brush switches between add or subtract modes based where you drag (inside or outside of the selection); the inner circle of the brush cursor snaps more closely to edges and the outer circle produces softer edge-snapping. The brush also has an edge smoothing mode which keeps selections from being so jagged. (iPhoto can't make selections at all.)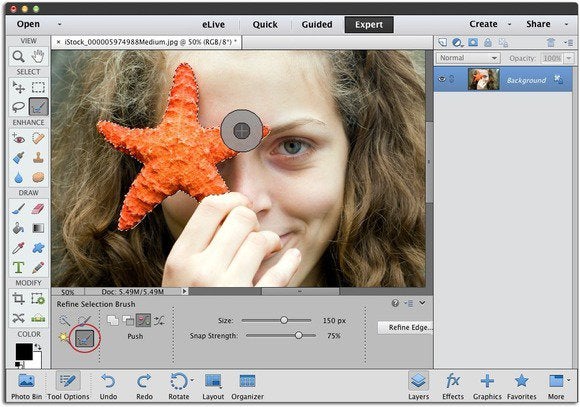 A new Photomerge Compose command nestled in the Enhance menu helps you cut something out of one photo and paste it into another, also impossible task in iPhoto. It uses a combination of the Quick Selection tool, the new Refine Selection Brush, and an Outline tool that detects edges as you drag. Elements copies and pastes the object into another photo, where you can reposition and resize it. You also get masking controls enabling you to hide or reveal extra bits, which is great if you didn't have a good selection to start with. The Auto Match Color Tone button helps you match lighting conditions between the photos, though you can adjust lighting manually via four sliders.
There's also a new Content Aware option in the Fill dialog box, which is pure magic for removing objects from photos. Simply put, Elements analyzes pixels surrounding your selection and then intelligently fills it. If you have plenty of free background pixels around the selection (grass, sky and so on), it works wonders! While you can remove very small items using iPhoto's Retouch brush, you can't really zap anything larger.
Bottom line
If you've exhausted iPhoto, or if you're a beginner looking to be more creative, Elements 13 gives you some very nice new features; however, with enough skill, you can do all of that stuff in version 12's Expert mode. That said, if Elements' old photo email system drove you crazy, or if you routinely remove objects from your photos, you'll benefit from the upgrade.