When Apple released OS X Yosemite, they also gave us iTunes 12. Lots of things have changed in this new version, and I've been getting email from readers about many of the new features. In this week's column, I'll tell you how to bring back the sidebar, show you how to locate your music videos, discuss the new Info window, and issue hints for working with the new Wish List layout.
Where'd the sidebar go?
Q: I installed iTunes 12 and the sidebar is gone. I really liked it as it let me easily see all the stuff in my iTunes library. Is there any way I can get it back?
This has been the most popular iTunes question this week. The sidebar we knew and loved is indeed gone. Instead of accessing a sidebar from the View menu as before, you can display a different sidebar that shows playlists when viewing any of your media libraries. To produce it, select a media kind (Music, Movie, or TV Show, for example), and click the Playlists button in the navigation bar at the top of the window. This reveals the sidebar, which lists the selected media library at the top, and all its associated playlists below.
Where'd did my music videos go?
Q: In iTunes 11, when I was in my Music library, I could see my music videos by clicking a button at the top of the window. That's gone now. Where can I find them with iTunes 12?
In the past, when you selected your Music library you'd see a Videos entry in the navigation bar. Click it and there were your music videos. Now, when you view by, say, Artist or Albums, music videos appear in your Music library mixed in with the rest of your music. They also show up in the Recently Added "shelf," if you've added them recently.
To see them on their own, select your music library and then click Playlists. Near the top of the sidebar you'll see a Music Videos entry. Select it to see all the music videos in your library.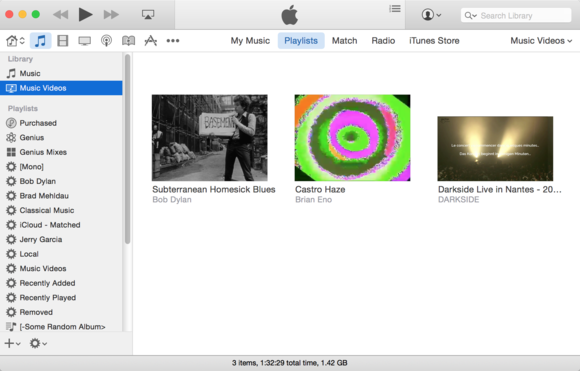 I believe there should be a way to access music videos on their own, without going through the Playlists sidebar. I'm hopeful that Apple will add a Videos button to the navigation bar in an update to iTunes 12.
How do I change video tags?
Q: When I add a video to iTunes that wasn't purchased at the iTunes Store, it's listed as a Home Movie. This isn't new, and I know how to change it to a Movie, TV Show, or Music Video. But when I change a video to, say, Music Video in iTunes 12, and then want to add tags for the artist and album, the fields for these tags don't appear in the Info window. Can you help?
When you select one or more items and press Command-I, iTunes displays an Info window. You can change all the tags for your files here as you navigate through the various tabs. To change the Media Kind, click the Options tab and then click the Media Kind menu.
iTunes 12 has changed the way some tags (and their fields) appear. For example, when you're viewing information about a movie, you no longer see fields like Artist and Album, which would be appropriate for music, but not for films. Instead, you find Director and Genre fields. The problem is that when you change the media kind, iTunes doesn't immediately change which fields you see on the Details tab. To see the appropriate fields, change the Media Kind, click OK, and then press Command-I again.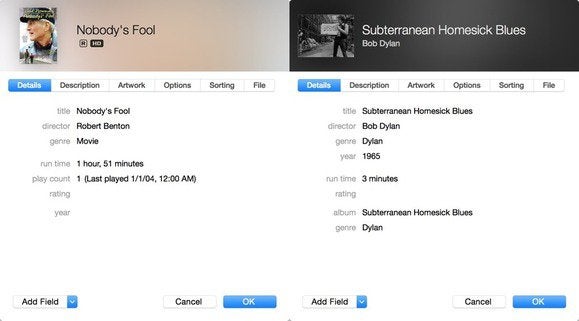 This actually makes sense. If the tags changed immediately and you then went back and changed the Media Kind again before clicking OK, this could mess up your tags.
If you'd like to continue doing this the old fashioned way, you can. Hold down Control-Option and then click on the video. From the contextual menu that appears choose Get Info. The old-style Info window will appear, where you can edit tags as you did previously.
A better Wish List?
Q: The iTunes Store Wish List used to be available via a menu in my iTunes library and when I clicked on it I could see everything in my Wish List. That's changed in iTunes 12. Now, when I select the Wish List, I only see one type of content. I have to click buttons to see the rest. Is there any way to get back this old Wish List?
Early this year, I wrote an article explaining how to use the Wish List. But all that's changed with iTunes 12. Now, instead of there being a menu that appears in the navigation bar of each of your media libraries, you access it from the menu in the iTunes toolbar that displays your name (or, if you're not signed into the iTunes Store, reads Sign In).
This takes you to the iTunes Store rather than displaying the Wish List right away, which, as you can see, only displays one type of content at a time: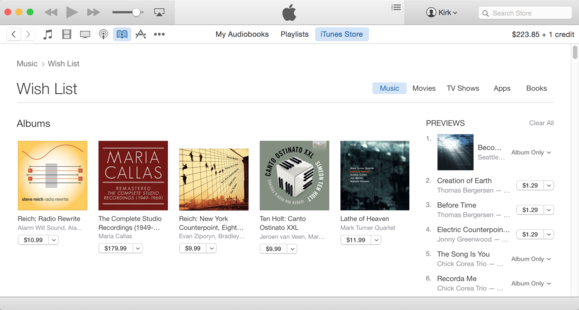 To see other types of content, click their buttons at the top-right of the Wish List section of the window. Alas, there's no way to view everything at once. And there's still no way to buy everything in your Wish List at once either, which is something that a lot of users would love to do.
Have questions of your own for the iTunes Guy? Send them along for his consideration.