Rite Aid and CVS weren't official Apple Pay launch partners, but shoppers armed with new iPhones found that the chains had near-field communication card readers that were compatible with the new mobile payment system—at least for a few days. Over the weekend, both companies blocked NFC recognition, uniting enraged iPhone and Android users and inspiring plans to boycott both chains.
The drugstore companies are members of the Merchant Customer Exchange, a group of retailers developing their own mobile payment solution called CurrentC. Walmart, Best Buy, Gap, and other major chains are also throwing their weight behind CurrentC, which doesn't roll out until next year. Details of how CurrentC will work are still fuzzy, but we know that the solution is a mobile app that bypasses credit cards—and the associated merchant fees—by linking directly to customers' checking or savings accounts.
The MCX payment process as we understand it is nowhere near as simple or secure as Apple Pay, though CurrentC is still in development. There are a few key differences, as outlined on the CurrentC website:
The CurrentC app works by connecting to your bank account and generating a QR code that a store cashier scans to debit money from your account.
A new QR code is generated for each transaction, but CurrentC stores your encrypted financial information in the cloud. Apple doesn't store your account information at all—instead, the company has partnered with more than 500 banks to issue device account numbers that are unique to each card and each iPhone.
Instead of holding your phone near the terminal and authenticating your fingerprint with Touch ID, CurrentC will require you to open the app, authenticate the transaction with a four-digit pin, and generate a QR code to hand off to the cashier. Apple Pay requires no cashier involvement whatsoever. You don't even have to wake your phone: Holding it near the NFC reader puts the process in motion.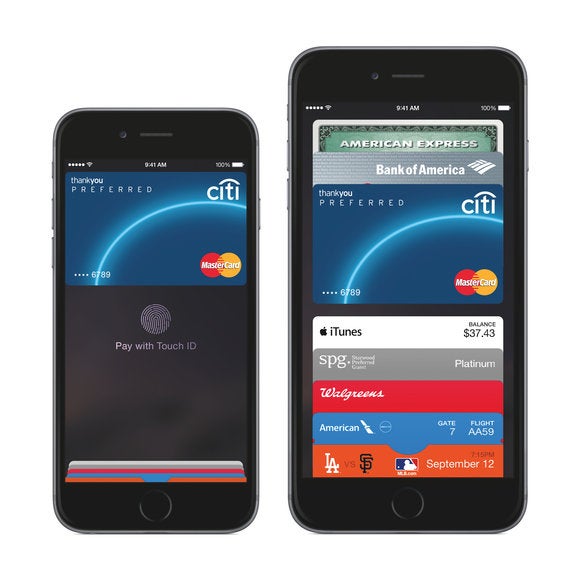 The great mobile payments experiment
While CurrentC is being positioned as an NFC competitor, the QR code technology has already been criticized as an old-school, inefficient, and insecure way to pay. But the app will benefit retailers, who can bypass merchant credit card fees and track your shopping habits to offer you coupons. The MCX retail group still has time to change or refine its strategy to make it more seamless.
But that won't help the early, vocal supporters of contactless payments, who are calling on Rite Aid and CVS to reverse their NFC block. A Rite Aid spokesperson told the New York Times that the company is "still in the process of evaluating" mobile payment options.
Meanwhile, Apple is working on ways to make NFC an indispensable part of your life. According to a new report from The Information (behind a paywall), the company is looking at ways to replace security cards and public transit cards with iPhones.
Apple Pay partner Walgreens stands to benefit from the drugstore dust-up. Apple Pay supporters are already pledging their allegiance to the chain, and Rite Aid and CVS won't win over any customers by blocking a technology they've long allowed in favor of an app that isn't even out yet. In this great mobile payment experiment, CurrentC should compete on its own merits. It could very well succeed—with the support of some of the biggest retailers in the country, CurrentC is certainly no underdog.