Even the fastest home Internet connection may impose a cap on the amount of data you can upload and download per month. That might be 10GB for a budget satellite connection, or hundreds of gigabytes for cable or DSL service. If you find yourself approaching your limit long before the end of the month, you can curtail your data consumption without making life too inconvenient.
I didn't expect to encounter this problem myself. My cable broadband connection—the top level of residential service my ISP offers—includes a generous monthly data limit of 400GB. My family is never stingy with our Internet access, yet we'd been able to stay comfortably under that figure.
But last month, out of idle curiosity, I checked our data usage one week into the billing month and was shocked to discover we'd already burned through half our monthly allotment. To make matters worse, I knew that later in the month we'd be downloading iOS 8 (plus dozens of updated apps) on multiple devices, along with future betas of Yosemite (at 5GB a pop), and the rest of that eight-film Harry Potter set I just bought on iTunes, which weighs in at over 40GB. Oops.
I had to figure out what had been using up all that data and then take steps to fix the problem.
Finding the main culprit
My first clue came from my ISP's daily usage summary. It showed a four-day period during which our usage had gone through the roof: 30, 46, 58, and 30 gigabytes, respectively. Seeing numbers around 40GB reminded me that I'd recently created a virtual machine in VMware Fusion to test Yosemite betas, with a disk size of 40GB. For some reason, I'd stored that virtual disk at the top level of my home folder rather than its usual location, which would have excluded it from online backups. As a result, CrashPlan dutifully backed it up to the cloud.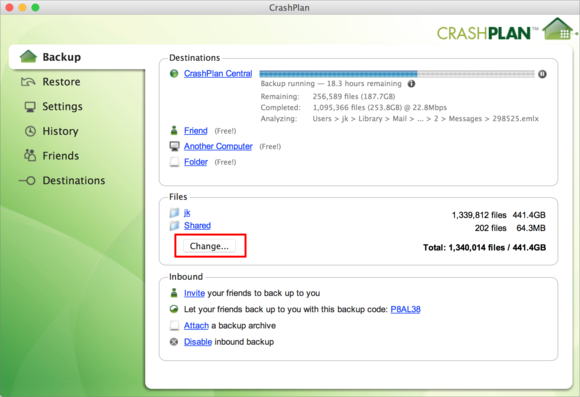 To make matters worse, I had synced that folder to another Mac, which was also running CrashPlan and therefore backed up the same huge files again. (CrashPlan doesn't copy the same data twice from a single computer, but this deduplication feature doesn't apply across computers.) The same thing had happened with downloads of the Yosemite beta. I used up 5GB per beta for each Mac I downloaded it on, and another 5GB to back up each beta, from each Mac.
I immediately told CrashPlan to stop backing up those files. (If you use CrashPlan, too, go to the Backup tab, click Change in the Files section, and deselect anything you want CrashPlan to ignore. You can also go to Settings > Backup > Filename Exclusions to exclude files by name or extension.) But the damage was already done. I had to dramatically reduce the family's Internet consumption for the rest of the month.
Tips for reducing data usage
The four Macs, six iOS devices, Apple TV, VoIP telephone adapter, and numerous other Net-connected devices in the house presented a challenge. Unplugging the cable modem would have worked, but at considerable inconvenience. Instead, I decided to take multiple less-draconian measures:
Turn off automatic updates. So far this month, I've downloaded more than 14GB of updates for Apple software alone on a single Mac. Having that happen behind your back when you're running low on data isn't wise. On a Mac, go to System Preferences > App Store (Yosemite) or Software Update (earlier versions) and uncheck everything under Automatically Check for Updates, plus Automatically Download Apps Purchased on Other Macs. On an iOS device, go to Settings > iTunes & App Store and turn off Updates. (While you're at it, you might want to turn off iTunes Match and automatic downloads for Music, Apps, and Books.) You'll still be notified when updates are available, and can download them manually as needed.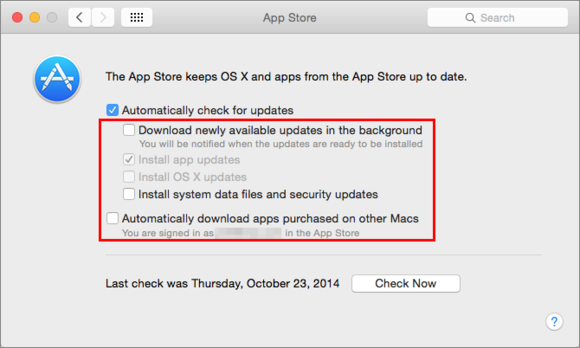 Use iTunes for iOS backups. I had already backed up my iOS devices to iCloud, but during my data-constrained weeks I had to restore two devices. That meant downloading many gigabytes of data from Apple's servers. Had I backed up locally to iTunes, I wouldn't have faced that problem. To configure an iOS device for iTunes sync, plug it into your Mac with a USB cable, select the device in iTunes, select Summary, and then select This Computer under Automatically Back Up.
Turn off My Photo Stream. Whenever you snap a photo with your iOS device, My Photo Stream copies it to iCloud and then down to your other devices. Consider turning it off temporarily. On a Mac, go to System Preferences > iCloud, click Options next to Photos, and uncheck My Photo Stream. On an iOS device, go to Settings > iCloud > Photos and turn off Upload to My Photo Stream. (In iOS 8.1, also turn off iCloud Photo Library.)
Stop streaming. Painful as it may be, stop using your Apple TV—or use it only to play video stored on a local Mac or iOS device. Streaming audio and video from sources like iTunes and Netflix consumes loads of data.
Choose voice over video. Video calls using Skype, FaceTime, Google+ Hangouts, and similar services use a lot more data than voice calls or text messages.
Watch online backups. When you're data-constrained, consider excluding large files such as virtual machines, movies, and big disk images from cloud backups. Back those up to a local hard drive instead.
Borrow bandwidth. I took my MacBook Pro to coffee shops and the library, using their free Wi-Fi to download software updates, back up files, and do other bandwidth-intensive tasks—and turned off those services while at home. Had I asked, one of our neighbors might also have lent us a cup of Wi-Fi.
Switch to cellular. Our iPhone plans have data caps too, but they offer a bit of a buffer. By switching off Wi-Fi on the phones (Settings > Wi-Fi) and using cellular data for most email and Web browsing, we trimmed our cable data usage a bit. Tethering an iPhone to a Mac using Settings > Personal Hotspot is another option, but would have quickly overwhelmed our cellular data plans.
Check Activity Monitor. If you suspect your Mac is using too much bandwidth but don't know which app is responsible, open Activity Monitor, click the Network tab, and click Sent Bytes or Rcvd Bytes to sort the list of apps by how much data you're sending or receiving. Turn off or change settings on apps that are overdoing it.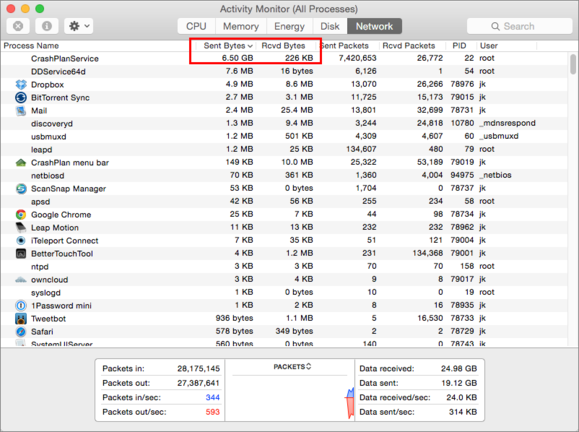 Having done all this and more, we still exceeded our monthly data limit. Thankfully, our ISP let it slide this time, but I'm now better prepared to be parsimonious with my data usage if the need arises in the future.