At a Glance
Expert's Rating
Pros
Flexible contexts.
Previous owners get Pro features for free.
Cons
Must buy apps for each device separately, but the syncing is free and reliable.
Our Verdict
If you need more power for sub-tasks, contexts, and weekly reviews than your typical to-do list provides, you can't go wrong with OmniFocus.
Spoiler Alert: OmniFocus 2 for iPad isn't for everyone. If all you need to keep track of is a grocery list and a few one-off tasks each day, OmniFocus isn't really the task manager you are looking for. On the other hand, if you juggle multiple areas of responsibility, and frequently need to break down large projects into more manageable steps, OmniFocus will keep your life organized, and turn you into a productive, task-obliterating machine.
OmniFocus 2 for iPad represents the last piece of the OmniFocus pie being updated to version 2, bringing the app in line with OmniFocus 2 for Mac and iPhone. Yes, that means that to use OmniFocus across all your devices, you'll have to spring for up to three different paid applications. But again, OmniFocus is industrial strength task management, and the iPad version is well-designed and worth it to anyone who has already jumped on the OmniFocus train.
Covering the bases
For newbies, the basic mechanics will already be familiar. OmniFocus lets you enter and check off tasks, and larger projects can be broken up into multiple independent tasks. Due dates are a necessity, and with version 2, it's even easier to modify dates and push items you can't yet complete further into the future. Everything syncs across all your devices using Omni Sync Server, which is free for all Omni customers.
OmniFocus 2 uses a paned interface that's now become familiar for iPad users. In portrait mode your task list occupies the iPad's screen, while a swipe from the left edge of the screen pops out a list of other contexts or projects, which you can jump to with a tap. In landscape mode, OmniFocus 2 displays the list alongside your tasks.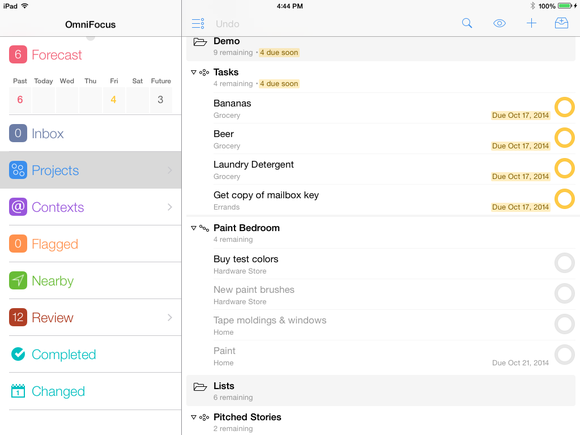 Inbox is the core of OmniFocus, where you can quickly add and complete tasks. The Projects tab shows you a high-level view of all your multi-step projects, and from there you can dive into individual projects as needed. It's pretty standard stuff, but where OmniFocus sets itself apart is in the use of Contexts.
Contexts are a concept borrowed from David Allen's Getting Things Done philosophy. You can read Allen's books for more on that, but the TL;DR version goes something like this: A context is a person, place, or thing you need to accomplish certain tasks. If you're at home, seeing a list of items you need to follow up on with your boss isn't all that helpful. Adding Contexts to your tasks allows you to drill down to the tasks you can actually complete now, with the resources you have at hand.
New look, new powers
OmniFocus 2 for iPad sports a refreshed interface. Gone are the dark grays and blacks of the previous version, in favor of the lighter, cleaner look of OmniFocus 2 for Mac. But the changes are more than skin-deep. Version 2 now supports background syncing, so that your OmniFocus data stays consistent across platforms, without the need to manually sync your information.
More flexible Perspectives allow you to build and save highly-detailed custom views of your OmniFocus tasks, so that you can quickly jump to just the items that are relevant now. OmniFocus' Forecast view gives you a rolling calendar-style peek at your to-do list in the coming days, and new, subtle color-coding throughout the app indicates the status of each of your projects, without needing to dive into each one individually for a deeper view. It's handy interface elements like this that make OmniFocus for iPad 2 a standout amongst the various less-expensive and less functional task managers crowding the Productivity section of the App Store.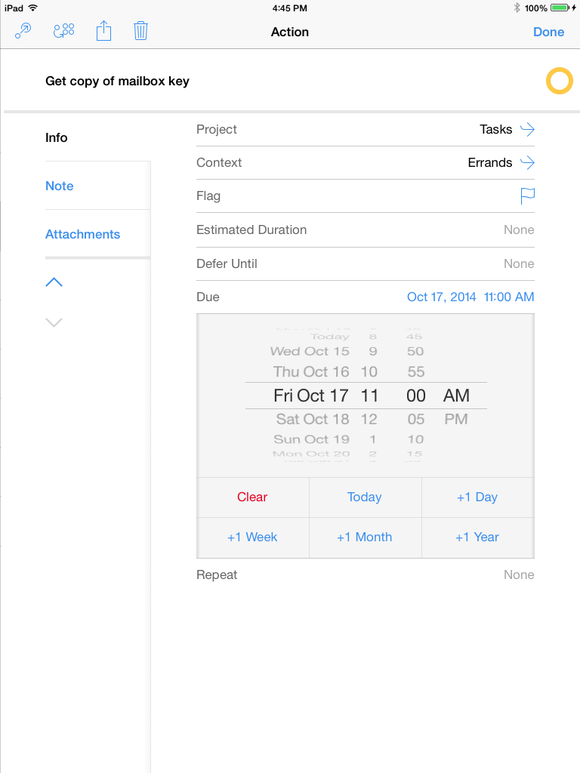 This new version also supports new iOS 8 technologies, including Extensions. Now, you can add tasks to OmniFocus from anywhere that supports iOS 8's sharing panel, making it much easier to create tasks from web pages, for example. Additionally, a Today extension allows you to view OmniFocus tasks in Notification Center, and mark them as complete without needing to ever open the app itself. Taken together, these features greatly enhance the usability of OmniFocus on iOS, and are worth the price of the upgrade on their own.
Speaking of upgrades, OmniFocus 2 for iPad follows in the footsteps of its Mac counterpart by offering Standard and Pro features. Buying the app for $30 from the App Store gives you standard features. You can unlock Pro mode via in-app purchase for an additional $20 (Pro features are free for existing owners of OmniFocus for iPad). Opting into Pro mode adds the Custom Perspectives and Custom Sidebar from the desktop version. Experienced OmniFocus 2 users will probably know if they need these features right out of the gate, but newbies might want to wait a bit and see if their workflows will benefit from these powerful additional features.
Bottom line
So is it worth buying? Despite being much simpler to use, OmniFocus 2 for iPad is still OmniFocus—meaning it still takes a certain investment in learning to use it, moreso than a simpler to-do list app. But if your life (and your task list) is sufficiently complex, the time you spend figuring out how to best use OmniFocus will be time well spent. It may not give you more hours in the day to get things done, but at least you won't ever forget to buy cat food, or send off that year-end TPS report ever again.