These days, keeping up with games can be a full-time job. So how do you separate the signal from the noise, the wheat from the chaff, the Temple Runs from the Temple Jumps? Allow us to help by regularly selecting a game You Should Play.
Retry is a maddening retro-styled side-scroller from juggernaut mobile developer Rovio. You may have heard of Finnish developer Rovio before—they created a little franchise called Angry Birds. But since then, they haven't produced much outside of that original bubble. Retry should reassure critics that the Rovio team is more than just physics puzzle creators enamored with cute birds and pigs.
The formula for Retry will also seem familiar to those who played the immensely popular and groan-inducing Flappy Bird. Flappy Bird was widely praised (and widely panned), but also earned some criticism for its artistic similarity to previous releases (most notably the art from Super Mario Bros). Apple and Google have sought to curtail imitators of the simple tap-flight game subgenre, but Retry largely avoids such flak.
Though the art is rendered in 8-bit retro graphics, the entire package is much more than a cheap cash-in. With four worlds to explore, power-ups, a memorable chiptunes soundtrack, and a maddeningly difficult gameplay of its own, Retry earns its place on the App Store's must-play list. Here are three more examples why.
Daaaanger zone!: You operate your little plane by the traditional tap-to-fly method. If you hold down your finger, the plane will do a loop-de-loop. Let go and the plane will descend. If your plane strikes anything, you die. You could be wheels down and coasting by a flat meadowed grove: it doesn't matter. The learning curve is pretty steep too—even the first few levels will see the player die dozens of times. Later, you'll encounter things like moving landmasses, water, clouds, and narrow caverns. Thanks, Rovio.
That said, Retry is not an endless platformer like Robot Unicorn Attack—a game that you will ultimately fail, no matter what. Success here is possible, as there are over three-dozen levels and challenges to unlock. But it's also not a handholding, easy-to-wade-into adventure like the Sonic the Hedgehog series. Think of it as Flappy Bird crossed with Super Meat Boy—there are checkpoints and places to save, but you're going to die a lot before you get there.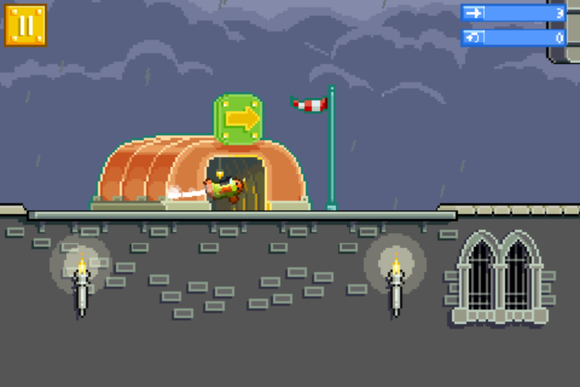 Checkpoints as business model: Speaking of checkpoints, the levels are scattered with them throughout. These appear as little airfields you can land on. Unlocking an airfield will allow you to start there from now on, saving you time and headaches. There are two ways to unlock them: you can use a coin, or watch an ad, both of which are essentially methods for Rovio to make money. The coins can be found in game, or you can buy a bunch of them as an in-app purchase. The other method, which I preferred, is to watch a 30 second ad (thereby saving my coins). Especially in the later levels where obtaining coins becomes even more difficult and navigating a few screens can take dozens of lives, saving is essential. You get desperate for checkpoint airfields—they are your only friends.
So any checkpoint I'd find, I'd watch the ad. It's a really clever way for Rovio to make money, but it isn't necessarily disruptive to the gaming experience—if you don't want to watch, you can either use a coin or simply not use the checkpoint. The checkpoints also let me catch my breath and enjoy the scenery.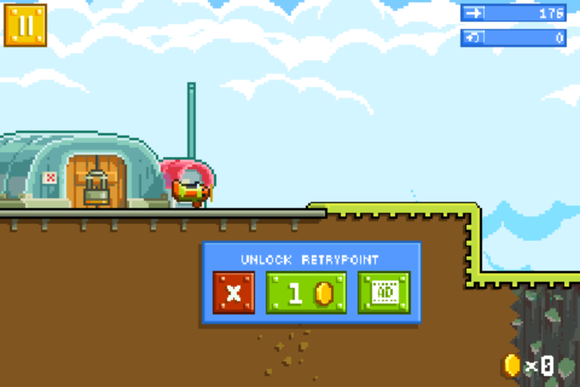 Retro with purpose: The scenery, rendered in lovable 8-bit glory, is actually pretty fun to drink in. Little details like lightning on the castle levels makes me appreciate the dedication Rovio took to make this.
The aforementioned retro graphics also conjure up iconic gaming memories galore. The land masses, castles, and ice levels remind me of Super Mario 3 stages, while the narrow obstacles feel as claustrophobic as Ninja Gaiden or Mega Man's levels. The soundtrack and landing strip focus are more reminiscent of the beautiful and treacherous Top Gun game. Speaking of which, the chiptunes soundtrack is exceptional, even if it needs more variety at times. The retro feel permeates this game, and it's clear that Rovio isn't just ripping off other artists, but giving homage to an older age of gaming.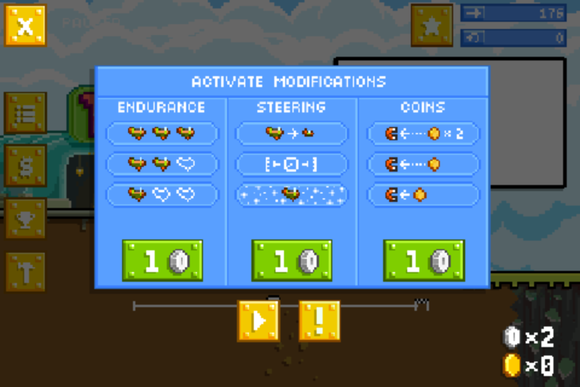 While homages to retro styles are admittedly a bit played out, Retry succeeds because everything from the old-school difficulty of the side-scrolling platforming to the huge unlockable worlds to explore to the soundtrack seems to fit the complete package. Simply put, this game couldn't work the same way as a more graphically complex, uber-realistic platformer. The platformer genre has been undergoing a mini-renaissance as of late, and Retry adds a new voice to that conversation.