Oh, geez. Everything we thought we knew about the next Steve Jobs biopic is turning out to be wrong, more wrong than an iPod with an HP logo on the back. Recently, we passed on reports that Christian Bale had been cast as Steve Jobs himself, and Seth Rogen had been tapped to play Steve Wozniak, in the upcoming Sony film directed by Danny Boyle and written by Aaron Sorkin, based on Walter Issacson's authorized biography.
Bzzt.
In the week since both of those reports, first Christian Bale pulled out, deciding he wasn't right for the part "after much deliberation and conflicting feelings," because actors and their feelings. Then the Hollywood Reporter article also says that while Seth Rogen is "in discussions" to play Woz, "but no official offer has been made." On Tuesday, Variety claimed Michael Fassbender is in talks with Sony about the role of Jobs.
So what do we know? Not a lot (seriously, this thing doesn't even have a title just yet), but as details emerge, we will keep updating this story with the new information.
What's the latest?
Bloomberg interviewed the main cheerleader for this project, screenwriter Aaron Sorkin. When asked, essentially, "Another Steve Jobs movie—dude, why?" Sorkin replied that Steve Jobs is so fascinating that you could make as many movies about him as you want. (Go, Team Hollywood!) "I think that you could do 10 more movies about Steve Jobs. I think if you lined up 10 writers and said to write me a movie about Steve Jobs, I think you'd get 10 different movies, all of them worth going to see." DON'T. YOU. DARE. AARON. SORKIN. Anyway, a clip from the interview, which airs Friday, is below. Hat tip to 9to5Mac.
Oh, also, I got a random tip by email that claims: "Matthew McConaughey is fancied to replace Steve Jobs according to [British online gambling site] Ladbrokes." Yes, you can bet on this, and good old Rust is currently favored with 5 to 1 odds. Bradley Cooper and Ben Affleck are 6 to 1, James Franco is 16 to 1, Bryan Cranston is 20 to 1, and Ashton Kutcher is 25 to 1.
Obviously none of this means anything whatsoever, but I'm still including it here to make the requisite "The iPod's clickwheel is a flat circle" joke, and to post this picture.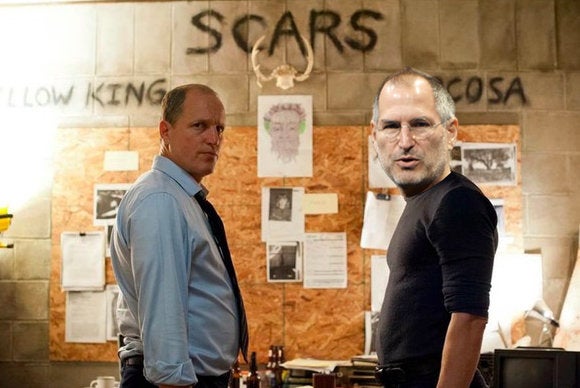 OK, let's back up. Didn't the Steve Jobs movie already happen?
Yes (and yes) and no. Last summer, Ashton Kutcher starred as Steve Jobs in Jobs (which is now on Netflix), but it wasn't well received. The formulaic biography provided next to no insight about Steve or Apple—it was a story we already knew, with some characters left out or turned into jerks for no reason. (Sorry, Jef Raskin.)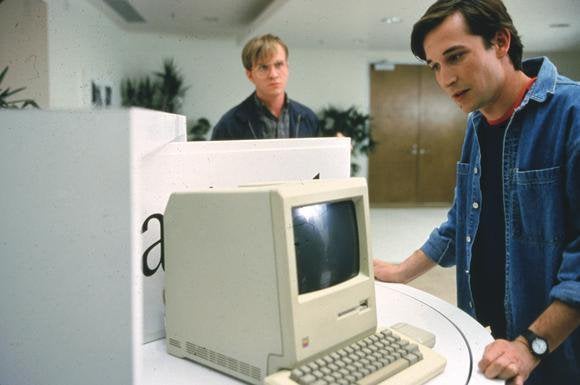 And that wasn't even the first time the legend of Steve Jobs played out on the silver screen—the excellent Pirates of Silicon Valley (1999) featured ER's Noah Wylie as Steve Jobs and The Breakfast Club's Anthony Michael Hall as Bill Gates, telling the story of both Apple's and Microsoft's journey from humble beginnings to tech riches.
So this one might be better than Jobs? How come?
It's being written by star screenwriter Aaron Sorkin, and Walter Isaacson's Steve Jobs is the source material. Since Isaacson's book is the only authorized biography of Jobs, and Sorkin wrote the excellent movie about Facebook, The Social Network, the hope is he can provide more for the audience to chew on than the very by-the-numbers chronological life story provided by the Jobs movie last year.
The movies will be different structurally. Sorkin told The Daily Beast that the new movie would unfold in three scenes of around half an hour each, with each scene taking place backstage before a major product announcement: the Macintosh in 1984, NeXT Computer in 1988, and the iPod in 2001.
Who's been cast?
Christian Bale was offered the part—this was even confirmed by Aaron Sorkin himself—but he changed his mind before inking a deal, according to The Hollywood Reporter. A report from Variety claimed that Seth Rogen was set to play Steve Wozniak, but The Hollywood Reporter clarifies that while he's in talks to play Woz, the deal isn't finalized just yet.
The list of actors who were reportedly considered to play Jobs includes Leonardo DiCaprio, Matt Damon, Ben Affleck, and Bradley Cooper. Once two different Batmen have turned you down, maybe go for the villians—Jim Carrey, anyone? The Verge has some great ideas—Meryl FTW.
Update, Tuesday Nov 4: According to a report in Variety, Sony is talking to Michael Fassbender for the Steve Jobs role. Fassbender recently played such an evil slaveowner in 12 Years a Slave that my friend started to hate the actor himself just a little bit. So that could bode well for his ability to play the notoriously prickly Jobs in what must have been some of the most stressful moments of his career.
Who else is attached?
Danny Boyle is slated to direct. The Oscar-winning English director is known for Slumdog Millionaire, Trainspotting, and the opening ceremonies of the 2012 Olympic Games in London.
David Fincher (who directed The Social Network) was once attached to direct, but Sony reportedly found him too demanding. Scott Rudin, who produced The Social Network, is one of the producers.
When does it come out?
That's still to be determined—obviously, they can't start shooting it without a cast. Filming was supposed to take place this winter for a fast turnaround. Maybe they should go with puppets (warning: NSFW language in that video). Puppets fall in line.
What else do you want to know? Sound off in the comments, and we'll keep updating this, in lieu of writing article after article until this movie is finally done.