At a Glance
Expert's Rating
Pros
Clean and easy-to-use interface
Auto-run tasks on drive mount
Informative menu bar icon
Edit saved tasks
Chain tasks together
Cons
Cannot reorder tasks in sidebar
No folders in sidebar make it hard to organize large sets of tasks
Our Verdict
Carbon Copy Cloner 4 is a major upgrade in both usability and feature set. It's flexible enough to handle any backup job you can throw at it.
Talk to any "expert" in computing and if they're really an expert you'll eventually hear, "Always back up your data!" And they're right. If you're a Mac user, you should definitely be using Time Machine as one of your backup methods. But there are times when that's not enough. You might want to keep a backup off-site, for instance, or back up really important files using something in addition to Time Machine.
Enter Carbon Copy Cloner, version 4. Carbon Copy Cloner (CCC) has been around for a long time—I reviewed an early version way back in April of 2002. Things have definitely changed in the intervening years, and Carbon Copy Cloner 4 is now all grown up, with a pleasant and easy-to-use interface.
Getting started
When you launch CCC, you're greeted with a single window interface that displays a left sidebar, and a work area with three obvious interaction zones: Source, Destination, and Schedule. The left sidebar presents a list of saved backup tasks; click any task to bring it up on the right-hand side of the interface. This feature alone makes the upgrade to version 4 a worthwhile investment. Previous versions of CCC did not allow you to edit saved tasks. Now editing is not only possible, but very well implemented.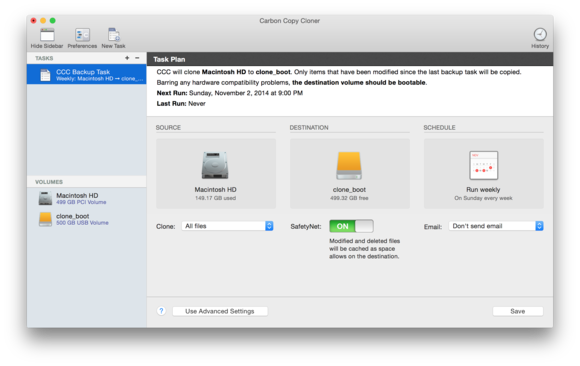 In addition to the task list, the sidebar holds a list of all mounted volumes. You can click any volume to see a quick summary of it—space used and available, operating system, disk format, and even a simple data read/write benchmark.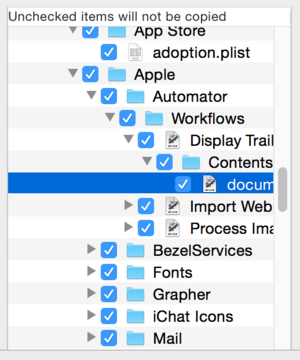 The Source zone is where you specify the drive to duplicate. If you don't want to replicate your entire drive, click the Clone pop-up and specify which files and folders to exclude. While this is a good feature, the exclusion list is in a narrow window that can't be resized. When you drill down into a deeply nested folder, you can lose a sense of context.
The Destination zone is where you'll clone the Source to. A SafetyNet feature (which is on by default) will keep deleted and modified files on the Destination volume (as space allows), to further protect you from errors you've yet to make.
The Schedule zone controls how often your backup task will run; the default is to run on demand. You can also pick from hourly, daily, weekly, or monthly timed tasks. If you choose one of these timed options, another dialog appears offering control over repeat (Yes/No), exact schedule, and more.
Perhaps the most powerful option, though, is the ability to run automatically when the destination drive is reconnected (or the source, if you remove your source drive). When set in this mode, your backup tasks execute as soon as you connect the destination drive, even if CCC isn't running.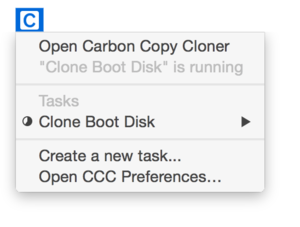 After configuring your source, destination, and schedule, click Clone and your backup will begin. An optional—but very useful—menu bar status item shows all your tasks, including a progress indicator for those currently underway. The menu bar icon is especially handy when using the "run on reconnect" option, as you can keep an eye on the backup tasks without launching the full app.
Advanced features
CCC runs in what it calls "simple" mode, with most of its advanced options hidden. Click the Use Advanced Settings button, though, and the interface changes to reveal many more settings. The advanced options give you fine-grained control over the SafetyNet feature, provide some destination and troubleshooting options, and let you specify tasks that occur before or after a backup runs.
Most users won't have any need for these settings, save one: you can tell CCC to run another backup task after the specified one is finished. This lets you string together a number of disparate tasks into one larger operation, but one that runs sequentially instead of all at once.
In use
In my testing, CCC worked flawlessly. I was able to boot from a clone of my startup disk and I restored a number of files from various backups. (The backups are standard OS X files, so you don't need CCC to restore files. You can just access the backup in Finder.)
Overall, I found the interface to be clear and easy to use—it stands out in a market crowded with powerful yet complicated competitors. The advanced features are there if you want them, but remain hidden from view until needed.
My only minor complaint is that you can't reorder the tasks in the sidebar, nor can you organize them into folders. With a dozen or so separate tasks in the sidebar I resorted to naming them with a numeric prefix, so I could at least control the sort order.
Bottom line
Carbon Copy Cloner 4 is a major upgrade in both usability and feature set over its predecessor. If you're serious about backing up—and you should be—it's well worth a look.