If you need proof of Apple's waning interest in consumer video editing on the Mac, look no further than the latest iMovie update, whose most noteworthy recent "feature" is an "updated look for OS X Yosemite." Thankfully, Adobe is all too happy to pick up this torch and run with it, thanks to a new annual update to Premiere Elements.
Last year's version awkwardly coupled the software to the cloud by way of Adobe Revel (a union which remains sadly untouched 12 months later), but also introduced features like Guided Edits, which provided step-by-step guidance for video editing tasks. Adobe Premiere Elements 13 follows suit with more of the same, turning home videos from blasé to blockbuster.
Favorite Moments
By far my favorite feature of PE13 is Favorite Moments. Perfectly suited to the kind of overly long clips we all tend to shoot while on vacation or family events, this option allows you to play a single clip while marking only the moments actually worth using.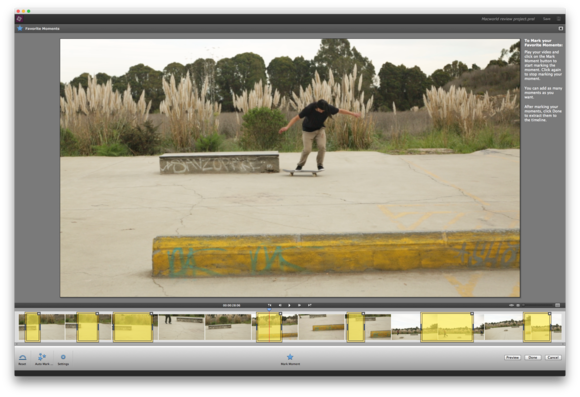 Favorite Moments appear highlighted in yellow, and you can rewind or start over as needed to make sure you've selected all the best bits. The beauty of this feature is that it doesn't require the kind of precision typical of video editing applications—you can adjust the in and out points after playback or even remove them entirely by clicking the X in the upper-right corner of that section.
After you make your adjustments, Favorite Moments assembles selects into an entirely new combined clip. By default, PE13 intelligently adds a brief transition (cross dissolve) between shots to help them flow smoothly, but you can disable this option in the Settings prior to leaving Favorite Moments mode. You also have the option to place moments onto a timeline as individual clips, should you want to insert additional footage.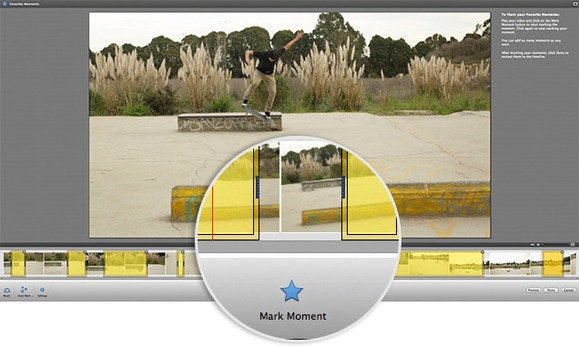 For many people, this rapid-fire distillation of footage may be all that's needed to share with loved ones, especially when adding a quick music track or fade in/out is just a few clicks away. I'd love to see Adobe bring this kind of functionality to an iPhone app, since that's where most of us actually shoot such footage now.
Here's the story
Along the same lines as Favorite Moments, PE13's new Video Story makes it easy to encapsulate life events into polished movies, complete with titles and music to suit the most common occasions: Birthday, Graduation, Travel, Wedding, and General, which you can use to construct movies that won't fit into a more specific category.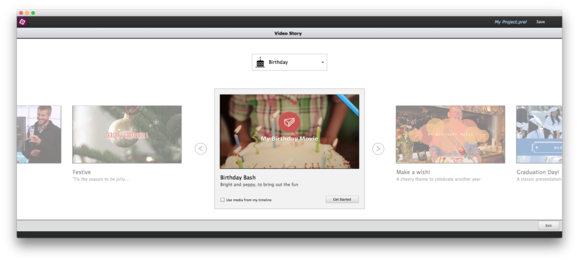 A variety of prebuilt templates cover a wide range of styles; clicking Get Started will download any required content from Adobe's servers. After selecting photos or videos to import, PE13 presents a storyboard broken into different chapters, and you drag and drop to add your content.
Premiere Elements 13 then takes over, selecting the best parts of each clip, and then adding transitions and music to suit the desired mood. You can add or delete chapters as necessary, and rearrange assets within the chapters until everything is just right.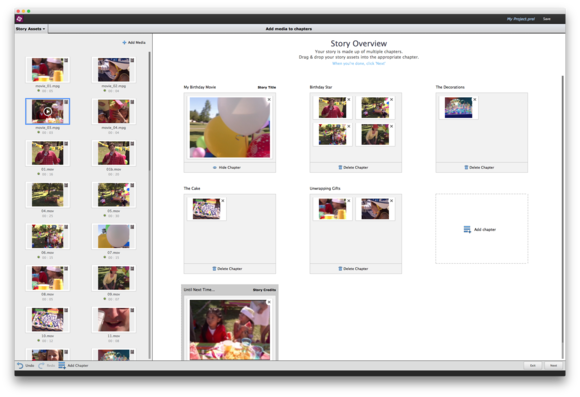 I didn't find Video Story quite as useful as Favorite Moments, mostly because this feature keeps the user at arm's length from the editing process. Although it's not my cup of tea, novices will find it useful for throwing together home movies with a splash of style, assuming they don't mind relinquishing more control over the end result.
Editing with impact
Building upon the Guided Edits feature introduced last year, Premiere Elements 13 adds several new options, including the ability to place moving video inside of titles, and to use a mask to apply effects to select portions of the screen.
Guided Edits are also a great way to get up to speed with PE13, which includes a five-minute "crash course" on adding clips, arranging them in a sequence, and other editing features. Adobe makes the process quite painless using bright yellow arrows and markups, which are overlaid onto various parts of the screen to prompt you to complete each step.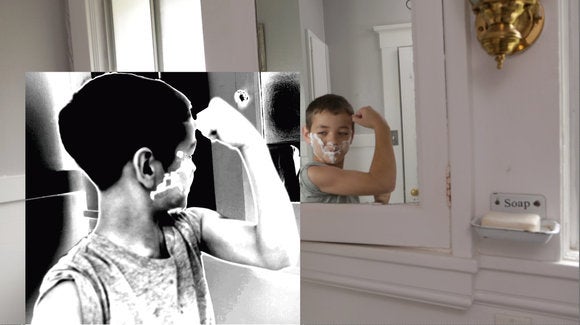 Another feature enhanced in this version is Shake Stabilizer, which now offers a "Quick" mode to help owners of action cams like GoPro smooth out shaky footage without having to wait forever for the software to process shots. This kind of trick is never flawless, but in my tests, PE13 delivered good results in far less time than the previous version.
Along the same lines, Premiere Elements 13 has performed some coding voodoo, which makes saving finished movies faster than ever—there's far less rendering required to preview and export, a welcome change. Last but certainly not least, the software now includes support for Macs with Retina displays, so photos and videos appear sharp as a tack.
Elements Live
If you've ever felt stuck in the middle of an editing project with nowhere to turn, Adobe feels your pain, and has added a new, dynamically updated channel called Elements Live to both Premiere Elements 13 and Elements Organizer, which is also included with Photoshop Elements.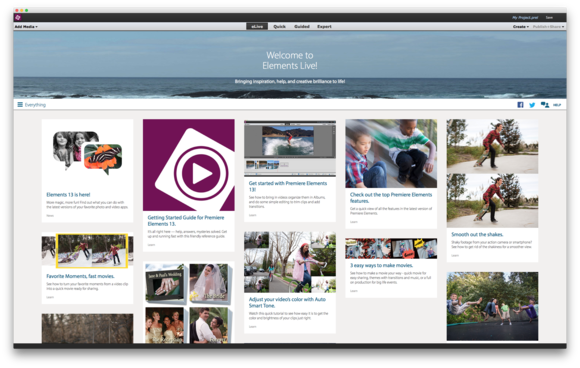 Available from the eLive tab, Elements Live is intended to be a central hub for quick tips and tutorials, and also as a place where you can gather inspiration from the work of others and maybe pick up a few new tricks in the process. Curated by Adobe, eLive is focused strictly on Premiere and Photoshop Elements, which should help cut down on the noise from traditional search engines.
To further refine which content is viewed on eLive, a menu on the left side of the content bar lets you filter by specific channels—Learn, Inspire, or News. At first release, eLive features a 50/50 mix of new feature education, along with several entries focusing on the creation of outdoor videos.
While it's a nice idea, Elements Live didn't exactly knock my socks off—clicking web-based content opens it in the default browser, taking my focus away from the task at hand. I'd prefer to see an in-app browser for distraction-free viewing, along with options to connect relevant information more directly into existing features like Guided Edits.
Bottom line
While it may not be the most feature-rich upgrade in Premiere Elements history, version 13 delivers a one-two punch for videomakers looking for ever-faster ways to spice up home movies with Favorite Moments and Video Story—and it's refreshing to see Adobe seeding the software with innovative new features while the grass continues to grow around iMovie's feet.