If all you want to do is play music from your phone in the car, cheap and easy solutions abound, from a regular audio cable, to picking up a head unit with Bluetooth. Fancy in-dash "infotainment" systems promise more, combining music, navigation, and hands-free communication. But the few I've sampled have had clunky interfaces that made me go right back to performing those tasks with my phone—yes, I'm that jerk futzing with her phone at stoplights until you honk at me to go.
Apple's CarPlay software is intended to bridge the chasm between your iPhone and your car stereo, letting you access Maps, Messages, Music, and more, including compatible third-party apps like Spotify, Beats Music, Rdio, and iHeartRadio. CarPlay has a lot going for it—all the data it needs is on your iPhone already, and the Siri integration can be a godsend, letting you reply to incoming texts without taking your eyes off the road. But in a few cases I found myself reaching for my iPhone when the touchscreen and Siri weren't getting things done—just like I would have done before upgrading to CarPlay.
Green light
Setup is so simple you can hardly call it setup—all you do is plug in your phone. I tested CarPlay on the high-end Pioneer AVIC–8000NEX, which has a capacitive touchscreen, and a row of tiny physical buttons along the bottom. It was professionally installed in my colleague's car, along with a dash-mounted microphone for talking to Siri. The microphone is a nice touch—it's always listening for the "Hey Siri!" prompt, and I didn't have to worry about my iPhone being close enough to pick up my voice over its own microphones.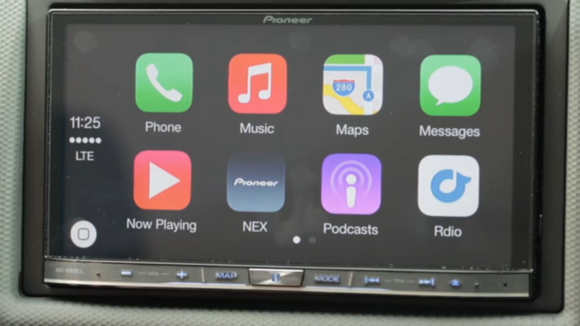 You can also pick up your tethered phone and navigate with that (I had to a few times), but the goal is to be able to use your voice most of the time. CarPlay systems that come in a new car will have a Siri button on the steering wheel and preinstalled microphones.
But the real beauty of CarPlay is that you don't have to install apps, update apps, log into iCloud, or sync anything. The apps and information are on your phone already, and CarPlay just gives you a familiar, car-friendly interface for using them.
Deja vroom
The interface immediately looks familiar, using the same icons as on the iPhone and iPad. A home button in the bottom-left corner always lets you go back to the home screen, although I did find it a little small compared to the larger, easier-to-tap icons on the home screen grid.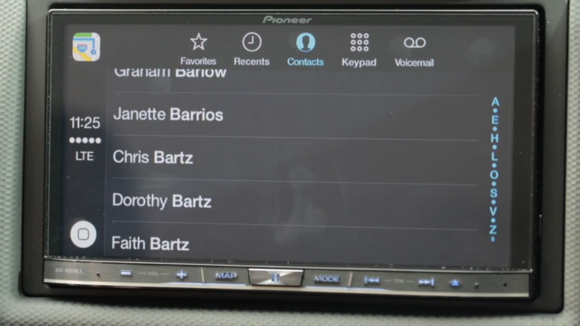 If you have an active phone call or navigation session going and you switch to another app, the Phone or Maps icon appears in the top-right corner so you can tap it to quickly go back. That worked well, but I wished that corner also had a universal Back button to go back to whatever app I was using last, not just Phone or Maps.
The Now Playing icon on the home screen is a nice touch. Tap it to go to the currently playing song, no matter what app is actually playing it. You won't have to remember if you're listening to the Music app, Rdio, or iHeartRadio. When you're presented with a long list of items, like your contacts or a list of songs, you can scroll through on the touchscreen, or scroll faster by tapping or dragging the scrolling list of letters on the right side of the screen.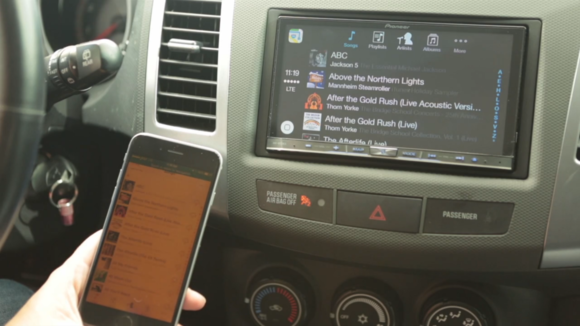 CarPlay-compatible third-party apps like Rdio, Spotify, iHeartRadio, Beats Music, and MLB At Bat simply show up as icons if they're already installed on your phone, and for the most part they work the same. I didn't have to log into my Rdio account, for example, and all my favorites and playlists appeared instantly. But not every Rdio option was accessible on the CarPlay touchscreen—I couldn't toggle the shuffle feature on and off without reaching for my iPhone.
At least the phone stays synced up to what you're seeing on the CarPlay stereo's screen. When I was using Rdio on the stereo, Rdio launched on my phone. When I was following directions in the Maps app on the stereo, my phone displayed a list of every turn. You wouldn't want to consult this while actually driving, but it's nice to be able to hand off to a passenger.
Siri is my copilot
Hands-free communication worked very well. When you tap Phone or Messages, you don't see a list of contacts automatically: Instead, it's a Siri prompt, with a smaller button to access your actual list of contacts. The idea is, assuming you know who you're trying to contact, you can just ask and Siri will take care of it.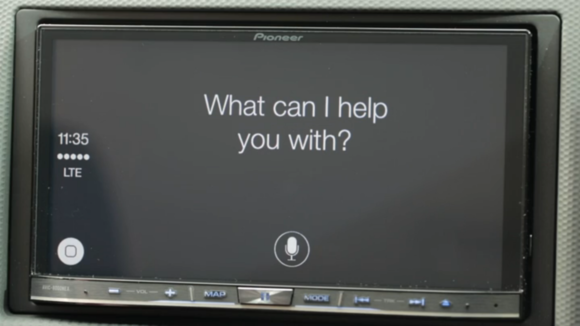 During my tests, I was driving in rush hour traffic when my nanny texted me that she and my son wanted a ride home from the BART station. I saw a notification that a text had come in, and asked Siri, "Please read me that text." She did, and I said, "Reply that I'll be there in 15 minutes." Siri dictated that back to me, and when I confirmed it was right, she sent it. But I didn't have my son's car seat with me, so I then asked Siri, "Call my husband." The call was placed, I asked him to do the pickup, and that was that.
The whole thing took two minutes at the most, and I never had to take my hands off the steering wheel. Before CarPlay, I could have tried to do this all with Siri while I was driving—just by talking to the phone—but to be honest, I probably would have exited the freeway to pull over and take care of it myself.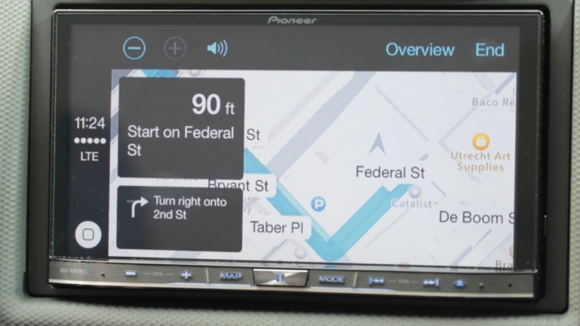 Still, using CarPlay also reminded me that Siri can't always parse natural-language requests every time. "Take a note for me!" resulted in a note saying "Me." I could say, "Are we there yet?" for a driving time ETA, but "When will I get there?" didn't work. I was able to get weather, sports scores, and directions to the nearest Starbucks. She could tell me who had emailed me last but not read the messages. Siri has come a long way since her debut, but I kept running up against situations where she still has room for improvement.
Just getting to the point where I could ask Siri a question was frustrating too. Saying, "Hey, Siri!" reliably brought up the Siri screen on the CarPlay unit, but often without the little high-pitched chime that means she's listening. If I didn't say anything because I was waiting for the chime, the Siri screen would fade out and I'd have to call it up again. So I found myself having to say, "Hey, Siri!" and then tap the microphone button on the screen—sometimes repeatedly—until I heard the chime.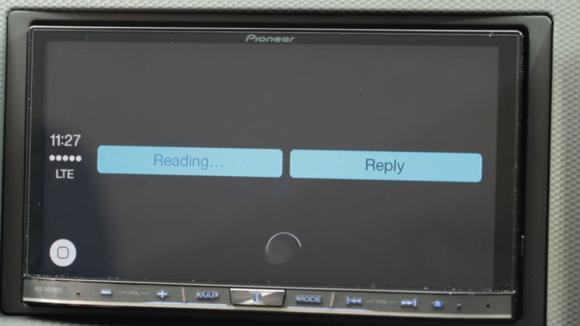 Touchy screen
In fact, on the Pioneer AVIC-8000NEX that I tested—which is Pioneer's nicest CarPlay stereo, with an MSRP of $1400—the capacative touchscreen kind of stunk. As Apple fans, we are spoiled by bright, responsive touchscreens, some of the very best on the market. This screen doesn't scroll smoothly, and taps often took more than one try to register. In all the music-playing apps, I would tap and tap and tap the Next Track button without the music advancing—then on the fourth or fifth tap it would suddenly advance two tracks. This isn't the end of the world, but for $1400 the performance of the screen is disappointing. ( Pioneer has lower-priced CarPlay systems, but they have resistive touchscreens, and even then the cheapest is currently $700.)
Bottom line
CarPlay is cool, and if I was buying a car that had it, I would be stoked to use it—but I'm not going to upgrade the stereo that's in my 2006 Subaru to this aftermarket Pioneer system.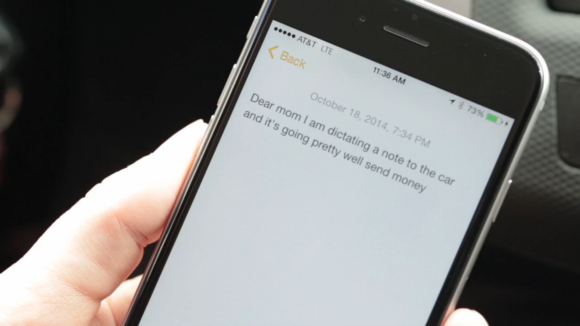 For starters, CarPlay can't do anything my iPhone doesn't do on its own, and obviously the iPhone has a lot more apps. I really missed using Waze for navigation—I could still set up a Waze route on my iPhone's screen and the directions would play over the car's speakers, but since it's not a CarPlay compatible app it can't show the map on the stereo's screen.
Add in the high aftermarket cost, and the hit-and-miss results from using Siri for everything, and CarPlay doesn't seem worthwhile just yet. But navigation and hands-free communication work well, and it's nice to have an Apple-designed interface on a car stereo. Since it's so easy to update the software and apps on your phone, CarPlay should keep improving. It's already better than other infotainment systems I've tried—and a lot safer than trying to use my phone while I drive.