With more and more users updating to iTunes 12, I've been getting a huge number of questions about how to use this new version. In this week's column, I look at more questions about iTunes 12. (The last column was a Special iTunes 12 edition.) I discuss adding artwork to files, deleting artwork, and changes to the iTunes Store's Wish List and My Alerts section.
Adding artwork
Q: I'm confused by iTunes 12. How do I add album art to my music and movies?
iTunes 12 has changed the Info window, which appears when you select one or more items and press Command-I. The old window had an Artwork well, where you could either drag or paste graphics to add album art to your files.
In iTunes 12, the Info window is different.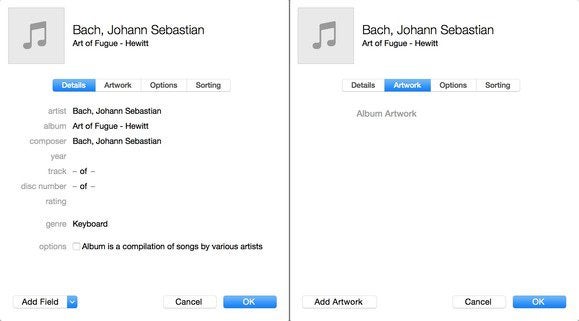 Note that the window you see above displays information about files that already have album art, but it doesn't show that album art when you select multiple items. (The iTunes 11 Info window didn't show graphics in the Artwork well either.)
There are now three ways to add album art to your files:
Click the artwork square at the top-left of the window—the one with the musical notes—and it becomes highlighted. You can paste a graphic that you've copied to your clipboard by pressing Command-V or you can just drag a graphic onto that square.
Click the Artwork tab and either paste a graphic or drag it onto that pane.
Click the Artwork tab, click Add Artwork, choose a file that's anywhere on your Mac, such as one you've downloaded, and click OK.
These techniques work for multiple items, such as the songs on an album, or for single items, such as a movie or TV show.
Deleting artwork
Q: How can I delete artwork from all the tracks of an album in iTunes 12?
An I said above, iTunes 11's Info window had an Artwork well. If you checked a box next to it and then clicked OK, that told iTunes to reset that metadata to what was in the well. If the well was empty, iTunes would delete the artwork.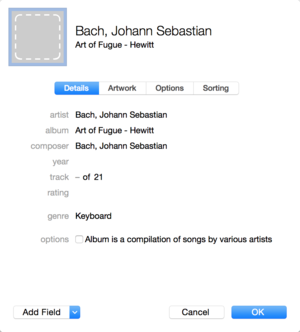 In iTunes 12, since you can't see the artwork when you display the Info window for multiple items, it doesn't look like there's any way to delete artwork. The same is the case on the Artwork tab in the Info window; there's no artwork visible, and no sign of anything that lets you delete the existing artwork.
The trick is to click the artwork square in the Info window, then press the Delete key. That square then looks like the figure to the right.
Click OK and iTunes will remove the artwork. Click Cancel if you change your mind.
What happened to my Wish List?
Q: I used to have several hundred tracks in my iTunes Store Wish List, but after upgrading to iTunes 12, all but 32 of those tracks have disappeared. I don't see any button that says "See All" or "Show Entire List" or anything of the sort. Is there any way to get those tracks to appear again?
Apple did something strange with the iTunes Store Wish List in iTunes 12. Not only is the display different, but it shows, as you say, just 32 tracks. However, the tracks you saved aren't lost. If you delete some of them—hover over a track and then click the X icon at the top-right corner—and then press Command-R to reload the Wish List page, you'll still see 32 tracks. In other words, the Wish List only shows the most recent 32 tracks in your Wish List.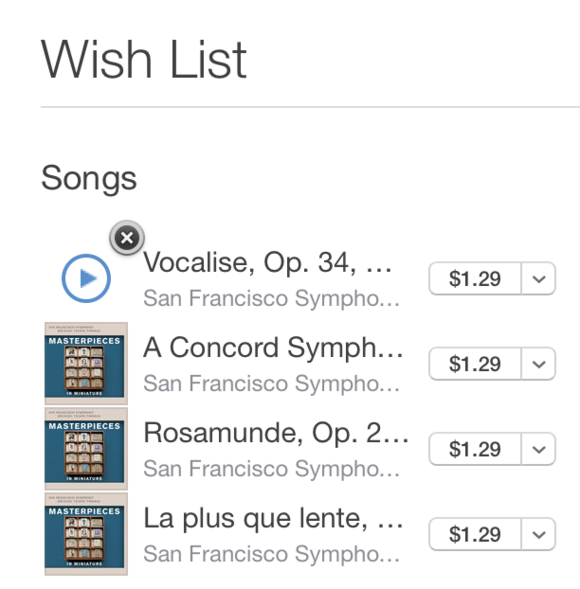 I also tested this with albums. And it's the same story as only the last 32 albums you've added to the Wish List display. (I didn't test with other types of content, but it's likely the same.)
I admit that this is confusing, especially since Apple wants you to add tracks to the Wish List—notably if you use iTunes Radio—so that you buy more music. There's also no Buy All button, which seems counter-productive, but that's been gone for a while now.
What's new?
Q: I recently updated to iTunes 12, and it seems that now the "My Alerts" section of the iTunes Store is gone. I am disappointed by this, as that was the best way I had of knowing when artists I like have released new stuff.
Several readers wrote in about this as it seems to be a popular section of the iTunes Store.
First, you can set up alerts for any artist by going to their page—to get there click on the artist's name on an album page, for example—and then look for the tiny share button near the top of the page. Click that button and then choose Alert Me.
As the reader pointed out, there used to be a link for My Alerts, but the latest redesign of the iTunes Store removed that. If you go to the main page of the Music store and scroll down a bit, you'll see a New From Your Artists section, which seems to include both artists for whom you've created alerts, and artists whose music you've bought in the past. Click the See All link at the right of that section to see a full page of new releases by your artists. You cannot, however, see only new music from artists who you've asked to be alerted about.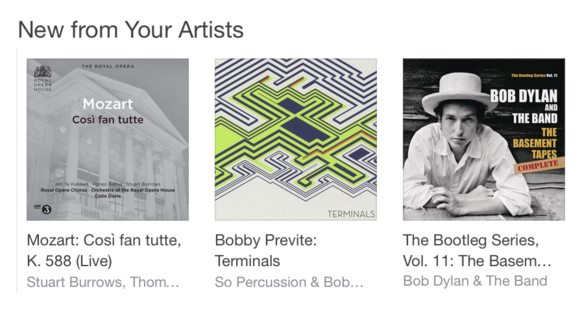 Interestingly, on my New From Your Artists page, there's one item that shows as Purchased. You'd think they wouldn't tell me about something new that I've already purchased.
Have questions of your own for the iTunes Guy? Send them along for his consideration.