Now that ghosts and goblins have cleared the way for the turkeys and reindeer, the prime holiday picture-taking season is upon us. To avoid getting disappointing photos that you can't reshoot, you can follow these tips to increase your photographic prowess and take better pictures with any camera…including your iPhone.
Half-press your shutter button
If you remember just one thing from this column, remember this: Always half-press your camera's shutter button before taking the shot. This tells your camera which area to focus on and lets it calculate how to best capture your scene's lighting. When you hear two quick beeps, depress the shutter button fully to capture the shot.
On an iPhone, tap the desired focal-point on your screen; a little yellow box appears around the item when you do. To lock the focus on a certain spot (handy if the item might move), press and hold your finger against the screen until you see a yellow box and a yellow bar that reads AE/AF LOCK; to release the lock, tap elsewhere on your screen.
Stabilize your camera
The only real way to get "tack sharp" pictures is to use a tripod and a remote control to fire your camera's shutter, but that's not always practical. Instead, try this: Keep your elbows tucked against your body and then place the camera, or your elbows, onto a stable horizontal surface such as a table or fence railing. You can also place your shoulder or camera against a stable vertical surface, such as a wall, telephone pole, or another person.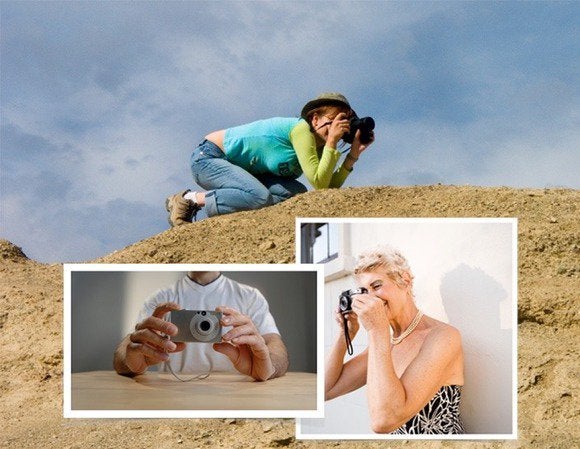 If your camera has an optical viewfinder, use it instead of the display screen—pressing the camera against your skull helps stabilize it. Finally, just before you're ready to fully press the shutter button, take a deep breath and hold it until after the shot.
Use your camera's shooting (scene) modes
Give your camera a little more info on the type of scene you're shooting by utilizing its shooting or scene mode presets. Doing so optimizes your camera's settings for that specific scene—think portraits, landscape, close-ups, action shots, and so on. While finding these modes on your camera may take some doing, the results are worth it.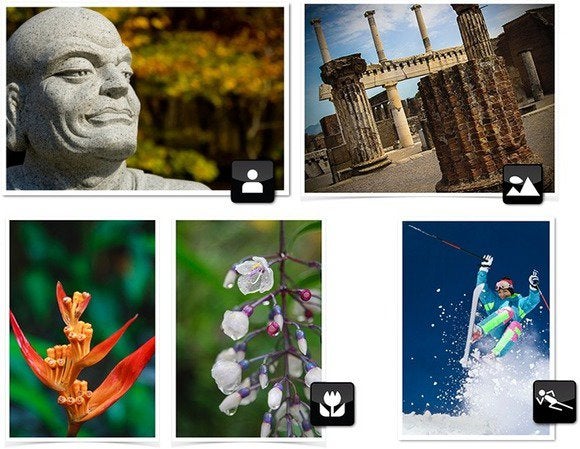 For example, portrait mode produces a sharp foreground and a blurry background. Landscape keeps everything sharp. Macro produces a sharp foreground and blurry background while enabling you to get physically closer to your subject. And action mode freezes motion. For the best results, think about the type of scene you're going to shoot and set the appropriate scene mode before arriving at the event.
Compose according to the Rule of Thirds
This compositional guideline, which dates back to at least the 15th century, divides a scene into nine equal parts using an imaginary tic-tac-toe grid. If you position the image's horizon on either the top or the bottom line—never the center—and the focal point (the most important part of the image) on one of the spots where the lines intersect, you produce a more pleasing shot.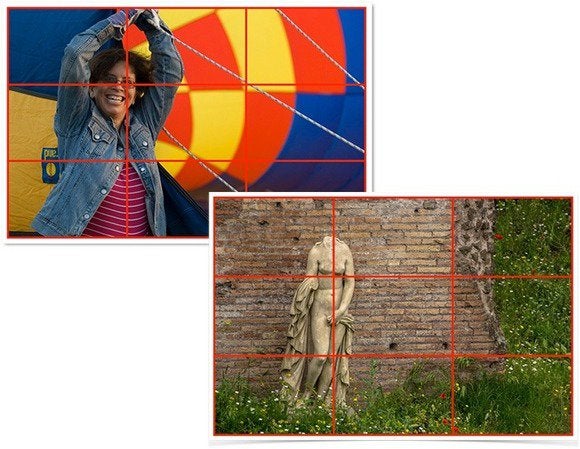 Happily, most cameras (including the iPhone) can superimpose a grid onto their display screens to help you compose, though you can always crop photos using a grid in image editing software—iPhoto, Aperture, Pixelmator, Adobe Photoshop Elements, Photoshop Lightroom, and Photoshop CC all have grids attached to their Crop tools. To turn on your iPhone's grid, choose Settings > Photos & Camera, and then scroll down the screen until you spot the Grid setting near the bottom.
Crop with your feet
Moving your body closer to your subject often creates a more dramatic shot. Generally speaking, when you think you're close enough, you can usually take three more steps. This technique not only allows your subject to fill the frame, but it can also make the ordinary seem extraordinary.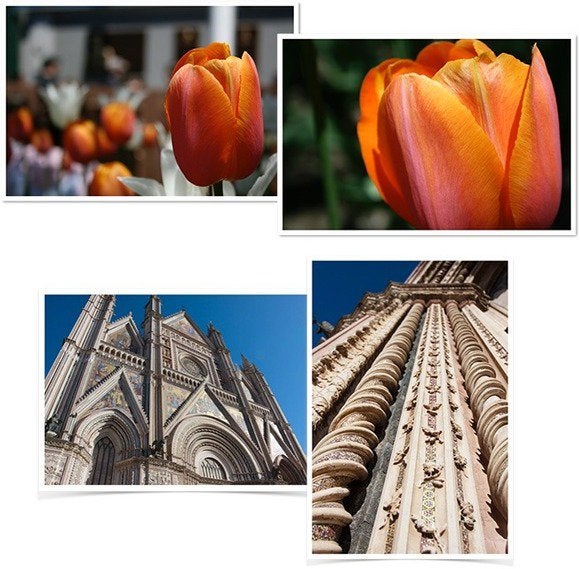 Getting closer is also helpful in vacation photography where huge cathedrals, ruins, and the like are just too big to capture in their entirety. Instead, try getting closer to your subject in order to reveal interesting camera angles and details that you can focus on.
Shoot from different perspectives
If you're taller than the item you're shooting, try getting down to its level. This is especially helpful when shooting children, pets, flowers—anything that's shorter than you are. By getting down onto your subject's level, its true essence comes shining through the shot.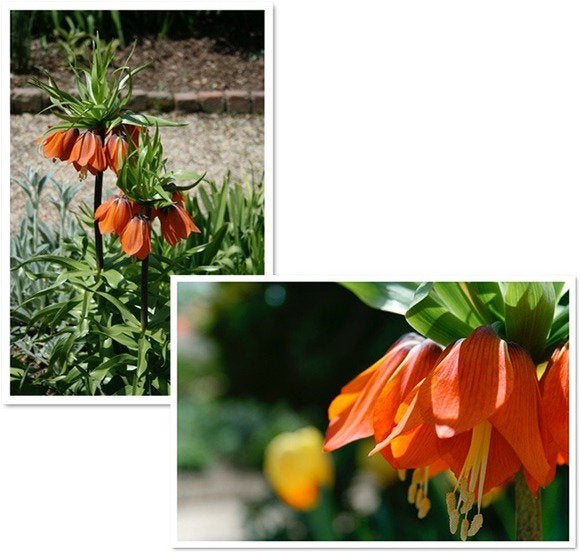 Remember also to experiment with vertical shots. Often this orientation lets you include a greater amount of foreground (grass, sand, and so on), which makes your subject feel like they're standing in the scene.
Capture odd numbers of things
Odd numbers of things are more visually interesting than even numbers of the same thing. So when you're composing a scene, try to capture one or three trees instead of two, five flowers instead of four, and so on.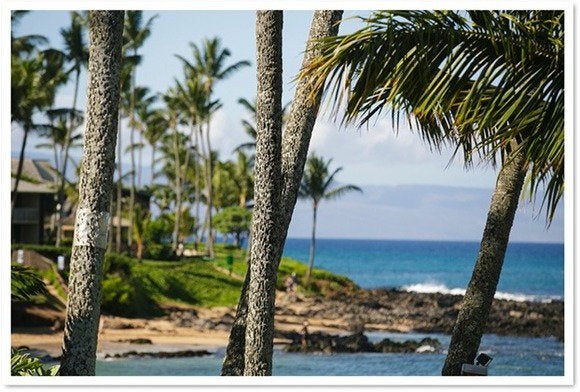 Shoot at slimming angles
When shooting people, you can slim your subject and reduce the appearance of double chins by holding your camera slightly above them. If you want to make your subject appear both slimmer and taller, shoot from your knee so your lens is angled slightly upward.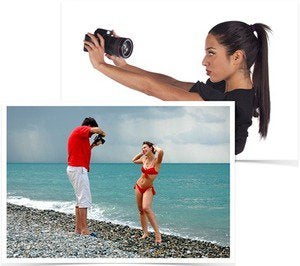 As you can see, these tips are easy to follow and before you know it, they'll become second nature. Until next time, may the creative force be with you all!
PhotoLesa.com founder Lesa Snider teaches the world to create better graphics. She's the author of the best-selling Photoshop: The Missing Manual books, coauthor of iPhoto: The Missing Manual, author of The Skinny Book ebook series, a founding creativeLIVE instructor, and regular columnist for Photoshop User and Photo Elements Techniques magazines.