On Thursday, Microsoft released a new version of Office for iOS that unifies the user experience across all devices—great and small—and opens the door to free editing and content creation, whether you have an Office 365 account or not. This new Microsoft Office for iOS suite includes Word, Excel, and PowerPoint.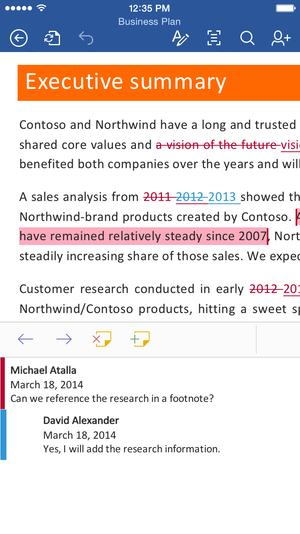 Previously, there were two versions of Office for iOS devices: The nearly useless Office Mobile for iPhone and the amazing and nearly perfect Word, Excel, and PowerPoint for iPad. Thursday's release unifies the Office user experience across all iOS devices capable of running iOS 7 or newer and introduces a preview version of the Office apps for Android tablets.
While Office Mobile for iPhone lacked every feature necessary to make it useful on your iPhone, Microsoft's camp insists that the new versions of Word, Excel, and PowerPoint are built on the same codebase as the excellent Office for iPad suite of apps, but each is optimized for the device you're working on. So the editing experience helps you focus on your content rather than figuring out how to work around interface elements. Each app, whether it appears on your iPad Air or your iPhone 6, offers the same set of features with a slightly different user interface, optimizing the document editing and creation process so that formatting tools and other features stay out of your way until you need them for formatting changes.
I saw these new apps on an iPhone 6, iPad Air, and an Android tablet, all of which were well organized and easy to use. A Microsoft rep said that the apps look excellent on the iPhone 6 Plus and, even given the limited screen space of the iPhone 4/4S and 5/5S models, are very usable on those devices as well.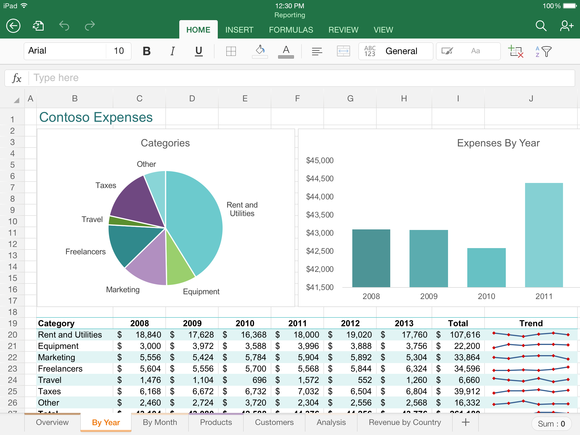 While access to Office on all of your iOS devices is welcome news, the bigger news may be that you are no longer required to have an Office 365 account in order to create and edit content—you can access these features for free. Without an Office 365 account, previous versions of the iPad apps marked every document you opened Read Only, making it very nearly useless for anyone without an Office 365 account. Microsoft's recently announced integration with Dropbox will be live as soon as the apps are available.
It's important to note that, while these free apps aren't hamstrung in significant ways, Office power users will find there are incentives for purchasing an Office 365 subscription, including advanced change tracking features, no limits on the ways you can use paragraph styles, and advanced chart, table, and picture formatting tools. And if you're planning on using OneDrive for business documents, you will be required to purchase an Office 365 account. But, in my brief time with these Office apps, most users will not feel constrained by the free app's limitations.
We'll have a full, detailed review of these apps soon, but based on my brief time these apps, I suspect that most users will enjoy these app's and access to a working version of Office on their phones.