These days, keeping up with games can be a full-time job. So how do you separate the signal from the noise, the wheat from the chaff, the Temple Runs from the Temple Jumps? Allow us to help by regularly selecting a game You Should Play.
House on Fire's The Silent Age is actually a two-part game: The first episode, which is free to play, was released in early 2013, while the second episode, which costs $5, was released just a few weeks ago. You should think of the entire game as a $5 investment, though, because I guarantee you won't be able to stop after episode one's cliffhanger.
The Silent Age is a point-and-tap adventure game that takes place in two different eras—your character's present-day 1972, and a forty-year leap to the eerie, post-apocalyptic 2012. Without giving away too much of the plot, you play as an unassuming janitor at a large corporation who stumbles upon a time-traveler from the future. The time-traveler asks you to warn him about this meeting… and then dies, leaving you with a pocket-sized time-travel machine that you can use to flick between 1972 and 2012.
You're then left to solve the puzzle of what the heck happened to this guy, by using a combination of your time machine (which keeps you in the same place, just changes the time) and various objects you find in the environment. While many point-and-tap adventure games can feel overly relaxed, The Silent Age expertly weaves an intriguing storyline around its puzzles to give you a sense of urgency. It's the most fast-paced point-and-tap puzzler I've played, and that's only one of the reasons you should check it out. Here are three more reasons you should play this game.
A well-designed puzzle game: I play a lot of puzzle games, and I'm especially a fan of "escape the room" games, in which you have to use various objects to solve puzzles and work your way out of a locked room. The Silent Age plays very similarly to "escape the room" games, and the story line involves a lot of escaping from (and breaking into) locked rooms.
However, unlike many "escape the room" games, The Silent Age's puzzles are both clever and logical. The objects you pick up, and the ways in which you use them, make perfect sense—for example, covering broken glass with a blanket, or distracting a bartender by ordering a complicated drink. It's not one of those games that was hastily put together (perhaps this is obvious—the second episode came a year and a half after the first). The game's time travel element also plays heavily into puzzle solving. For example, lots of doors are open in one time, but not in the other, so you'll find yourself switching back and forth quite regularly.
Atmosphere is everything: There's no getting around it—The Silent Age is visually gorgeous. The bright, vibrant colors of the game's 1972 contrast perfectly with the dystopian, muted grays and greens of the game's 2012, and every small detail appears deliberate. The game denotes objects you can pick up by making them ever so slightly brighter than the surrounding pieces—giving you a subtle hint without distracting from the game's overall atmosphere.
The Silent Age is a nicely put-together package of artwork, soundtrack, and smooth, distraction-free controls. The opening screen suggests you play the game with headphones, and I second that suggestion: The soundtrack, while not particularly exciting, is everything it needs to be. Much of it is eerie ambient noise peppered with sound effects, which makes for a slightly unsettling atmosphere (and that seems to be exactly how the game wants you to feel—unsettled). The soundtrack does have a few bright spots, such as the pumping music inside a nightclub. Use your headphones, and you'll definitely forget that you're in present-day 2014.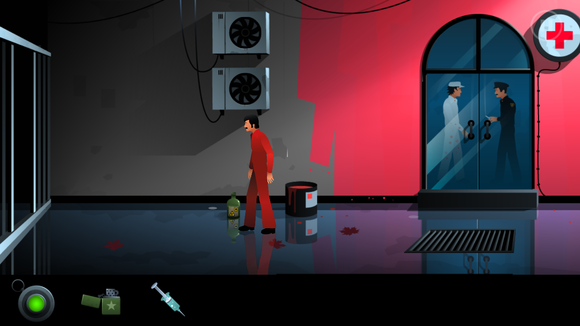 Plot, with a twist: The Silent Age is largely plot-driven, so I don't want to give away too much. But I will say that the writing is excellent: There's everything from witty comments made by the main character to well-written rapport between the main character and NPCs. Your character will say things aloud as you tap on items, sometimes even if those items can't be picked up or interacted with. For example: Try to put an apple core on a computer (why would you do that, seriously?), and he'll say "Apple…computer? What sort of sense does that make?" (HAHA, 1972.)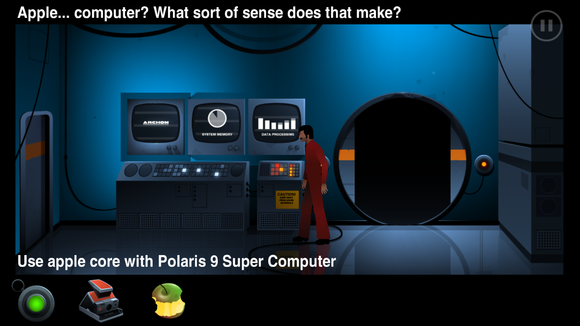 The plot also takes a nice twist (one you probably won't see coming; I didn't) that's both surprising and logical. Each episode is divided into five chapters, and the writers do a great job of keeping you interested and on your toes throughout the entire storyline.
Developer: House on Fire Platform: iOS (Universal) Price: Free