When it comes to Instagram, a perfect caption is almost as important as the photo itself. So that's why it's frustrating when you make a typo or word something incorrectly when crafting your caption or leaving a comment— Instagram was pretty much the only social media tool where a typo couldn't be erased. Once you hit send, that was it—your error was out there for your mass of followers to see.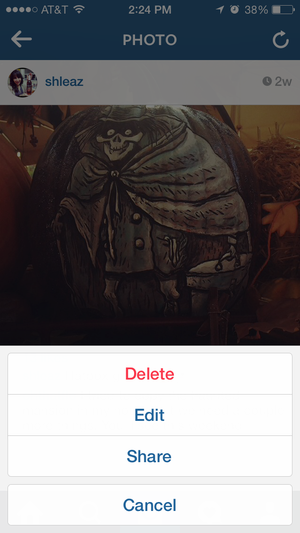 But Instagram's latest update, which is live in the App Store as of Monday afternoon, changes that. You can now edit photo captions after they've already been posted. Version 6.2.0 also introduces a new discovery tool in the Explore tab, shows off some small design changes, and now lets you edit your photo's location. (You still can't edit comments you've made on other friends' photos, though.)
Why this matters: Just the other day, I accidentally mentioned the wrong "Jessica" in a photo I posted. I had to delete the whole thing and post it again to get it right, which also meant going through the cropping and filtering process again, too. Listen, this is certainly not life or death here, and it's not like it takes very long to repost something, but I was a little annoyed. A caption-editing tool seemed like a no-brainer feature to have, and now we have it.
Discover new people to follow
Besides the editing feature, Instagram's discovery tool, called Explore, has some new things to show off. It now sports a magnifying glass icon instead of a compass, and you can browse for new content by Photos or by People—just switch between these two tabs. Explore presents you with photos and people you might find interesting, based on accounts you already follow, photos you've already liked, and photos that are trending in your location.
The Profile icon also received a small tweak, showing just a silhouette instead of the card-like image it had before. And if you go to the profile page of a user with a lot of followers, you'll now find suggested accounts hidden behind a drop-down arrow instead.
Instagram 6.2.0 is now available for iOS and Android devices. Are there any features you'd like to see in Instagram? Let us know in the comments.