Whether your Mac has an old-school spinner or high-capacity Fusion Drive, it could always stand to gain a little extra room. Even if you don't obsessively download full seasons of Breaking Bad, there are countless ways for your hard drive to get filled up with stuff you don't need anymore—much of it buried in deep, dark folders you never see.
From clearing caches to deleting old mail attachments and forgotten files, a little diligence can go a long way toward keeping that precious space clear. But if you don't have the time or patience to run maintenance scripts and root out browser caches, there are more than a few willing hands to help you out in the Mac App Store. A quick scan of the Utilities section will reveal an abundance of disk cleaners and inspectors that all promise to seek out the cruft that might be taking up necessary room and help you reclaim some of the space you've lost. Finding the right one for your needs can be arduous work, but to get you started, I took a look at five of them.
Disk App
Hard drive utilities come in all shapes and sizes, but Disk App ($1) might be the simplest one I've ever used. With a stripped-down interface that feels more like it belongs in the menu bar than the Dock (that's a compliment), the ultra-minimal app breaks your drive into a tidy pie chart that lets you quickly delete only your Mac's most innocuous files.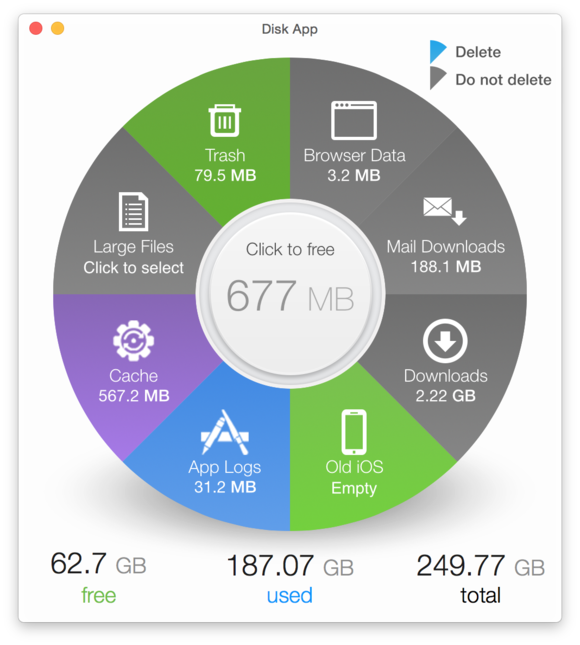 Each time you launch it, you'll be met with a circle showing exactly how much room you have available. It's surprisingly fast; press the center button and it'll scan your drive in mere seconds, assembling a snapshot of eight areas that are most likely to be eating up unnecessary space on your drive. The segments are evenly sized, so it'll take a moment to browse each one, but you can empty any or all of them after only a couple of clicks.
It's not nearly as comprehensive as some of the other apps I tested, but Disk App does an admirable job of quickly clearing out space, even sorting through your documents to find the largest ones, in case you want to shuffle them off to an external drive.
Disk Inspector
Even if your hard drive is packed with files that pre-date OS X, Disk Inspector ($8) will dutifully keep its eyes on all of them for you. With a highly visual interface, the app presents a graphical interpretation of everything stored on your hard drive, from photos and PDFs to preference files.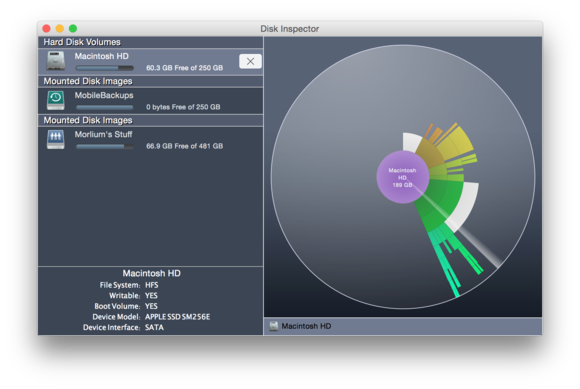 After clicking the play button, it'll take about a minute for Disk Inspector to do its thing, but as it works an animated radar scanner gradually reveals the contents of your drive. When it's finished you'll get a cool circular analysis of what's inside your Mac—or whatever drive you tell it to scan—but it's not just eye candy. Disk Inspector's presentation makes it easy to spot where the largest files are hiding.
While you can't actually delete anything within the main window (and most system files are completely locked away from view), right-clicking on a file or folder tree brings up a menu with options for Get Information, Reveal in Finder, and Quick Look, which I found particularly useful.
Disk Graph
As its name suggests, Disk Graph ($2) displays your hard drive's data as an interactive infographic that you can explore and erase with ease. Unlike the other utilities here, it doesn't automatically recognize installed or mounted drives—you'll need to open a volume using a standard navigation window and add it to your favorites to keep it there. But that's a relatively minor inconvenience when you can get up close and personal with every file residing on your drive.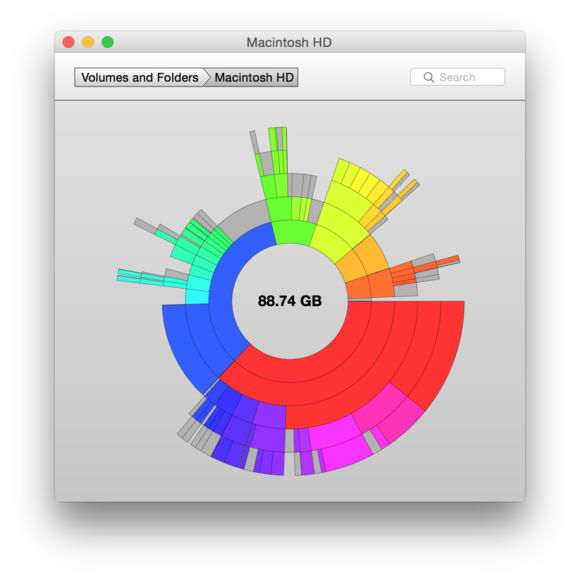 Once it's done scanning—a quick process that routinely finished up before the progress bar's estimate—you'll get the usual sunburst of colored bars. But I found Disk Graph to be a bit more forensic with its scanning, as it catalogued every nook and cranny, right down to the files tucked away in the hidden Library folder. Moving in and out of circles is a breeze, and anything that isn't locked by the system can be deleted without needing to leave the app. And if you're looking for something specific, a handy built-in search bar will cut down on the blind guessing.
HD Cleaner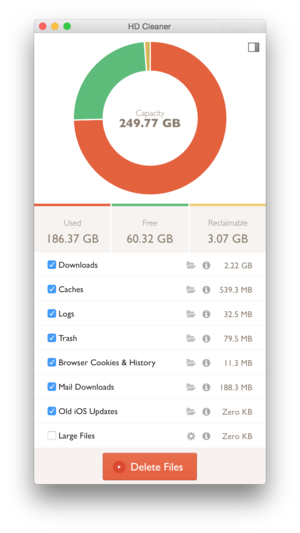 No matter how you use your Mac, you'll find that most of your space-clearing sessions focus on the same cluster of files, mostly located in your Home folder. With HD Cleaner ($5) you can quickly access the folders where they're hiding without needing to forage through the fountain of files you probably want to keep.
HD Cleaner is about as lightweight as a disk-scanning app gets. It works exclusively within your Home folder, but each time it launches it will still prompt you to select it, an extra step that seems unnecessary. Thankfully, it takes about as long to run as it does to click Open, and in less than a second you'll have a list of seven folders that you can clear with a single click on each one. Be careful before rushing down to the red delete button, however, as one of the folders it offers to clear is Downloads, which might contain some files you want to keep. It also does a fine job of tracking down any large documents, which are accessible via a slide-out window.
Daisy Disk
Don't be fooled by the wimpy name: Daisy Disk ($10) is one of the most powerful utilities you're likely to find. With a remarkably intuitive interface that breaks your drive down into easily digestible chunks, Daisy Disk will give you an exhaustive overview of your drive, letting you explore your files in a novel way.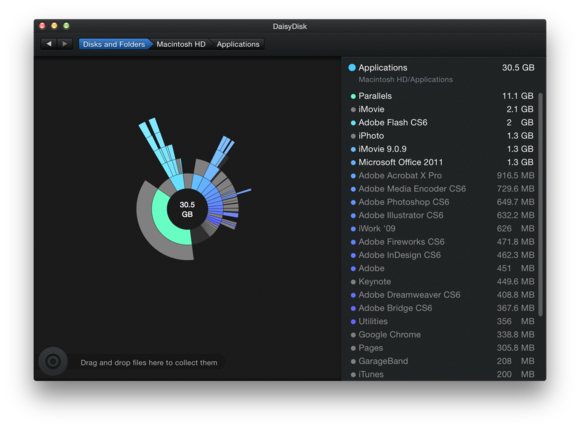 Daisy Disk took only a few extra seconds longer to scan my drive than the other apps I tested, but the results made it seem like it took far longer. Not only will you get a gorgeous graphical interface with an intricate map of your drive, it also provides a sidebar that offers a description of each colored chunk. It might not seem like a major advantage, but as you move around the various segments, the continuously changing sidebar adds a familiar navigational element that makes it easy to locate large files that may be clogging your drive.
As you root around, any files that you want to delete or transfer can be collected for later dispersal, but Daisy Disk isn't just limited to scanning whole disks. Local folders can be dropped onto its window to create quick shortcuts to directories that need constant cleaning.
Which should I get?
If you're looking for full-fledged disk inspector, Daisy Disk is an easy recommendation. There was nothing about Disk Graph or Disk Inspector that I didn't like, but Daisy Disk puts it all together better, combining good looks and intuition into a superior package. Its mix of text and visuals made it a pleasure to use, especially when hunting for specific files. And while each of its peers mapped an old OS X disk installation file that was eating up 5GB of space, only Daisy Disk brought it to my attention.
For quickly clearing out common caches and app logs, Disk App is the way to go. Its pie chart-inspired interface brings an elegance and ease of use that's hard to beat, and it's even quicker than running maintenance tasks using Cocktail or Onyx. In fact, disk-cleaning junkies might want to consider it as a companion to Daisy Disk, since you'll need to do some digging to get to the folders Disk App instantly brings up.