We spend a lot of time with mobile apps. We know what we like and what we don't—sometimes within the very same app. Our Fix This App series takes a closer look at a mobile offering that's not without some flaws and tries to nudge it a little closer to perfection.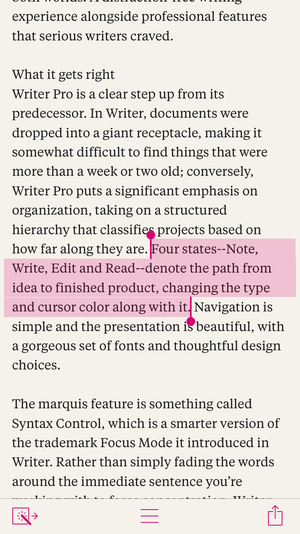 Continuity has upped the ante for writing apps. Where iCloud has dutifully kept our files in sync since the days of the iPhone 4S, Handoff creates a tight link between like apps, seamlessly transitioning files from one device to the next and letting us continue to work without the risk of losing our train of thought.
It's no surprise that Writer Pro would be one of the first writing apps to take advantage of it. When it launched in late 2013, it presented something of a similar concept. A dramatic rethinking of iA's ultra-minimal Writer app, Writer Pro was built around a fluid workflow that let us follow our projects between states and devices, with separate apps for iOS ($10) and OS X ($20). Sleek and sophisticated, it seems to offer the best of both worlds: A distraction-free writing experience alongside professional features that serious writers craved. But in reality, it doesn't quite deliver as promised.
What it gets right
Writer Pro is a clear step up from its predecessor, Writer. In Writer, documents were dropped into a giant receptacle, making it somewhat difficult to find things that were more than a week or two old; conversely, Writer Pro puts a significant emphasis on organization, taking on a structured hierarchy that classifies projects based on how far along they are. Four states—note, write, edit, and read—denote the path from idea to finished product, changing the type and cursor color along with it. Navigation is simple and the presentation is beautiful, with a gorgeous set of fonts and thoughtful design choices.
The marquis feature is something called Syntax Control, which is a smarter version of the trademark Focus Mode it introduced in Writer. Rather than simply fading the words around the immediate sentence you're working with to force concentration, Writer Pro can also target parts of speech by highlighting verbs, adjectives, or prepositions to help vary and strengthen your prose. It's something of a killer feature that I'd love to see made into an action extension for use in other apps.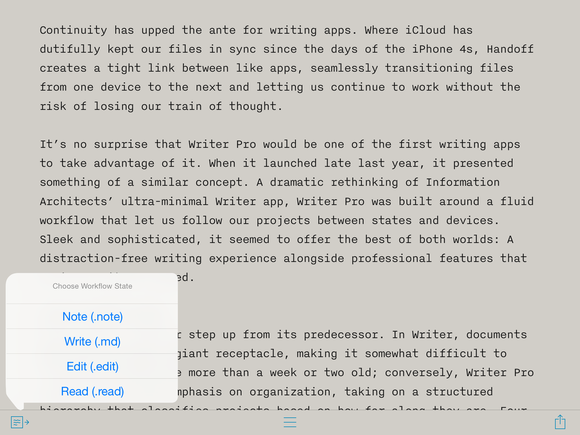 What it gets wrong
On the surface, Writer Pro may seem like a fantastic solution for our file system-challenged mobile devices, but it doesn't take long for its flaws to show. While its organizational system is certainly novel, nothing beyond the visual presentation changes as documents move between each state. I've been using Writer Pro for the better part of a year, and I've never found a reason to follow its workflow; there's nothing else to distinguish its state, and most of the time I find myself working in a state based on my preference for a particular font, not necessarily due to the progress I've made.
There's also a relative dearth of pro features. For an app that has positioned itself as a superior version of iA's original and beloved text editor, there aren't many features that set it apart for serious writers. The only exporting option to speak of is filling the body of an email with text, and there's no way to search while you're working within a document in the iPad app. Furthermore, there aren't any formatting or outlining options beyond the ones readily available to Markdown aficionados, and even with the new folder creation, anything outside the established workflow is tricky to manage.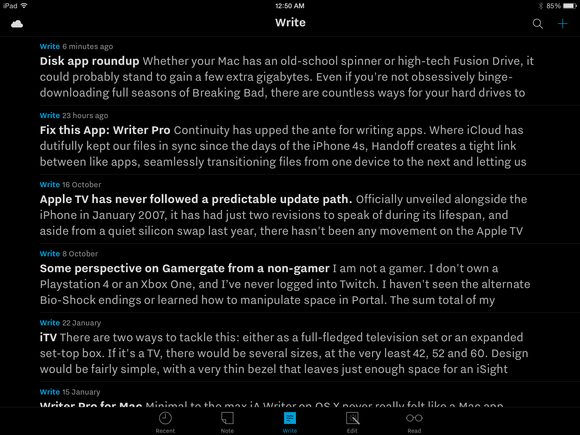 How to fix it
Writer Pro is one of the best text editors in the App Store, which makes its shortcomings so glaring. I like it but I want to love it. The pieces are there, but it needs a few tweaks to put it over the top:
Put the work in workflow: As it stands, the Writer Pro workflow assumes every note you take will eventually become a full-fledged idea, but it doesn't always work like that. Not all notes turn into larger works, and sometimes we just want to keep them around for reference. If there was a way to group related notes via tags and access them without leaving the Write state, it would add an extra level of efficiency, as would the ability to track changes in edit mode.
Allow workflow customization: The fonts in Writer Pro were meticulously chosen for their elegance and readability, but it would be nice if we had a say in when to use them. I'm not looking for a plethora of style options, but a setting to customize which font and color goes with each state would instantly make the workflow more personal.
Add pro features: If you don't take advantage of the workflow, Writer Pro doesn't really live up to its modifier (or price tag, for that matter). Any number of features would make it a true tool for professional writers, including but by no means limited to word count (which is present in Writer for iPad but oddly absent here), exporting text and Markdown files, web clipping extensions, and find and replace.