These days, keeping up with games can be a full-time job. So how do you separate the signal from the noise, the wheat from the chaff, the Temple Runs from the Temple Jumps? Allow us to help by regularly selecting a game You Should Play.
Among modern console games, there are few so universal in appeal, approachable in design, and wholly charming in personality that I'd recommend everyone—yes, everyone—spend time with it. I'm talking kids, grandparents, hardcore gamers, and anyone in between. Sony's LittleBigPlanet is one of those games, as the four-player side-scrolling affair builds upon the approachable Super Mario run-and-jump formula while also allowing players to build their own levels.
And now it's on iPhone and iPad. Well, partially.
Run, Sackboy! Run! (free) is a mobile spinoff from the main game, and it arrives just weeks before LittleBigPlanet 3 makes its big debut on PlayStation 3 and 4. The iOS game is certainly streamlined by comparison: it's a strictly single-player affair, lacks in-depth character customization and level creation, and does away with manual player movement. In other words, it's an endless runner on a platform with scads of them, all fighting for your attention.
Back to what I said about it being ridiculously charming: that proves to be Run, Sackboy! Run!'s ace in the hole, as even a simplified, free-to-play take on the series can bring wide smiles to your face as you leap across colorful chasms, collect bubbles, and avoid the goofy-looking monster on your tail. And despite the silly tone, it actually proves to be pretty challenging. Here are three reasons to snag this endearing freebie, whether or not you're already a Sackboy aficionado.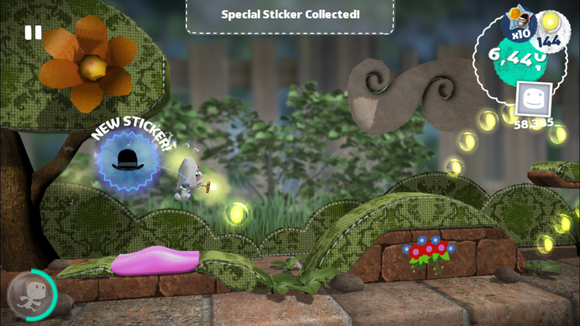 It's actually a good runner: Licensed games of this sort—particularly spinoffs of larger, more involved console titles—tend to hone in on a popular genre and then provide a merely serviceable result. Luckily, while not startlingly original in design, Run, Sackboy! Run! is a pretty worthwhile game on its own merits, without factoring in the the cute look and characters, as well as familiar name and brand.
It feels closest to Adult Swim's excellent Robot Unicorn Attack series in approach, as you'll guide the burlap-bound hero through multi-tiered environments with various paths to take. You can jump and dash forward via taps and swipes, respectively, and you'll need to use both at times to overcome long stretches of spikes, or to recover when you're about to hit an enemy. As the speed picks up, it becomes harder to anticipate obstacles ahead, which amps up the difficulty level.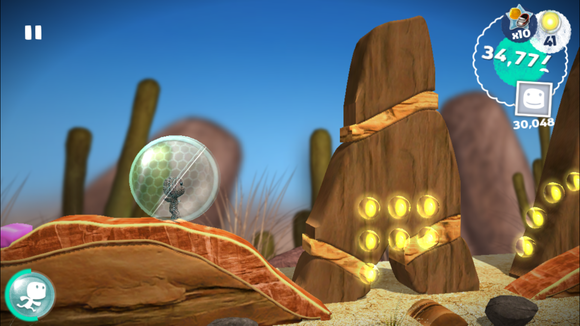 It's totally inviting: I came into Run, Sackboy! Run! already a big fan of the several-year-old PlayStation series, so I certainly knew what to expect. But I have to imagine that even a newcomer would find it hard to resist the imaginative world on display here. Trees are made of fuzzy fabric, houses look like they've been drawn in crayon, and the whole thing seems like the product of a creative child crafting a place for his/her dolls to roam around in. The toy-like enemies certainly maintain that premise.
Admittedly, it's disappointing that the ample character customization didn't make its way over from the LittleBigPlanet games: that's one of their standout qualities, and it's a blast to make Sackboy your own. Here, however, you'll still find an array of pre-constructed outfits to unlock and wear, along with collectible stickers in the world (which can also unlock content in the LittleBigPlanet games), so there's still quite a bit of personality found beyond the stages themselves.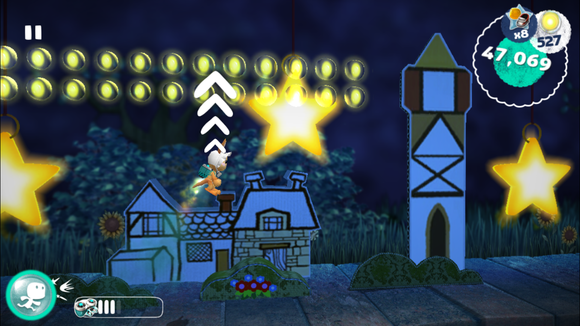 The freemium design isn't (too) harsh: So long as you're cool with probably never unlocking some of the pricier costumes—which cost an extravagant amount of in-game currency—there's plenty of entertainment to be had here without spending a dime. Those high-ticket items might be frustrating to see, but they don't really affect the gameplay. Without a restrictive energy system or paywalls blocking progress, this is a free game that you really can enjoy for free.
But you might spend a dollar here or there to buy continues on an epic run. I did, which speaks to how much I wanted to see further into the game, and how much I ended up liking Run, Sackboy! Run! overall—surprisingly so. Many licensed tie-ins like this aren't even worth the download, but Sony did right by LittleBigPlanet. And if you aren't already a fan, perhaps this streamlined taste will do the trick.
Developer: PlayStation Mobile Platform: iOS (Universal) Price: Free