Breaking with tradition, Microsoft recently issued a new version of Outlook for the Mac. Normally, the company waits until all of its Office components are finished and then releases them as part of an application suite.
Also new is that Outlook is currently available only to Office 365 subscribers. If you have such a subscription you can download Outlook from your Office 365 portal page. If not, you'll have to wait until the new version of Office is available in the second half of 2015 when Outlook and the rest of the Office apps will be available in a perpetual license form (as well as offered to Office 365 subscribers).
To use the new version your Mac must be running Mac OS X 10.9.4 or later (including Mac OS X Yosemite). You can continue to use Outlook 2011 right alongside Outlook 2015 if you like. The two share only preference files.
I'm an Outlook user and have been longing for a new version of the app for ages. Now that I have it, here's what I've found.
On the surface
There aren't a load of new features in this version of Outlook. What there are include the following:
New theme. If you're looking for a radical redesign in this version of Outlook you'll be disappointed. In line with Apple's Yosemite design, the new Outlook's interface is flatter, uses gray more extensively than solid black, features slimmer fonts, and has removed the color from folder and mailbox icons in the sidebar. It also discards the yellow theme from Outlook 2011 in favor of the blue and white tones Microsoft now favors for its Outlook products. The ribbon bar remains though a few items in it have been shifted around.
Notification Center support. New message alerts now appear as OS X notifications and can be found gathered in Notification Center. To open a message just click on it and it will appear within a separate Outlook window.
Clearer conversations. Conversations have been tweaked so that a conversation is determined by not only its subject but now also by message ID header. This could mean that you'll find fewer false-positive messages within conversations that bear the same subject heading.
Category syncing. In the past, Outlook supported just one set of categories for all your accounts. Now you create and edit one set of category colors and names for your Exchange and Office 365 accounts and another set for your other email accounts. This can be helpful for companies that want consistent categories among all their employees.
Per-account signatures. As with Apple's Mail, signatures can now be associated with particular accounts. For example, you can assign one signature to a personal email account and a different one to the account you use at work. When you select a different account to send from, the signature appended to your message will change accordingly.
Apps. Outlook now includes apps—contextual widgets that enhance your email messages. For example, bundled with Outlook is a Bing Maps app. If a message has an embedded street address, a Bing Maps entry will appear on the top-left of the message. Click on it and an inline map appears showing the location contained in the message.
You can access additional apps by clicking the Manage Apps entry at the top-right of a message. When you do, you're taken to the Outlook Web App page where you can enable or disable apps you currently have as well as obtain new ones from Microsoft's Office Store. You can, for example, add a FedEx package tracker or install a widget that translates email messages.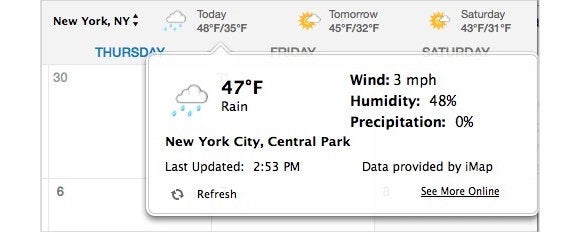 Weather conditions. The Calendar component has changed little but for the addition of weather forecasts. Taking advantage of OS X's location services, you simply ask Outlook to update your location automatically and current and forecast weather conditions appear near the top of the calendar. You can ask it to search other locations as well.
Send feedback. Previous versions of Outlook let you send feedback to Microsoft via the Send Feedback About Outlook command in the Help menu. Outlook 2015 makes that action cuter. Just below the Search field is a gray smiley face. Click on it and two entries appear—Tell Us What You Like and Tell Us What Can Be Better. Select one and a Microsoft Office Feedback window appears where you can enter feedback, include a screen shot if you like, also optionally include your email address, and send your message.
Under the hood
You can hardly be blamed for feeling that this release is a little underwhelming in regard to new features. But talk to any longtime Outlook for Mac user and they'll tell you that the primary features they want from the app are stability and speed. Outlook 2015 promises both.
New database. Outlook's database was notorious for its susceptibility to corruption, particularly if you had a lot of email messages. Microsoft has jettisoned its old proprietary database and instead adopted a SQLite database. Microsoft claims that the database will be both faster and more robust. If this ends the crashes and corruptions of old, it alone makes the upgrade worthwhile.
Pushier email. If you have an Exchange account you may have noticed that these messages often arrived on other devices before Outlook became aware of them. This is due to the way Exchange Web Services (EWS) polled the server for new messages every minute or so. The new Outlook does away with this delay and so, through push notifications, you should receive messages as soon as they hit the server.
New storage location. Previously you'd find many of Outlook's components (the database and message attachments, for example) in the Microsoft User Data folder inside your Documents folder. All these elements have now shifted to a place deep within the Library folder inside your user folder. Specifically, you'll find them here:
~/Library/Group Containers/UBF8T346G9.Office/Outlook/Outlook 15 Profiles/Main Profile
A few missing features
Whether to make the shipping deadline or simply because Microsoft felt the features were no longer necessary, there are some things you can no longer do with Outlook.
Import/export business. You'll find no Export command in the File menu. This means that you can't export contacts in a tab-delimited list nor can you export a Mac Data File of your Outlook mail, tasks, contacts, notes, and calendars. You can, however, still drag a mailbox from Outlook to the desktop to turn it into a .mbox archive, which can be imported by most email clients. Importing data is also now more limited. You can import .olm or PST archives but you can't import old Entourage archives or pull in contacts within text files.
Automation severely limited. Automator actions are entirely gone and a dedicated AppleScript menu is missing. Also, while Outlook still supports AppleScript, auto-run scripts work only on Outlook itself because the app's scripts are sandboxed, meaning that they can't communicate with other apps.
So long to Sync Services. Sync Services, which could be problematic when sharing information between Outlook and Apple's Mail, Contacts, and Calendar has been removed. Apple similarly abandoned Sync Services for everything but syncing contact and calendar data between a Mac and iOS device in OS X 10.9. This won't change much for most Outlook users who either managed all their email, calendars, and events within it or were happy to delegate Outlook to their email and otherwise use Apple's Contacts and Calendar apps.
Moving forward
Outlook 2015 is not a release packed with new features. It's already a very capable email client. Rather, it's an update that hopefully makes it faster and more reliable as well as brings it into line with other Microsoft efforts including Outlook for Windows and Office 365. If you're an Office 365 subscriber it's worth your while to give it a try.
Updated to clarify AppleScript limitations.