Google Maps is one of the App Store's unsung heroes, an app you probably use daily, yet you rarely think about or tell your friends to download. That's because for so long it just came with our iPhones—it was there waiting for you to use when you powered up your new phone for the first time.
But let's not forget the Great Apple Maps Fail of iOS 6, when all of a sudden Google Maps was ripped from our clutches and we were instead left floundering with a tool that was only half baked. Google left us hanging for a few months before making Google Maps available as a third-party app in the App Store.
So, let's hear it for Google Maps. Not only is it still arguably the best map app for iOS, but it also still gets regular updates and new features. Google rolled out Version 4.0 of Maps earlier in November, with a new Androidy look called Material Design and integration with two key apps: Uber and OpenTable.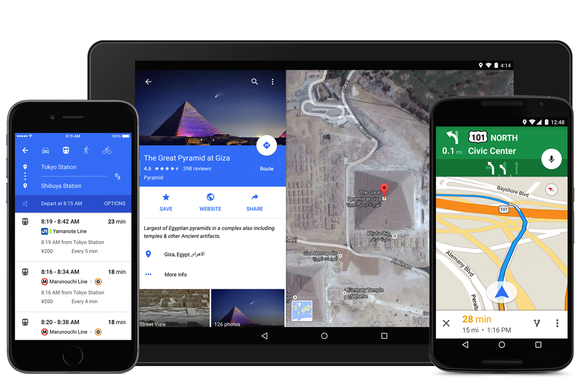 The look
Material Design has been the signature look for Google's apps on Android devices, but surprisingly looks right at home on an iOS device. Material Design features a flat look with a bolder color scheme, which fits in well with the overall iOS aesthetic that Apple introduced with the launch of iOS 7 last year.

You'll notice the new look before you even launch the app: even the icon has been revamped. One feature that stands out is the new navigation bar across the top, which is now a bright blue. The nav bar shows up when you're searching for a location and picking your route, and then switches to the familiar green heading once navigation starts. Tap the three-lined menu button to access additional map features, like traffic, satellite view, and Google Earth.
Another striking feature of Material Design is what Google calls tactile surfaces. This added layer of design shows building and landscape depth, which can be helpful if you've gotten lost and need help finding your bearings. You can see this especially well when you tap the compass button—Google Maps will fluidly zoom in to your exact location and give you a building-by-building view of where you are.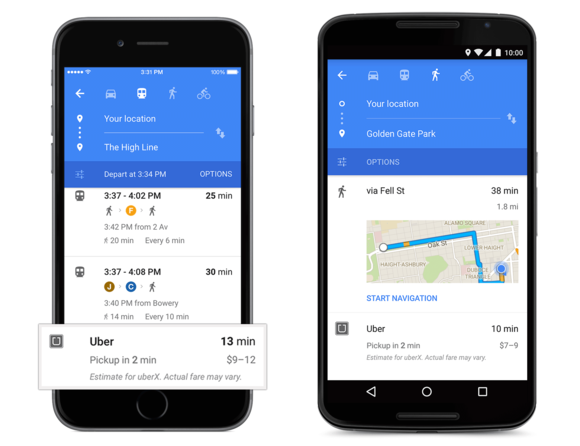 Rides and reservations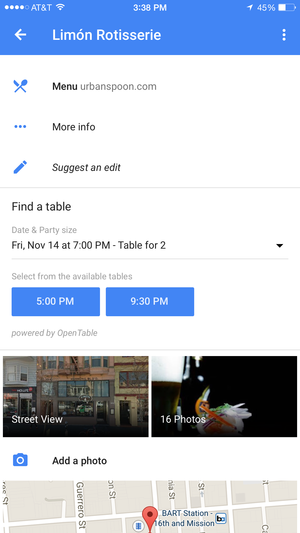 Besides the new look, Google added support for two other services within Maps. The first is Uber. Google Maps had some support for Uber before the update, but now you'll see an estimated Uber wait time listed in the public transit tab when you're comparing routes and transit type. Tap the wait time to launch Uber and hail a ride—if you already have the Uber app installed, of course.
I'm more excited about the other newly supported app—OpenTable. Google Maps has a mini page of business info that pops up when you search for directions to a certain spot, and if it's a restaurant within OpenTable's network, you'll see a reservation tool listed there, too. By default, it shows you reservation times for that same day, but you can tap on the listing to check other available time slots. This is an awesome feature if you're trying to grab a bite in a certain neighborhood—tap the menu and go to Explore Nearby to browse and make a reservation.
Besides these new tricks, Google Maps is still the same old trustworthy Google Maps. You'll get thorough directions with up-to-date traffic and accident reports, you can toggle between different transportation methods, and you can view different routes to pick the best option. This classic app continues to adapt, and keeps getting better.