Reader John Toman is a bit at sea in regard to Yosemite's version of Safari. He writes, simply:
How do you edit and arrange bookmarks in Safari 8.0?
What's likely throwing you is the new Favorites view. This is the one where you launch Safari and the bulk of its window contains icons representing bookmarks and folders. These are simply larger representations of those items as they're arranged in your list of favorites.
Let's do a couple of things so that this makes more sense. First, choose View > Show Favorites Bar. Ah, there are your favorites as you once viewed them. If you now compare what appears in the Favorites Bar with the icons below, you'll see that the order of each matches. When you drag an icon to a new location, its location in the Favorites Bar will change as well.
If you don't care for this view, you can pretty well eliminate it. To do that open Safari's Preferences, click General, and configure the New Windows Open With and New Tabs Opens With options so that they're something other than Favorites. (I almost always choose the Empty Page option.) If you lay off the Favorites button at the far left of the Favorites Bar you should be largely icon-free.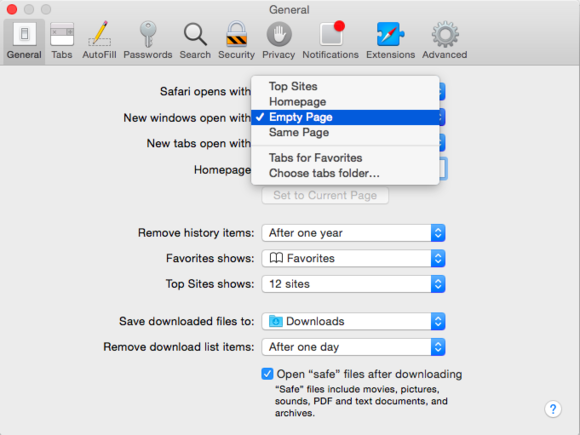 But perhaps you want to organize and edit bookmarks the old fashioned way. The shortest route to doing so is to choose Bookmarks > Edit Bookmarks (Command-Option-B). This fills Safari's window with all the bookmarks it's familiar with. Alternatively you could click the Show Sidebar button in the menubar, select the Bookmarks tab, and then click the Edit button at the bottom of the pane.
Once you're there you can rearrange their order, rename them, edit their URL, create folders, and drag collections of bookmarks into those newly created folders.
As you've come all this way I feel that I ought to throw in a little something extra, so allow me to do so with this oldie-but-goodie: How to alphabetize your bookmarks.
Within this bookmarks editing pane, create a folder and toss in the bookmarks that you'd like to view in alphabetical order. Now drag this folder to the desktop. Open it and you'll find that all the bookmarks are in A – Z order. Drag that folder back into the editing pane (yes, you'll now have two copies of the folder). Open it and lightly gasp when you see that the bookmarks have maintained their alphabetical ways. You may now delete the unsorted bookmarks folders.
Have a question of your own? Drop a line to mac911@macworld.com.