Obsessively tracking packages is something we can all relate to. Yet no matter how often we click Refresh, there's nothing we can do to speed up the delivery planes, trains, and trucks scurrying around the globe. To give yourself a break, you can let an app manage your tracking numbers, alerting you when the status of a package has changed.
Deliveries is a new package-tracking app for OS X that launched alongside OS X Yosemite. Developer Junecloud is no stranger to managing your tracking numbers, having offered an iOS app and OS X Dashboard widget for several years. The combination of iOS app and widget was more than sufficient for my use—that is, up until the Mac app launched and made everything better.
Services, services, services
Deliveries is capable of tracking packages through an insanely long list of services. Standards like FedEx, UPS, DHL and USPS are available alongside international shipping companies such as Canada Post and TNT.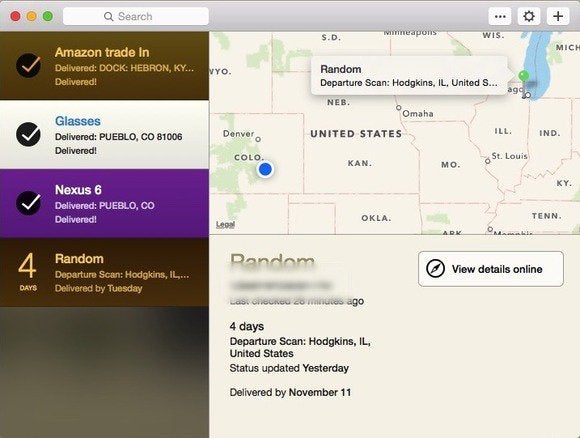 In addition to the expected shipping services, Deliveries can track orders you place with companies such as Apple, Amazon, and even Google Checkout. By entering an order number and requested credentials (required in some instances to log into the respective account and monitor an order), you'll receive updates as the order changes from received, to preparing for shipment, to shipped, and as it progresses on its journey to your doorstep.
Managing shipments
Deliveries provides a few ways to add an order or tracking number. You can click the plus sign and type or paste the tracking number into the text field, or view the Deliveries widget in the Today view of Notification Center and click Add. Even better, you can use Safari's share button to send the current webpage to the app, or highlight a tracking number, right-click it, and select "Add to Deliveries" from the Services menu.
Each method serves its own purpose, but in using the app I've found right-clicking on a tracking number to be the most convenient. It's so much faster than having to copy and paste a tracking number, which is how the old Dashboard widget used to work.
Once you've imported a tracking number, you select the carrier from a list, then enter a name for the item. Having to pick the proper service seems like an unnecessary step—Deliveries does a terrific job of identifying the carrier based on the number you provide, and the option to change the carrier exists on the same screen where you name the shipment.
As you add packages, the tracking numbers are automatically synced with your iOS devices or another Mac with Deliveries installed using either iCloud or Junecloud's own sync option.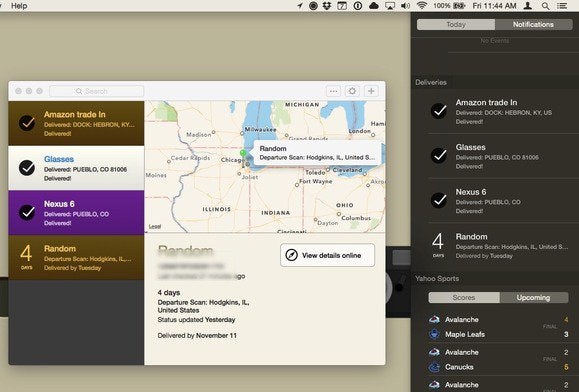 The interface of the Mac app mirrors that found on the iPad, but with the same design language found in OS X Yosemite. By no means does it look like an iPad app. The column on the left displays your shipments, complete with color-coded bars for each carrier—purple indicates FedEx, brown is for UPS, and so on.
When you select an entry, the right side of the window splits into two. The top half offers a map showing the location of the package along with your current location. The bottom half gives relevant details such as the package's name and tracking number, the last time the info was updated, and the expected arrival date. You can click the "View details online" button for more information, but you probably won't need to.
The Today widget mimics the list of shipments in the app, just without color coding or excessive details. You'll only find a countdown of days until the shipment arrives, the package's name, and its most recent status.
While that info might be enough for some, I would love to be able to see whether a package requires a signature, and if it does, the expected delivery timeframe so I know when to be available to sign. Right now, I have to click on a button that takes me to the carrier's website and hunt down the information myself.
Bottom line
Deliveries is a step up from the (still available) Dashboard widget. Both offer alerts and package tracking, but the app offers deeper integration with OS X and takes advantage of the new Extensions functionality we all love in Yosemite.
The additional methods for adding packages to your Deliveries account, combined with the Today widget for quick access has made Deliveries an invaluable app to me. I send and receive countless packages on a weekly basis, and to be honest, it'd drive me mad if I had to manually keep track of each one using the UPS or FedEx site.
Is it worth the $5 price tag? For me, without a doubt. But for those who only have to worry about a couple packages a month, tracking through a web page is probably the better option.