It's easy to assume that we have it better now than we ever had it in the past. In raw numerical terms, today's computers are many thousands of times faster than the computers I grew up using in the '80s and '90s, and that has enabled the development of software that is wildly more capable but in many cases much more user-friendly than the apps I used back then. Yet say the word ClarisWorks—the name given to the precursor to iWork as Apple's office package—to a Mac user of my vintage and they'll pause for a moment, go a bit misty-eyed, and proceed to tell you with a slightly unsettling zeal how awesome and ahead-of-its-time it was.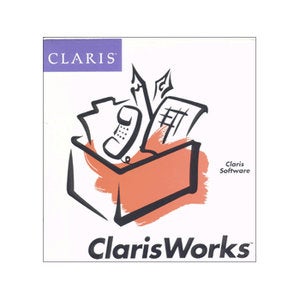 And it really was. Before ClarisWorks, so-called integrated product suites were nothing of the kind. That is, while you might have gotten a word processor, spreadsheet app and drawing app bundled in one box (installed, of course, from a stack of floppy disks), they were essentially separate apps. While they might appear to be part of a suite on the surface—sharing a UI design, splash screen, even some common features—they were technically very distinct pieces of software.
That might have been a perfectly valid mindset in the '70s when tasks were often very compartmentalized, only coming together to produce a report or a brochure, very late in the (hugely complex and expensive) process. But by the late 80s, we wanted the power of desktop publishing (or DTP) in our hands. DTP would let anyone produce elementary school homework, a college essay, or a business proposal all by themselves, and being able to include graphics, pictures, charts and diagrams on a single, WYSIWYG document was vital.
Enter ClarisWorks in 1991, and enter one of its creators, Bob Hearn, into our story, writing in his excellent A Brief History of ClarisWorks:
We came up with a frame-based approach. Most of the functionality particular to the various application types was packaged up into "frames": word processing frames, graphics frames, etc. These frames were then used as building blocks to make documents of the appropriate types, in a unified programming framework. For example, a word processing document was essentially a bunch of text frames, one per page, linked together.

The result was that not only was most of the code shared across the document types, but the application was also truly integrated—the frames could be embedded in each other. For example, you could plop a spreadsheet frame right into your word processing document. Text objects in a graphics document had a full-featured word processing engine behind them. The database form editor used the built-in graphics environment.
This was hugely powerful—as well as meaning what you learned in one ClarisWorks module could be directly applicable when working in another.And do you remember Publish & Subscribe? ClarisWorks was one of the few apps to use it, and use it well, but it was massively powerful. With it, you could, for example, place a pie chart into a word processing document that was linked live to the original chart; anytime the document that contained the chart was changed, it would update in the word processing document too. Frankly, we could use that feature today.
As technically advanced as ClarisWorks was, however, it was also easy to use, and like many, I have fond memories of writing essays, creating custom CD liner inserts, producing instruction manuals and just generally making whatever I wanted and needed to with the power of ClarisWorks.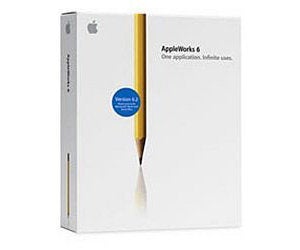 No matter how much nostalgia we have for ClarisWorks, mind you, often what we value are the things we produced using it rather than the software itself. But while the older version of iWork could open some of its documents, it was a bit hit-and-miss—and the new version of iWork doesn't even try.
Happily, all your work and fun stuff isn't lost, so long as you can mount whatever discs or disks you have it stored on—let me show you how.(Warning: the following steps will lead you down a rabbit-hole of nostalgia from which you might not emerge for many hours.)
The first step is to find your ClarisWorks and AppleWorks documents. No matter how scattered they are over your hard disks, Spotlight makes it easy to find them. In the Finder, press Command-F, click On This Mac at the top left (to ensure you're searching everywhere), then use the drop-down menus to select Kind is Other. Then in the text field to the right of this, type in AppleWorks (not ClarisWorks).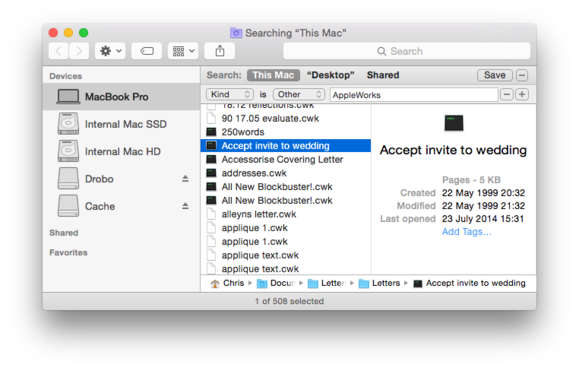 Now you'll see all the ClarisWorks and AppleWorks documents on your Mac, and opening them is actually easy so long as you're prepared to put up with a little bloat. All you have to do is install LibreOffice, a free office suite, and then you can launch it, choose Open and then drag your ClarisWorks files from your search into its Open dialog. The conversion is unlikely to be perfect, but it should be good enough to allow you to copy out the raw text or export the file to a more robust format such as plain text so that it's a bit more future-proofed.
When I did this I found, amongst countless other things I didn't even know I'd forgotten, my wedding vows, the start of a long-abandoned novel, and this, a letter from when I was at college, written to Macworld.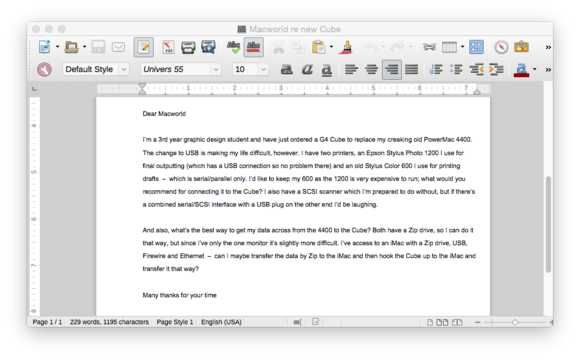 Go on. Spend a few minutes digging out some of the things you did with ClarisWorks all those years ago, and remember as you do what a wonderful piece of software it was—software so good its legal team forced Microsoft to take the line "Best-selling Integrated Application for the Macintosh" off the box for Works, on the grounds that it was inaccurate. And in those days, a win against Microsoft was a rare and precious thing!
Share your memories of ClarisWorks below. Perhaps some of the emails sent to Bob Hearn will inspire you.