Tapbot's apps carry a distinctive aesthetic, looking like they were fused together from sheets of metal. You will find this design at work in Tweetbot, a popular Twitter app on OS X and iOS, and in the $2 iOS calculator Calcbot.
Calcbot joins Tweetbot in leaping to the desktop. It's a tougher sell on OS X than iOS, as Apple's Calculator app, built in to OS X, is already full-featured. Just like Apple's stock option, Calcbot does RPN, has a scientific mode, converts units of measurements, and saves the displays the calculation history in a pop-out tape.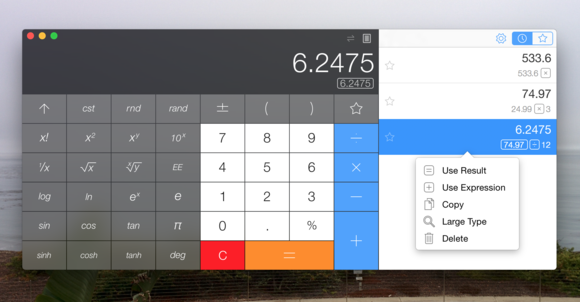 Where Calcbot trumps the stock Calculator app is that it makes these features easier to discover, instead of putting them all in the OS X menu bar.
For example, to convert square feet to inches, you just need to click an icon inside the calculator's screen. A pop-out menu displays all the choices, with different icons for each category. There are many, with conversions available for length, data, area, volume, and others.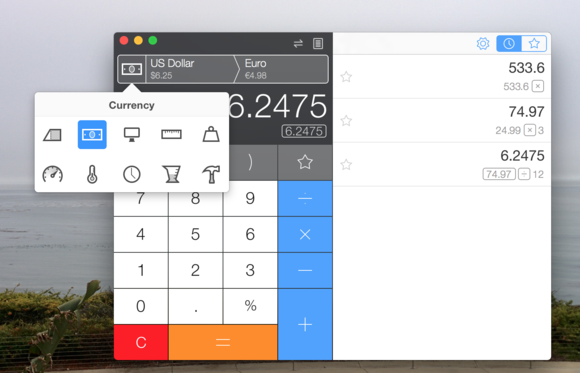 By comparison, the Calculator app has a wider variety of categories, with some offering more specific measurements. For most people, either calculator should have what you need.
Another perk of Calcbot is that it connects to iCloud, syncing the tape history with Calcbot on iOS. It's one of those features you don't think you need until you use it, as I found it was convenient for double checking a recent tabulation of invoices. Tapping out a calculation felt more natural on my iPhone's touchscreen, like I was using a real calculator, but then I was able to paste the result into a document on my Mac.
Calcbot's calculation tape is also larger than in Apple's Calculator, which makes it easier to follow a long strand. It also lets you star a particular entry, or with one click apply the current calculation to that number.
The full-screen button has a different use with Calcbot than other Mac apps. Clicking it expands to show the scientific functions instead of going full-screen.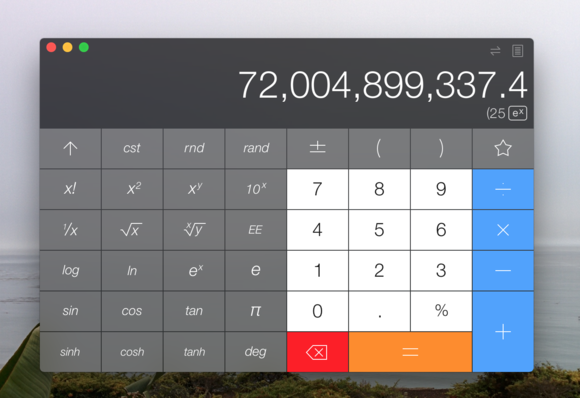 Calcbot's biggest omission is a Notification Center widget. This is something that both PCalc and Apple's built-in calculator already have. (To add Apple's Calculator widget, open System Preferences' Extensions pane, select Today in the sidebar, and check the box for Calculator.) It's rather convenient to be able to slide out the Notification Center and punch in a quick calculation. If that's a must-have feature for you, then Calcbot isn't the right choice at this time.
Beyond this, Calcbot is a solid option, though it doesn't offer too many compelling features for power users you can't get already with the stock calculator. Its strength lies in its design, which blends the Tapbots look with the clean aesthetic of OS X Yosemite.