Uber competitors, this is your time to shine. The popular ride-sharing app is at the center of a media firestorm this week, and customers who care about things like media firestorms are threatening to #DeleteUber. (Yes, there's a hashtag.) Thankfully there are a handful of other apps to turn to when you need a ride: Flywheel is positioning itself as the anti-Uber with a new CEO and a fresh round of funding in the bank.
Flywheel is an app that works exactly the same way Uber does: Open the app, request a ride, and watch your driver's icon inch closer to your destination. You store your credit card information and preselect a tip amount so no cash changes hands. The key difference: Flywheel works with cab fleets, so the driver who picks you up is licensed and regulated by the local taxi authority.
Regulation means no surge-pricing. Insurance will cover accidents that occur when you're in the vehicle. But Uber's other major problem, the one causing such a public relations headache this week, has more to do with executive attitudes than with customer service. But do people really care about what Uber's executives do when the app has become so ubiquitous? Maybe they don't. But a careless attitude can trickle down to other parts of a business.
"I care about not getting hit in the head with a hammer," Flywheel CEO Rakesh Mathur told Macworld. "I think attitudes matter hugely. Without the types of checks that taxis do, why would you get into a mode of transportation that doesn't care about the record of their drivers? The impact could literally be an impact."
Ramping up while Uber is down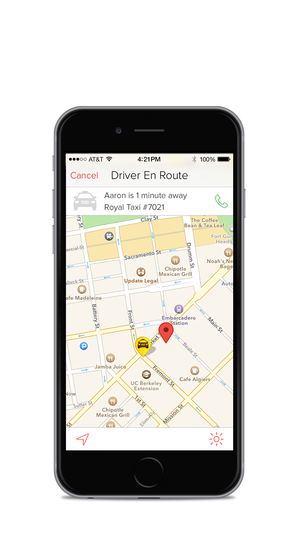 Mathur recently took the helm of the 5-year-old company, which got its start in San Francisco as an app called Cabulous before rebranding as Flywheel last year. Mathur has a long history of startup success. Amazon bought his early Web company Junglee in 1998, the first in Mathur's string of startups and exits. He joined Flywheel to scale the company beyond San Francisco, Los Angeles, and Seattle. Flywheel is now used in more than 80 percent of cabs in San Francisco, and it's using the $12 million it just raised to expand to 10 more cities in the near future.
Expansion for a cab-hailing app is far more time-intensive than Uber's approach, which is to launch wherever it sees demand. Flywheel has to first win approval from local taxi authorities, then get cab companies on board and hooked into the technology. Taxi companies have to teach their drivers that theycan't cancel on rides requested through the app just because they see someone hailing a cab on the street. It's a lengthy process. Hailo, a competing cab-hailing app that set up camp on the East Coast, recently packed up and left the U.S. altogether due to the stiff competition from other apps. But Mathur says he's not worried.
Cab companies are panicking about competition from Uber and other ride-sharing apps, but they don't have the resources to build their own. Mathur thinks Flywheel will appeal to those taxi fleets, which will make expansion easier.
"We're in the process of doing a bunch of deals with fleets all over the country," he said.
Flywheel also has features that others don't, like the ability to prearrange airport drop-offs through the app. And now that customers are looking for an Uber alternative, Flywheel might have a chance to succeed where other cab apps have failed.