Who wasn't impressed with Monument Valley, the visually stunning perception puzzle that has players work their way through an MC Escher-inspired landscape? Despite being somewhat costly ($4) and relatively short (it took me less than three hours to complete it), Monument Valley is easily one of the best mobile games of 2014—perhaps ever.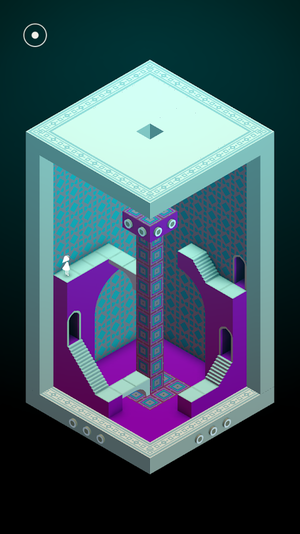 Seriously, it's that good.
And now there's more—eight levels more, to be exact. Sure, it's only been six months since the game dropped on the App Store, but developer UsTwo has already released a paid expansion pack as an in-app purchase titled Monument Valley: Forgotten Shores.
Forgotten Shores costs $2 and offers eight additional complex levels to explore, with Ida, the "silent princess," as your main character. I wouldn't say Forgotten Shores is a sequel, exactly, because it doesn't pick up where Monument Valley left off (with Ida finding her roots as a white, crowned crow person), instead, this is more of a supplement to the main storyline. Forgotten Shores features the same supporting characters as the first game, including the ghostly advisor, the annoying crow people, and the friendly totem.
Although Forgotten Shores has fewer levels, it's not that much shorter than the original game—the levels are longer and more complex. It's clearly designed to appeal to Monument Valley veterans; familiar game mechanics remain, but new mechanics are introduced and puzzles require more brainpower to solve. It's still mainly a perception puzzle, as you are expected to turn stages and rotate paths to twist the environment in your favor.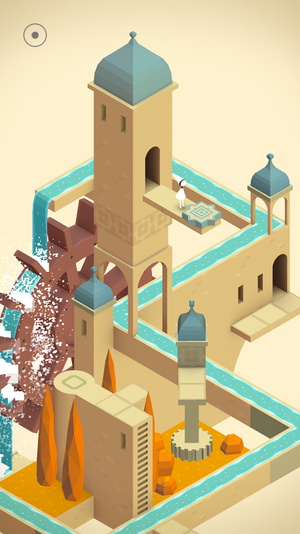 But you'll also see new puzzles and mechanics. In one chapter, called "The Thief," a crow person will steal your hat. This is no problem—except for the fact that Ida needs her hat in order to complete the level and produce a spinning geometric shape. So you'll need to get your hat back. In another chapter, called "The Oubliette," a hollowed-out cube rotates to reveal a new stage with each spin. Forgotten Shores takes Monument Valley to the next level—now, instead of simply rotating stages and playing with perception, you're also doing things like timing movements and using supporting characters to get what you want.
Despite its name, Forgotten Shores has an overall less lonely vibe than Monument Valley. Not only are the colors brighter, more vibrant, and more varied, but this game is more collaborative than the first. Let me explain: in Forgotten Shores, you are frequently asked to call upon the aid of supporting characters, such as the friendly totem or the crow people.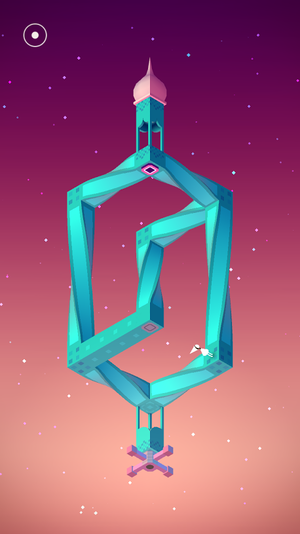 The totem makes an appearance in several levels, showing up as a whole four-block-tall totem or as four separate blocks that you can use to hit switches and activate lights. In other levels, you'll need to use the crow people's movement to hit the right switches so you can move Ida from landing to landing (many switches in Forgotten Shores are only active when someone—or something—is standing on them).
If you've played Monument Valley, you have to play Forgotten Shores. The additional levels are multi-parted and have more complicated puzzles than you saw in the first game, and the entire expansion will give you around two hours' worth of casual playtime.
If you haven't played Monument Valley, then you should download both—the first game gives you the physics and architectural groundwork to fully appreciate Forgotten Shores' complexity (also, I don't think you can download Forgotten Shores sans Monument Valley).
For a combined price of $6, the Monument Valley collection is definitely worth it.