Workout hurdle number one: Getting yourself to actually, you know, put your shoes on and go work out. For more than five minutes. And stretching doesn't count.
Workout hurdle number two: Great! You've worked out! Now, try doing that on a regular basis. Consistency is the key to success, people.
Workout hurdle number three: You've mastered the elliptical machine, you can hold a plank for 90 seconds, and you can handle squat-thrusters like a pro. But now what?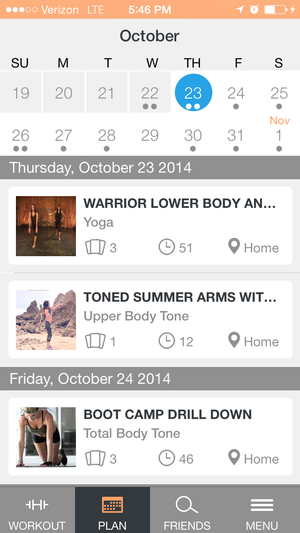 It can be tough to figure out the best workouts to do to help you meet your personal fitness goals, or move past your comfort zone to next level. That's precisely what MoveMeFit, a new app out on Thursday, is trying to conquer: it wants to get you out of your fitness rut. True, the App Store is flooded with workout apps that promise to do the same thing, but MoveMeFit truly offers something different. This isn't just another app with long lists of workout types that might not mean anything to you.
MoveMeFit customizes a daily workout plan just for you, based on your goals. Its focus is on variety, where you'll perform different movements throughout the week to really maximize your workouts. When you do the same routines over and over again, you're only engaging a certain set of muscles, which means you won't reach your goals as quickly. MoveMeFit's workouts are different, but complement each other—you'll get an upper-body-toning workout on Tuesday, for example, followed by a cardio routine on Wednesday. The app even suggests rest days.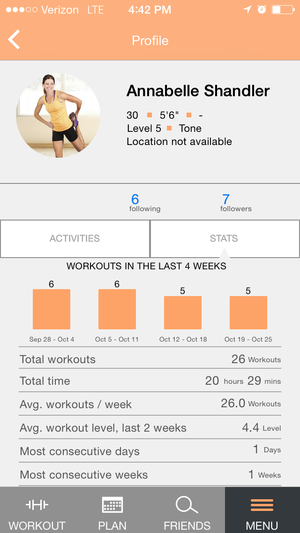 When getting started, the app asks you about your fitness experience (ranging from beginner to advanced) and asks you to pick a goal: improve flexibility, lose weight, build endurance, tone up, or gain muscle. With that info, MoveMeFit builds out a calendar with suggested workouts for the next few weeks. Most of them don't require any gear besides your shoes and maybe a mat, so you can work out at home. Some do use weights, but those workouts are clearly marked and you can easily change it to something else.
The workouts aren't just a list of exercises—they are full on workout videos, so you can follow along straight from your iPhone. MoveMeFit's workouts come from a variety of places, including free workout videos pulled from YouTube and other public sources. MoveMeFit has also partnered with personal trainers for custom workouts, though you'll have to pay $9 a month to unlock the premium custom content. Still, that's much cheaper than a gym or studio membership.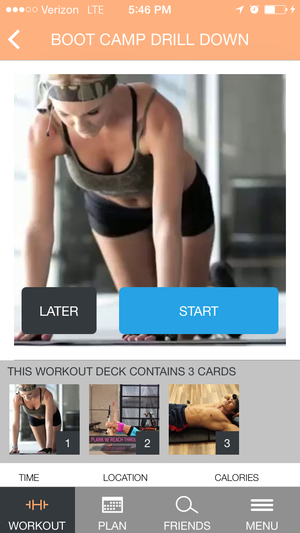 The bulk of MoveMeFit's content is free videos that you could find yourself without the app if you wanted to. But the beauty of using the app to find workouts is that the videos are selected for you and paired with other workouts to create a balanced schedule. If there's a routine you don't like, you can leave feedback so that it won't show up on your calendar again, or you can search for different routines if there's something specific you're interested in.
MoveMeFit's program is designed to gradually get harder as you progress, but if you feel like the workouts aren't quite what you want, you can adjust your level and goal at any time to get a new schedule. The app tracks which workouts you've completed and estimates how many calories you burn in each workout as well.
If you're trying to do some damage control before the holidays kick in, MoveMeFit is a pretty good place to start. Creating an effective workout regimen is hard if you're not a fitness expert and you don't want to shell out the cash for a personal trainer. This app hits that sweet spot. Plus, it's got a ton of different kinds of workouts to hopefully pique everyone's interest—I did a really fun yoga, Pilates, and dance fusion workout one day, followed by a tough cross-fit circuit training the next.
Consider workout hurdle number three cleared.
MoveMeFit is a free app available now in the App Store. It's optimized for the iPhone.