These days, keeping up with games can be a full-time job. So how do you separate the signal from the noise, the wheat from the chaff, the Temple Runs from the Temple Jumps? Allow us to help by regularly selecting a game You Should Play.
Until the Pokémon Company actually releases the kind of Pokémon game for iOS that fans have been begging for, other developers will keep making games that try to approximate the addictive qualities of the massive monster-battling franchise on the mobile platform.
Monster Strike obviously owes a great deal to the Japanese franchise: the game tasks you with collecting and powering up anime-stylized battling monsters. Like Pokémon, these (sometimes) adorable monsters evolve, and it has RPG qualities like turn-based combat and buffs.
But developer Mixi has actually created a game that owes just as much to throwback physical classics like marbles and pinball as it does to Pokémon. The hybrid isn't perfect, but it's a heck of a lot more fun than it has any right to be. Here are three examples why.
Monstrous marbles: The combat in Monster Strike seems exceptionally straightforward. In single player mode, you have four monsters that appear as little marbles. You pull back, and then let them fly and hit enemies. If you do enough damage to your enemies, you'll clear the stage. And while the bouncy physics makes any combo seem just like random pinballing, wrinkles appear as you play.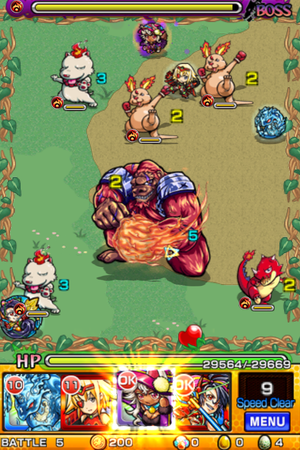 First, each of your monsters has a special power—my mech girl unleashed a huge fire laser while my cat-witch hybrid unleashed magical homing missiles—and if you knock into them instead of the enemy, that can often do much more damage.
There are also some additional tactical choices to choose from when you deploy their "Strike Shot," a super powerful attack that varies depending on the monster. You can target boosts that will regain your health, augment your speed, or upgrade your power for a certain number of turns. Clearing a stage and its boss will unlock more monsters, gems to upgrade your monsters, and in-game currency.
A freemium game that is actually free: That's one of the main reasons why I recommend Monster Strike: it's a freemium game that actually doesn't interfere game play with the need for in-app purchases. There are numerous in-game currencies to keep track of. The balance isn't perfect at this point, but that's largely in the player's favor.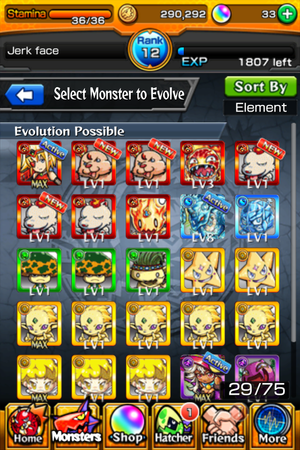 In terms of in-game currency, orbs are the main piece and can be earned by logging into the game for a couple days in a row, adding friends, or completing missions in the rather lengthy campaign (and constantly updating daily events). Orbs let you resuscitate your team when they die mid-mission, get "guest passes" to unlock special stages, and let you upgrade your Monster box which holds all of your monsters. After playing for a couple hours, I never hurt for orbs again—the game just seems to be giving them away.
There are other currencies in the game that are harder to come by. The gems that are necessary to upgrade your monsters are rare, and it requires a ridiculous amount of them to utilize. I evolved my main critter a couple of times into a water dragon, but got bored with hunting down gems. Some of this, admittedly, is because a lot of the best loot is available through multiplayer mode, which I haven't been able to play (more on that in a second).
Daily updates + multiplayer campaigns = hours of game play: I played through the main campaign for several hours. The game does a good job of letting you level your monsters up as you progress, so you're never overwhelmed. But in any single player mission, you'll find that only three of the monsters are yours—the fourth is a "helper" that you can borrow from another player. Not only is it in your best interest to choose a super-powered helper, but you can also ask them to be your friend afterward.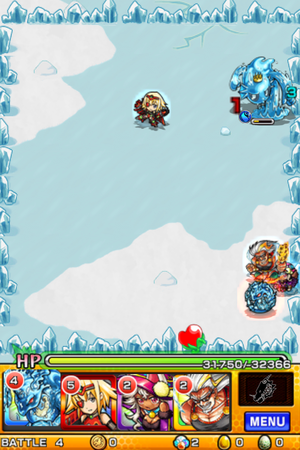 It's a clever move to add friends to build a network of fellow players, and that's a huge factor in the game's favor: the daily events show that the developers care about the experience, and making friends with other players helps build up a community.
You can recruit or join a team, but since this is limited to your immediate area (using location services), I found I didn't have any players to connect with. Thus, some of the better monsters and gems were unavailable to me. While frustrating, I instead just hop back over to the single player campaign and get grinding.
While I admit that some of the art is rough, the currencies need to be better balanced, and the combat mechanic (like any RPG) gets repetitive, I actually found myself playing this game long after I normally would for a review. Monster Strike hits that sweet spot between a player's collecting obsession and the challenge of frenetic combat on a daily basis. Best played in short sessions—but equally great as a time suck—Monster Strike is worth checking out.