Cooking Thanksgiving dinner can be daunting. Not only must you prepare tons of food—some of it you've rarely cooked before—you've also got to make sure that it's all ready to hit the table at the same time. And you've got to keep all those plates spinning under the watchful eye of family members ready to remind you of every overcooked turkey breast, lumpy gravy, or overheated green bean casserole at every future get-together.
Luckily, you don't have to tackle Thanksgiving dinner alone, provided your kitchen arsenal includes an iPad. The App Store has a cornucopia of cooking apps that you'll be giving thanks for when it's time to get cooking.
We've rounded up five iPad-optimized apps that aim to help you prepare Thanksgiving dinner, whether your menu calls for a turkey or a tofurkey. These apps will help you at every step, from picking recipes and planning a menu, to cooking multiple dishes at one time, to figuring out what to do with 20 pounds of leftovers.
Thanksgiving Menu Maker
An super handy tablet-optimized cooking app produced by Fine Cooking magazine, Thanksgiving Menu Maker ($1) is geared toward the Thanksgiving gourmet. Recipes include such tantalizing dishes as brined roast turkey with sage-butter rub and mushroom gravy and beet salad with oregano, pecans, and goat cheese.
The app offers more than just menu-making, though, with tabs devoted to recipes, forming a shopping list, scheduling cook times, and assorted cooking tips. You start out by taking a look at the recipes, which are categorized by dish (starters, main dish, sides, and desserts). You can add recipes to your menu, and then view your entire meal via the app's Menu tab.
The Shopping List tab creates a grocery list based on your menu, while the Schedule tab lets you know when you need to complete certain tasks, such as making turkey giblet broth the day before or heating the oven four hours before dinner. Finally, the Tips tab directs you to Fine Cooking's website for tips on wine pairings and what to do with leftovers.
BigOven 350,000+ Recipes and Grocery List
BigOven (free) is more of a generic recipe and shopping list app than Fine Cooking's offering. It's not just focused on Thanksgiving, so it's worth a look for anyone who wants some guidance in the kitchen.
This app has more than 350,000 recipes to search through, with filters to help—search based on ingredients to include or exclude, or dietary restrictions, for example. You can also browse recipe collections, such as the current Thanksgiving-oriented collections ("Thanksgiving Favorites" and "Savory Sides").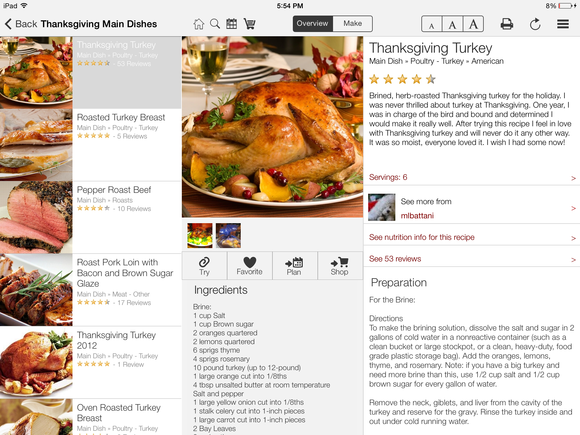 Though you can use BigOven year round, it has a couple of particularly useful tools for Turkey Day beyond those Thanksgiving recipe collections. A "Use Up Leftovers" feature helps you come up with creative ways to work that fridge full of leftover turkey into your post-Thanksgiving meals. Just input the ingredients you need to use, and the app searches for menus that include them.
BigOven's app works in tandem with BigOven's website; you'll need to create a free account in order to save menus, sync grocery lists, and add recipes to your favorites list. You can also upgrade to a Pro account for $2/month or $20/year for access to additional features, like a monthly menu planner, recipe nutrition info, and 25 free recipe scans.
Epicurious Recipes & Shopping List
Epicurious (free) is another free recipe and grocery list app with thousands of recipes in its database. This app has a seasonally-changing sidebar of featured recipes, so right now you'll find plenty of recipes for turkey, gravy, stuffing, green beans, and other Thanksgiving-themed dishes.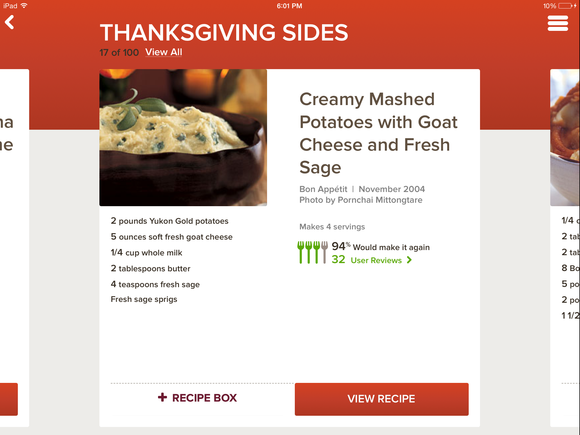 Epicurious doesn't have as many features as does BigOven does—a menu planner is MIA, for instance—but it's also simpler and more straight-forward. Recipes you find on Epicurious can be favorited, added to your grocery list, and emailed or shared on Twitter, Facebook, or other social networks. The app presents recipes in a simple format, with an ingredient list on the left side of the screen and instructions on the right. There aren't as many pictures as there are in other tablet recipe books, so you'll have to have a general idea of what you're doing in the kitchen.
Epicurious does have a nice feature—voice control, so you don't have to touch your iPad with sticky fingers.
KitchenPad Timer
You probably already have a timer (or two) in your kitchen, whether it's one built into your oven or just a generic egg timer. But it's likely that your timer supply won't live up to the demands of Thanksgiving Day, when you'll probably be cooking up multiple dishes at once, each of which requiring its own timer.
Enter KitchenPad Timer ($2). This universal iOS app is perfect for cooking multiple dishes since it allows you to time up to nine dishes simultaneously. You can customize each time: just name the dish, choose the flame height or oven temperature (there are five burner timers and four oven timers), and pick a ringtone for the alarm. You can also save timer presets to your favorites list, which is a great feature if you happen to be making multiple servings of the same dish.
Time to Roast
Roasting a turkey is not rocket science—heck, it's not even high school physics. That said, if you've never done it before, the process can be a bit intimidating.
Time to Roast ($2) is an app that's all about roasting. And that means roasting anything and everything—turkey, beef, duck, pork, chicken, you name it. This app is perfect for the amateur turkey-maker and is also useful for veteran turkey-makers whose minds are otherwise occupied in the kitchen.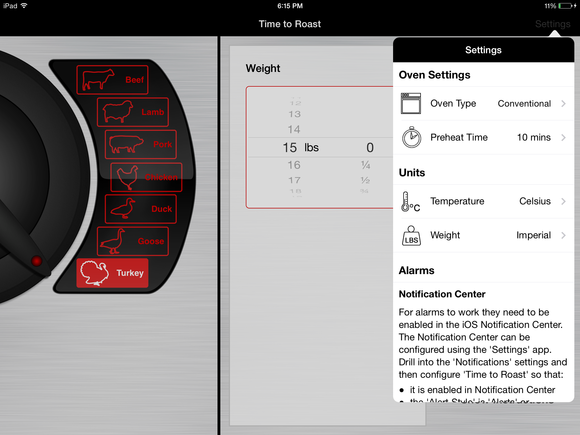 First, select your oven type (conventional, fan, gas), preheat time (10, 15, or 20 minutes), and units (Celsius/Fahrenheit, pounds/kilograms) in the settings menu. Then, select your meat (turkey's just one option of many) and its weight. Once you've entered in all these values, the app will spit out some instructions, including how long to sear and roast the meat.
Next, tap on Alarms. Here you can choose a time to eat, or you can choose to start cooking right away. If you pick a time to eat, the app will present you with a timeline of things to do (starting with "preheat oven" and ending with "carve and serve") based on when you want the turkey to be ready. If you choose to start cooking right away, you'll get the same timeline that will start immediately.