In an era of always-near smartphones and tablets, it can be difficult to pay attention to one thing at a time—especially when you're watching football. How can you resist the urge to zip through your Twitter feed, share your thoughts on that last big play, and constantly check scores for games you're not watching? And if you're a fantasy football nut, chances are you're thinking about a half-dozen players on other teams even when your home team is on the big screen.
If you can't resist having a second (or third, or fourth) screen in view while watching NFL action on Thanksgiving Day and for the rest of the season, at least make sure you're using apps that will get you the info you need quickly without taking up too much of your attention span. Here are six apps to consider grabbing, from officially licensed companions to entertaining games that might even make a lackluster showdown seem exciting.
NFL Mobile
The official NFL Mobile (free) app is a handy one to have while watching live games—or trying to follow a game other than the one you're watching—as you can see each play from the current drive on a replica field, as well as dig into scoring info and game-wide play-by-play details, along with rosters and depth chart details.
Verizon subscribers that pay $5 monthly for the premium subscription can also tune into live games, streaming NFL Network coverage, and NFL RedZone footage via NFL Mobile. And even if you're on another carrier (or using an iPad without a cellular plan), there's a subscription plan within for game-day audio.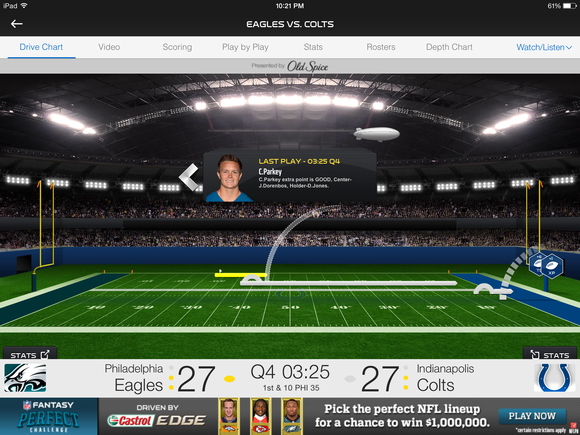 NFL Now
Just launched this season, NFL Now (free) is pegged as the league's big entry into the second screen market—but curiously, the aforementioned NFL Mobile is the more useful overall companion app. Where NFL Now shines is in its collection of video footage from all around the league, including highlights, analysis, documentary series from NFL Network, and more.
The initial free, ad-supported download offers access to a lot of the content. However, the treasure trove of game highlights is limited to premium members that pay $2 a month. If you're a die-hard fan, though, it's worth the cash to have that handy access via a slick app: this last week of NFL action alone generated 621 total highlight clips to watch, including 89 "big plays" and 66 touchdowns. That's a lot to soak in!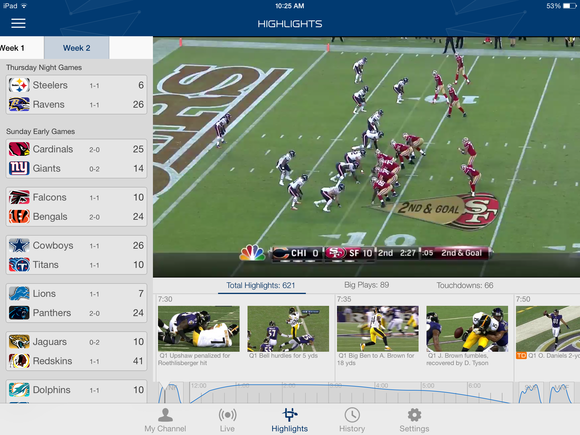 Viggle
Viggle (free) is the kind of app that rewards your commitment to television by giving you points, which can be exchanged for real gift cards and the like. It works with a wide array of content and all different kinds of sports, but when you're watching an NFL game, Viggle pulls up a specialized interface that adds a bit more intriguing interaction.
The app uses your device's mic to listen to your television and identify the content; it took two tries, but it pinpointed the Eagles game I had on. From there, it launches the Viggle Football prediction game, which asks you questions ("Will the Eagles miss a field goal in the 4th quarter?") and lets you input responses. How you pick determines how many extra points you earn for checking in and watching the game.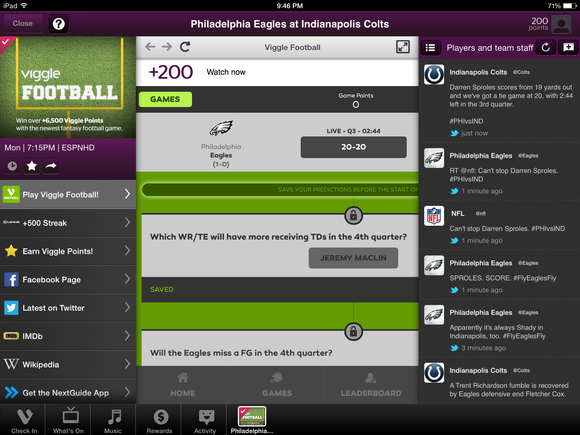 SportsManias
If you are the sort to really focus on a single NFL game at a time, but want to enhance that experience with plenty of perspective and behind-the-scenes tidbits, then SportsManias (free) is a very handy option for doing just that.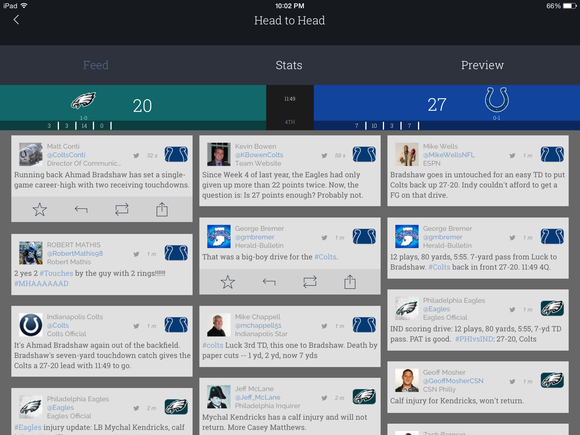 You can select a live matchup in the NFL (or nearly any other league), and the app will display a constant stream of tweets from noted experts: reporters, analysts, official team feeds, and other relevant sources, delivering info on plays, injuries, historical trivia, and more. It features a very utilitarian design and doesn't attempt to compete on feature set with something like NFL Mobile. But if you want a stream of focused info handy while watching a big game, it's a helpful pick.
NFL Connect
If there's one app that really makes a game out of watching the games, it's NFL Connect (free), which gives you a board full of football actions to work with—like penalties, passes of a certain length, and receptions. You can reconfigure their placement on the screen and predict what will happen next, all in an effort to connect four and win the match.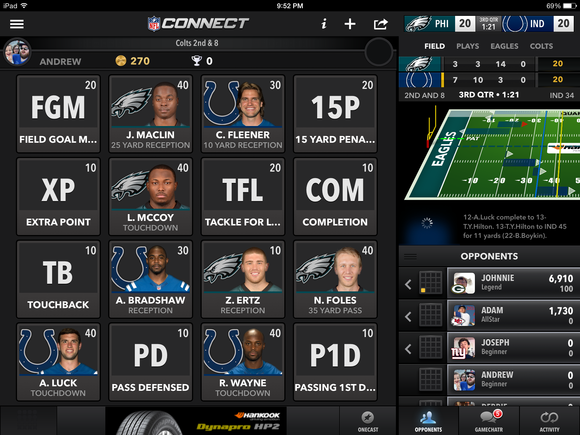 It's a little confusing to get a hold of, but the interface is really slick—with an updated window showing movement down the field—and you're playing against other real players. Unfortunately, the game has its obsessive fans that seem to have mastered the strategies and will wipe the floor with you while you learn. Shout out to "Johnnie" for crushing me every round before I even knew what was happening.
SportsYapper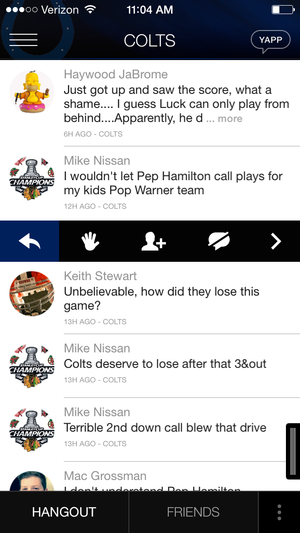 For those who can't take in a game without making their opinions known wide and far, you needn't clog up your social network feeds with observations that most friends and followers won't care about. Instead, just log into SportsYapper (free) and find likeminded folks ready to trade barbs and insights alike.
Effectively, SportsYapper creates chat rooms around all of the big matchups, so instead of pouring your thoughts into a massive, messy feed, you'll quickly locate fans focused on the same showdown as you. There isn't much more to it than that, but the app remains a clean and neat way to carry on a conversation even when you're watching alone at home.