Another Thanksgiving is here, which means another Black Friday is nearly upon us. Many retailers have already started their discount madness, with all kinds of pre-Black Friday sales and promotions ready to lure you in with the latest "must-have" deal.
If you plan on venturing out in the wee hours after Thanksgiving (or late on Thanksgiving night), or have your eye on a particular online sale, your iPhone can be a great aid for finding that sought-after gadget or scouring for additional discounts from specific stores. The following apps can help you hone in on what you're after, so you can get back to what the holidays are supposed to be about instead of spending time in a mosh pit of commercialism gone mad.
Sort through the firehose of sales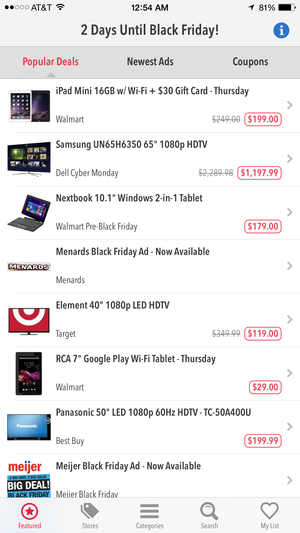 TGI Black Friday (free) compiles listings from the Internet and published ads, which you can sort by store or category, or search for specific products. The search works pretty well; it pulled up several different models of Chromebooks when I typed "Chromebook" into the search bar and was similarly accurate with other product searches. If you find something that you're interested in exploring later, save it to a dedicated list inside the app.
Each item has a "shop now" button that takes you to its retail page on the web. However, some of the sales aren't available until Black Friday, so you may be disappointed if trying to buy before then. The merchandise listed in TGI Black Friday is pretty tech heavy, but there are non-gadget options like tools, furniture, and toys.
The mobile app for BlackFriday.com—called Black Friday Shopping (free), fittingly— is like a digital collection of those thirty-page weekly newspaper sales guides you get in the mail.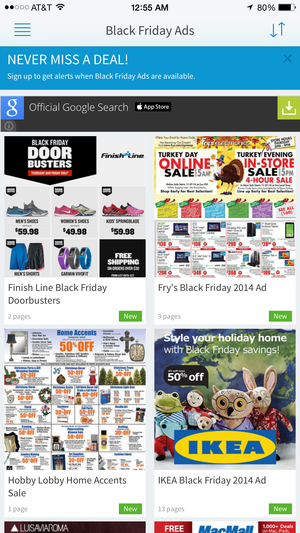 This app reproduces a bunch of them, so you can rest assured that you're probably not going to miss one from any of the major companies. It's a little hard to navigate on a phone screen, as you have to pinch and zoom through a full reproduction of the ads, so check it out on your iPad if you can. Curiously, you can't swipe to turn the page, you must press left and right arrow buttons. A scrolling ad lurks just above the arrows, awaiting your misplaced touch to chalk up a little revenue.
There is a tab dedicated to listings by store, recent deals, or press releases from the retailers. You can also sign up for email alerts when new ads show up, both for big box and online-only storefronts. The interface isn't great, but it's useful for scanning through a pretty comprehensive collection of Black Friday sales.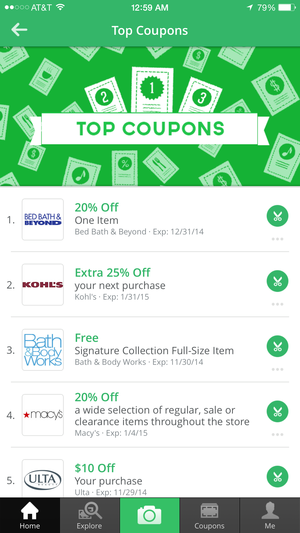 SnipSnap (free) is a great app to have year round, not just on Black Friday. You can use it to digitize all your coupons by taking photos of individual paper coupons so they're always at the ready when heading to the store. It also has a social element—other users can share their coupons to a community stream, which you can then snag and add them to your own database.
Along with these coupons, there's a general bank of them for just about any product category you can imagine. Just make sure you scan them when checking out at a store to get the discount.
Shopping and delivery tools
If you're joining the masses on Black Friday (or Thanksgiving Day, sigh) at one of the big box stores, it's best to arm yourself with that particular retailer's app. Many have deals tucked into their mobile apps or incentives for using them with your purchase. There are too many to list, but we'll highlighting a few of the major players and tell you why you may want to grab their apps.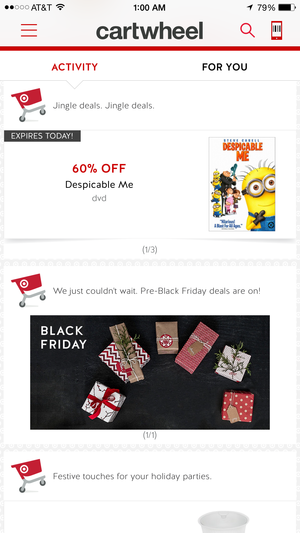 Cartwheel by Target (free): This app simplifies all of Target's coupons and discounts by placing them all within the app. Scroll through to find deals you like, then tap on the item to add it to your "cartwheel," which is the holding pen for your saved coupons.
When checking out, ask the sales associate to scan the barcode on your iPhone to credit you for the savings. If you're a Target regular, this app is probably worth having, as such discounts are available all year.
Walmart (free): Walmart's mobile app tries to save you money after you've made your purchase. It has a feature dubbed "Savings Catcher" that compares all the items on your receipt with a database from other retailers. If it finds any lower prices, it credits you the difference with a digital gift card. Sure, it's probably a way to track all your purchases and data-mine them, but at least you may get a few dollars out of it.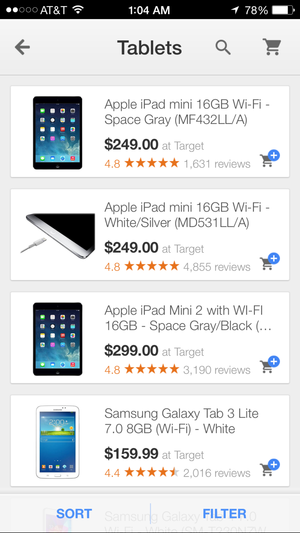 The Walmart app has other features, including the store's weekly ad and the ability to scan barcodes and QR codes for additional product information. You can also shop directly from the app and schedule items for in-store pickup.
Google Express (free): Why venture out into the cold and crowds if you don't have to? The holiday shopping season is as good a time as any to try out Google's nascent shopping service.
Browse the mobile app for items from Costco, Target, Walgreens, and other retailers and set them up for delivery. With a membership (there's a free three month trial available if you'd like to test it out first), you get free same-day or overnight delivery if you're in an eligible delivery area. If you elect to keep the service, it's $10 per month or $95 per year. It's a direct shot at Amazon's growing same-day delivery service, which is expanding to many large cities (though leaving Las Vegas).
Happy hunting!